PELLA® ARCHITECT SERIES®
Intricately crafted designs featuring detailed craftsmanship and nearly endless possibilities.
Architect Series
TRADITIONAL STYLE
Thoughtfully Designed
In an elegant expression of the window-crafting art, Architect Series windows feature finely detailed sash and grille profiles to add drama and architectural interest to your home.
Timeless Style
Pella offers a beautiful selection of woods for your windows – making them a beautiful complement to other architectural elements in your home.
The Best Limited Lifetime Warranty
Pella Architect Series products are backed by the best limited lifetime warranty for wood windows and patio doors.47
Architect Series
CONTEMPORARY STYLE
Expansive Glass
Sleek sightlines ensure that your window contains expansive panes of glass. This allows in more natural light and airflow.
Minimalist Finishes
Our window hardware was exclusively designed for Pella with the modern convenience of our unobtrusive fold-away cranks.
The Best Limited Lifetime Warranty
Pella Architect Series products are backed by the best limited lifetime warranty for wood windows and patio doors.47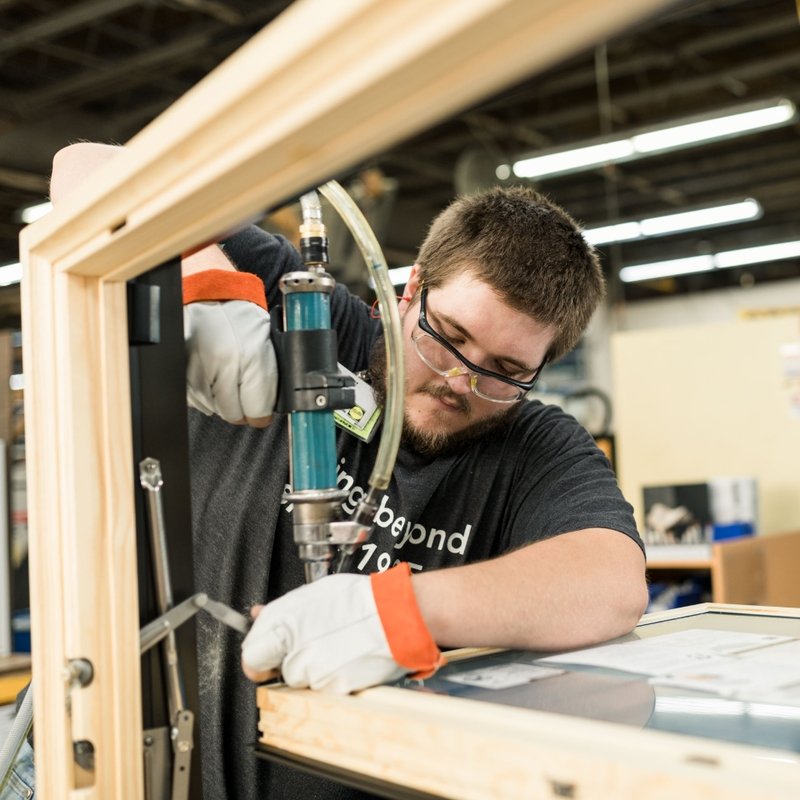 Pella windows are rated #1 by homeowners for highest quality.*
Quality Windows & Doors
Most of our products are custom made to meet your home's unique specifications. We use durable wood species to create both custom and standard windows. Our operators review each piece of wood to make sure only the best material is used. And our wood craftsmen have been honing their skills, on average, for over 14 years — that's longer than it takes for most to earn their PhD. When you choose Pella wood products for your home, you can rest assured that you are getting a high-quality window or door for your home.
*Study of homeowner perceptions of leading national brands. Study commissioned by Pella, 2019.
SCHEDULE A DESIGN CONSULTATION
See and touch Pella Architect Series windows and doors at one of our local Pella showrooms.

WHY ARCHITECT SERIES?
The authenticity of Pella Architect Series wood windows is truly timeless. Whether you prefer traditional or contemporary styles, you'll find options to complement your aesthetic.
Beauty of Wood
Enjoy the authentic, long-lasting beauty of wood windows.
Craftsmanship
Your home's design calls for stunningly beautiful craftsmanship.
Security & Comfort
Architect Series products provide additional security and comfort.
Stunning Hardware
Exclusive hardware collections are a beautiful finishing touch.

MEET THE ARCHITECTS
Learn about their projects, clients and design philosophies. From various backgrounds, techniques and styles, this experienced group of architects and custom home builders sat down with us to talk about how they bring their vision to life.

Treff LaFleche, AIA, LEED

Elissa Morgante, AIA, and Fred Wilson, AIA

John McIntosh

Stuart Cohen, FAIA, and Julie Hacker, FAIA

Chad Goehring, Assoc. AIA

Peter Brachvogel, AIA, and Stella Carosso
"We're really crafting the entire envelope. So we do everything from every detail on the outside to every detail on the inside."

Elissa Morgante, AIA
Intricate designs and detailed craftsmanship
It's all in the details. Add drama and interest to your project with intricate details on Pella Architect Series wood windows. Architecturally compatible hardware makes your dream a reality.
Explore Hardware
Designed to last with exceptional protection and performance
Add durable designs that will withstand the test of time, featuring durable EnduraClad® exterior finish and exclusive wood protection. And they're backed by the best limited lifetime warranty in the industry for wood windows and patio doors.47
Explore Durable Exteriors
Virtually unlimited design choices including custom sizes and grille patterns
Available in standard and custom sizes and with custom exterior colors, grille patterns and glass, Architect Series windows can be used to customize the space the way you imagined it. Available with cutting-edge innovations in smart home technology.
Explore the Possibilities
Window Features & Options