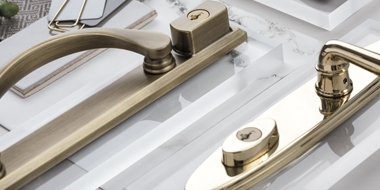 Patio Doors Features & Options
Choose patio door options that complement your home.
Patio Door Options to Match Your Style
At Pella, we offer patio doors that feature some of today's most innovative designs. Made from strong and durable materials, our patio doors are available in popular color choices with solutions to simplify everyday life. Explore patio door features and options.
Patio Door Hardware Inspiration
Bring Your Vision to Life
Whether it's a simple embellishment or an architectural facelift, updating your exterior can completely change how you feel about your home. With Pella DesignWorks, you'll collaborate with a DesignPro to discover your exterior style and bring your design to life.
1. Picture It
Start by giving us a picture of your home and any project inspiration.
2. Visualize It
Choose which exterior projects you want to tackle and work with a virtual design professional to update your home. Our DesignPro will turn it into a rendering, so you can start to make your exterior updates.
3. Realize It
See a completed rendering of all your exterior projects – including your Pella windows. Work with your design professional to turn your dream home into reality.