Uncompromised Attention to Detail
Revel in the authenticity and bring your design vision to life. Pella Reserve wood and aluminum-clad wood patio doors exude the tenets of pure contemporary and traditional styles. From the industry's first foam spacer solution to cast an authentic grille shadow to exclusively designed hardware created to suit your door, no detail goes unnoticed.
Partner with Pella to achieve your unique vision without concessions. From preliminary drawings to installation, Pella's expert team of architects, engineers, drafters and consultants can work to deliver custom window and door solutions for your project.
Explore Pella Architectural Solutions
Innovation is at the heart of what we do. Our authentic traditional and contemporary patio door designs feature cutting-edge innovations that solve modern-day inconveniences, all without compromising the design. Pella Reserve patio doors offer optional wireless integrated security sensors powered by Pella Insynctive® technology. They are built-in, preserving the beauty of your patio door and can be monitored using our free app.40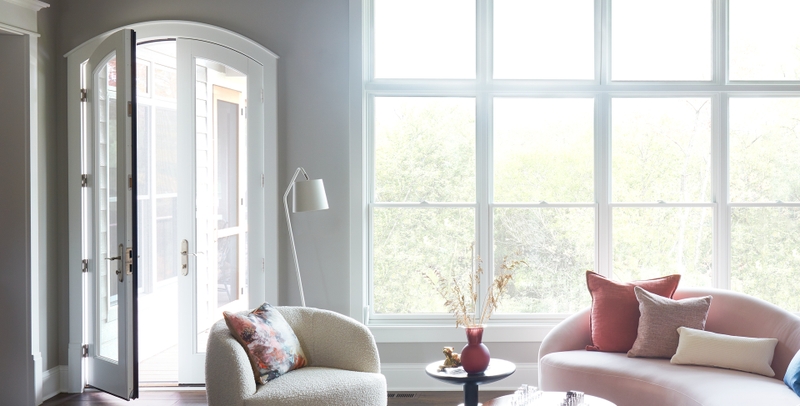 Pella Reserve
Endless Possibilities
Virtually Unlimited Customizations
Pella Reserve patio doors offer virtually unlimited sizes, custom exterior colors and beautiful wood species so you can customize the space the way you imagined it. Without compromising.
Passive House Certified
Certain Pella Reserve products have been certified for use by Passive House Institute US. A passive house is incredibly efficient and comfortable, using only small amounts of energy for heating and cooling.
Best Limited Lifetime Warranty47
At Pella, we take pride in the durability of our wood windows and wood patio doors. And we stand behind them with the best limited lifetime warranty for wood windows and patio doors in the industry.
Wood & Aluminum-Clad Wood
Traditional Style
Historic Elements
Featuring unparalleled historical detailing, including butt joinery, through-stile construction and a historic putty profile.
Premium Hardware
Choose from timeless patio door handle styles in rich patinas created in collaboration with the #1 premium hardware brand, Baldwin®.
Innovative Designs
Inspired by period furniture, exquisitely designed traditional Pella Reserve patio doors offer innovative grilles that provide the authentic look of true-divided-light.
Historic Elements
When it comes to authenticity, every detail matters. Pella Reserve patio doors have even been reviewed and approved on a case-by-case basis by the National Park Service for use on projects with historic tax credits.

Putty Profile
Pella Reserve products offer the industry's deepest sash dimension. Recreated with historically accurate angles, our putty profiles cast a realistic shadow.
Aluminum-Clad Wood
Contemporary Style
Expansive Glass
Narrow sightlines and expansive glass sizes maximize natural light and exude contemporary style.
Squared-Off Sash Profiles
Pella's patented cladding system delivers a crisp and clean sash joint with pure, 90-degree exteriors. Simple square grille profiles complete the look.
Premium Hardware
Featuring sleek patio door designs created in collaboration with Baldwin, the #1 premium hardware brand.
Pure, Contemporary Style
Complete your design vision with patio doors created with uncompromised attention to detail. Featuring minimal profiles, through-stile construction with clean sash joints and expansive glass.

Narrow Sightlines
With some of the narrowest sightlines in the industry contemporary Pella Reserve patio doors allow you to bring your vision to life.
Schedule a Design Consultation
Get inspired from the comfort of your own home or office. Schedule a free consultation and a Pella Design Expert will meet with you. They'll help you find the right product for your home and budget and provide measurements and a free quote.
Schedule Your Design Consultation