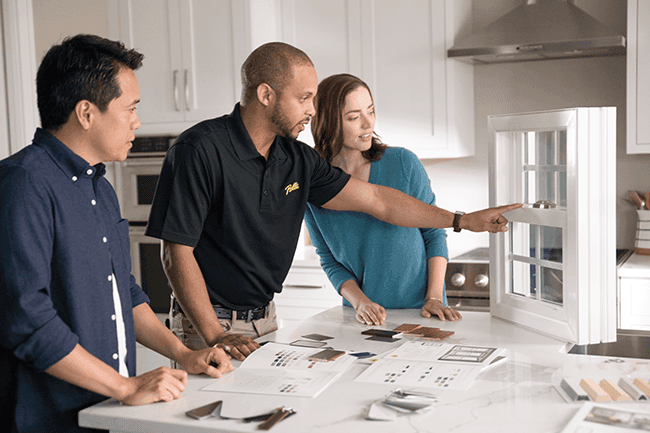 Shopping for Replacement Windows
Styles. Materials. Types. Colors. Shapes. The options when shopping for replacement windows can feel endless. It can be tricky to know where to start or where you should go for guidance. Leap into our replacement window shopping guide for the answers you've been searching for.
---
As consumers, we've never had more options than we do today. The opportunity to tailor products and experiences directly to our unique sensibilities is, in many ways, awe-inspiring. At the same time, too many good options can add stress to our lives, making it difficult to differentiate between quality products and their specific benefits.
Fortunately, we're here to help you through the window replacement shopping process. We believe the window replacement experience should be enjoyable and fulfilling, not frustrating and complicated. Continue reading and you'll find an overview of the various types of replacement windows, materials, benefits and, finally, a quick-and-easy summary of the best way to shop for your replacement windows.
Replacement Window Types
The particular replacement window type that's best for you depends on a number of factors. Different window types work well for certain rooms, others fit stylistically within the larger aesthetic landscape of the home and some windows work well in certain climates. We'll detail a few of the most popular and versatile options, but the great news is there are even more available. And if you decide you want something completely your own or can't find what you're looking for, we also offer special shape windows and a range of specialty windows. At Pella, we'll always work with you to make your dream home a reality.
Casement Replacement Windows
Versatile and easy-to-use, casement windows come hinged at the side and swing outward. If you're having trouble visualizing this, try thinking of how a door swings outward. Because they don't have an obtrusive rail, casement windows give families clear views to the outdoors, making it all the easier to pause, take a breath and soak up the natural beauty surrounding your home. Opened by convenient handles, casement windows are great options for difficult-to-reach spaces like above sinks or appliances.
Whether your home has a traditional or modern style, Pella® Reserve™ wood windows are made from the most customizable material to meet your exact specifications.
Double-Hung Replacement Windows
Sliding Replacement Windows
It can be tough to enjoy nature as much as we'd like. With careers to attend to, children to take care of and homes to maintain, spending time in the natural world can easily fall far down the to-do list. But with sliding windows from Pella, you can have easy access to fresh air with one quick horizontal motion. Air circulation and style meet in the Pella Impervia line, made from the strongest material available for fiberglass replacement windows.16 The replacement window options don't end here. We offer a wide array of types including single-hung, awning, bay and specialty windows. Whatever your taste profile might look like, there's sure to be a Pella replacement window to match.
Replacement Window Materials
Wood, fiberglass or vinyl? The decision depends on a few things. Consider your budget, your home's energy needs, your taste and the climate where you live. The best thing about Pella windows is that no matter the choice you make, you'll have a product that you can be proud of.
Pella's wood windows come with design flexibility. Crafted for function and beauty, a wood replacement window will continually catch your eye and the eyes of visitors in your home. Available in both contemporary and traditional styles, finding the perfect wood window for your home renovation project will be as straightforward as it is rewarding.
Alternatively, fiberglass windows deliver unmatched strength and lasting durability.16 They provide a sleek, timeless look for your design with proven performance. And since our Pella Impervia products are made from our proprietary fiberglass material, your windows will resist warping in the summer and becoming brittle in the winter.
Finally, vinyl windows are energy-efficient and a cinch to care for too — no painting, staining or refinishing required. Premium is certainly possible when browsing for vinyl windows. Pella® 250 Series windows feature vinyl's strength with eye-catching aesthetics.
Time to Shop: Where to Buy Windows
If you've made it this far, you're well on your way to having quality replacement windows installed in your home. But you probably want to see the products in person and might require some expert advice.
During the initial stages of the window replacement process you'll likely spend time assessing your current windows, learning the terminology associated with replacement windows and getting to know your installation options. For these steps, it can be a great idea to schedule a free in-home consultation.
During a consultation, a window professional from your local Pella branch will come to your home to discuss your project objectives. Assessing your home firsthand gives the Pella professionals the opportunity to inspect your current windows, take measurements and study your style goals. Afterward, they'll show you a range of options and make recommendations.
Our Pella professionals are industry specialists with years of experience whose only goal is to make the window replacement process successful. During your in-home consultation, be sure to ask any questions you might have. Your local Pella professional has a wealth of window information and can provide details about pricing, product benefits, installation methods and customer service after installation day. The more information you're equipped with, the higher chance your window replacement project goes smoothly.
The moments before the plunge are often the most difficult. Replacement windows are a commitment, but Pella is proud to be your window replacement partner. We'll be with you every step of the way, from selection to budgeting to installation.

Explore What Pella Has to Offer