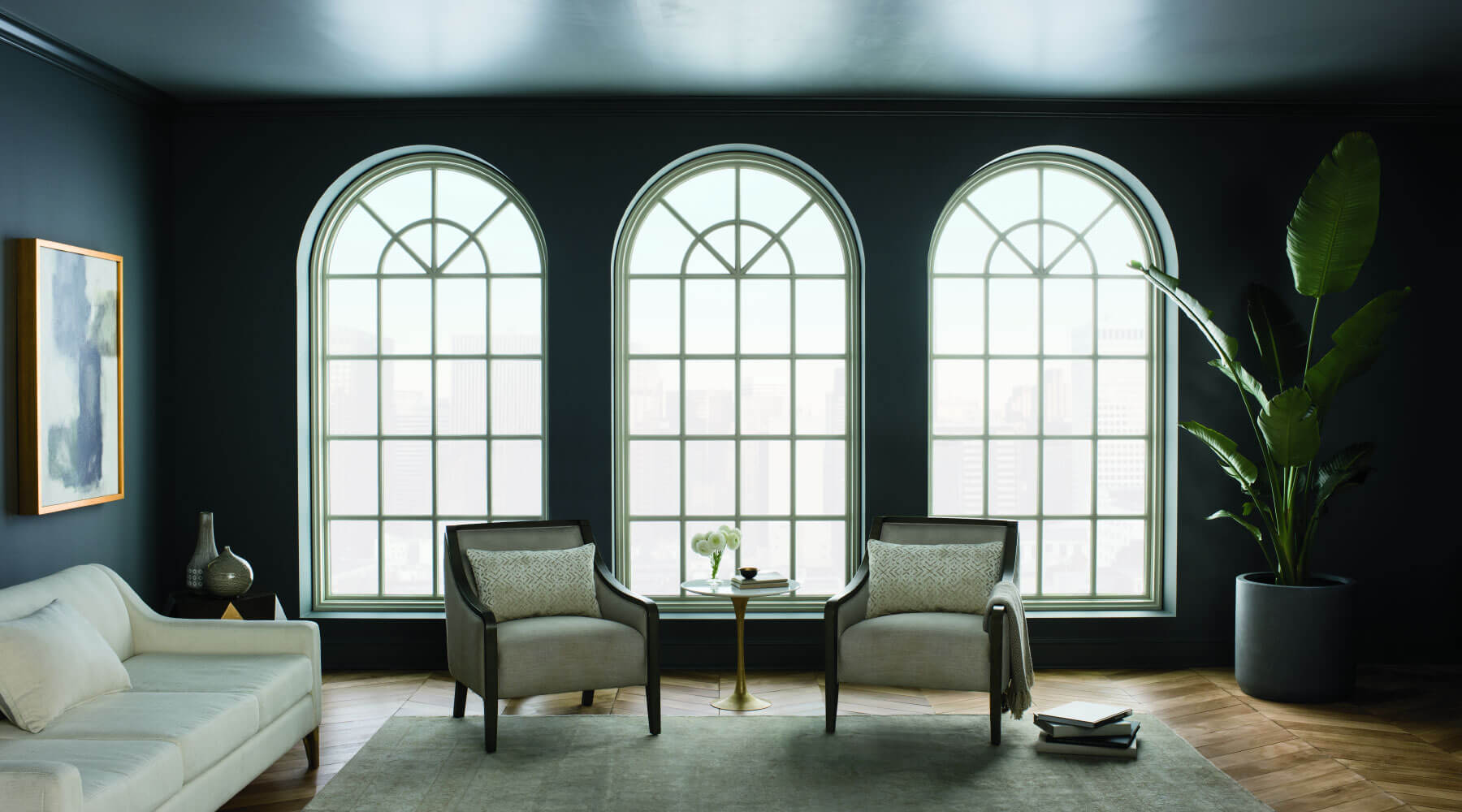 All About Specialty Window Shapes
Customize the look of your home with a wood, fiberglass or vinyl special shape window. With nearly limitless design combinations, you can create a look that is as unique as you are.
---

Pella makes it easy and affordable to create a custom design for your windows. Our wood, fiberglass and vinyl windows are all available in different special window shapes. Whether you're looking to complement your standard windows with a custom operable window, a custom fixed window with frame and sash or a custom fixed frame only, the design choices are nearly limitless. The options below are just a sampling of what's available. Take a look and get inspired!

Special Window Shapes to Suit Every Style
Pella special shape windows are available across all product lines in both standard and custom sizes. Our factory-assembled window combinations give you a custom look using standard windows. Match your existing Pella windows and patio doors to special shape windows for a cohesive look using the same grille patterns. Incorporate a single special shape window as a unique design accent or make a bold statement with a wall of custom windows. All of our windows are built to order, and our custom capabilities allow you to match the shape of existing openings for a precise fit. Read on to learn more about the special shapes available for each window material.

Wood Special Shape Windows
All special wood window shapes are available in Pella® Reserve™ and Pella® Architect Series, and many are available from the Pella® Lifestyle Series. Enjoy the timeless beauty of natural wood and the energy efficiency of aluminum-clad wood windows. Wood special shape windows are available as picture windows in rectangular, round and triangular shapes. Many operable options also exist for special shape wood windows. Enjoy the functionality of a springline single-hung window or a trapezoid casement window, or the nearly limitless combinations of fixed windows and arched units.
The following special shape windows are available in wood:

Fiberglass Special Shape Windows
Most of our special shape window offerings are also available in fiberglass. Our durable Pella® Impervia® special shape windows come in round, rectangular and triangular options and are crafted from an incredibly strong fiberglass material to match the other Pella fiberglass windows in your space. Able to withstand extreme fluctuations in temperature from -40ºF to 180ºF, our fiberglass windows deliver unmatched strength and are incredibly energy efficient.16 Select from a range of low-maintenance powder-coated finishes to coordinate with the interior and exterior of your home. Enjoy the unique beauty of a trapezoid window or create a stunning focal point in your home with a large triangle window.
The following special shape windows are available in fiberglass:

Vinyl Special Shape Windows
You'll find special window shape offerings available in all of our vinyl window product lines, but double check with your Pella representative to make sure the shape you are interested in is offered in a particular series. Our round, rectangular and triangular vinyl windows consist of multi-chambered high-grade vinyl frames that are fully welded to reduce sound transfer and heat loss. Low-maintenance vinyl doesn't require staining, painting or refinishing, so you can enjoy the view through your beautiful vinyl full circle or other custom window for years.
The following special shape windows are available in vinyl:



Customize a special shape window to suit the needs of your home and personal style. Pair one-of-a-kind designs with standard windows to get the window combination of your dreams. Scroll through our window inspiration pages for additional design ideas or schedule a free in-home consultation with a Pella representative to discuss the many custom window options available to you.
Explore What Pella Has to Offer