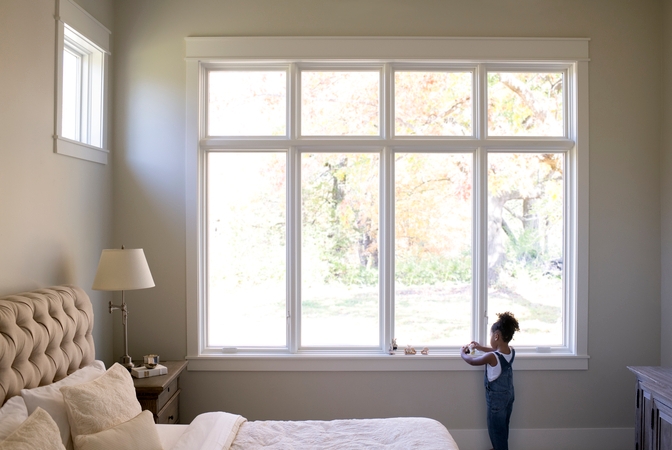 Choosing the Right Window Frame Material for Your Home
Whether you're looking for new or replacement windows, Pella offers products in wood, fiberglass and vinyl to perfectly complement your style and home.
---
Three Types of Window Materials to Choose From
There's much to consider when selecting new or replacement windows for your home. Pella offers three choices of window frame materials including vinyl, wood and fiberglass. Since Pella's founding in 1925, quality has been at the heart of our mission. Our products are tested again and again to ensure our designs will withstand the test of time. Window designs go through rigorous testing — such as thermal testing for glass, wood preservative testing and cycle testing — to make sure your window continues to operate as it should for years to come.
How to Decide On Materials for New or Replacement Windows
Each type of window material offers advantages to consider including cost, energy efficiency and design flexibility to best fit the needs of your home and meet climate considerations. The type of window that will work best in your home depends on a variety of factors, including:
R-Value
R-Value measures the ability of your window to prevent heat transfer, keeping the inside of your home comfortable. The higher the R-Value means that your window performs better at keeping heat in during the winter, or keeping heat out in the summer.
U-Value
U-Value, or U-Factor, measures how likely your window is to transfer heat — the lower the U-Value, the better. In regions with more dramatic seasonal temperature fluctuations, like the northern United States, keeping in heat is important. In the South, however, homeowners want to keep the heat out so the inside of their home remains a comfortable temperature.
Low-E Glass
This type of glass was created to minimize the amount of ultraviolet rays that enter into your home. Pella's InsulShield® glass provides multiple options at various degrees of protection to fit your specific needs.
High-Performing Vinyl Windows
When you want low-maintenance, budget-friendly and energy-efficient windows, vinyl is an excellent choice. Pella's unique formula is tested for excellent weathering, durability and color retention. Multi-chambered frames and metal-reinforced interlocking sashes add strength to your windows, keeping them protected from harsh weather conditions. Our vinyl windows don't need painting, staining or refinishing, saving you time and money. You'll be able to focus more on enjoying the windows in your home, instead of worrying about replacing or maintaining them.
Pella® 250 Series offers a higher quality look than ordinary vinyl. Encompass by Pella®, our competitively priced line, offers quality craftsmanship backed by a strong national brand. Pella® Hurricane Shield Series™ windows are engineered to withstand hurricanes and the most stringent coastal requirements — including use in the strict Miami-Dade County. Pella® Defender Series™ windows are designed to protect you and your home with an impact-resistant option. All of our product lines each have customizations available so you can make your vinyl windows unique to your house.
Beautiful Wood Windows
Pella's wood windows offer beauty, warmth and timeless design with exceptional energy efficiency. Our wood windows are quality crafted for form and function that's hard to beat. Wood is a strong and attractive material that makes it popular among homeowners of all kinds. Wood windows are also easy to care for and are long lasting so you won't have to worry about replacements.
Wood windows have been adding natural character to homes for hundreds of years. Wood windows can be used to showcase different architectural styles, blend into the natural color scheme of your home and make a beautiful first impression.
We offer three product lines with wooden window frames to fit your home's style and budget. The Pella® Reserve™ line offers authentic traditional and contemporary designs for those who refuse to settle for anything less than extraordinary. Our Architect Series wood windows offer beautiful options based on the style of your home. This line provides homeowners with top-notch functionality and fine furniture detailing. The Pella® Lifestyle Series is designed to fit your home, room by room. The Lifestyle Series offers high-quality design, noise reduction, extreme energy efficiency and durability, as well as style flexibility so you can choose just what you want for each room of your house.
Pella has been innovating, designing and building the long-lasting quality products your home deserves for nearly a century. We work with you to create beautiful wood windows with the most desired features and options. You can select from beautiful paints, stains, exterior cladding and hardware finish options to suit your style and create a lasting impression. We stand behind our Pella windows with a limited lifetime warranty.
The Benefits of Window Cladding
Protect your wood windows with exterior aluminum cladding. Low-maintenance EnduraClad on the exterior of your windows can help to protect from the elements and keep your home safe. EnduraClad resists fading and helps protect the exterior of your home. Window cladding can help prevent water, wind and other weather events from damaging the integrity of your wood windows. Adding cladding to your wood windows also can help make them more energy efficient, helping to reduce your utility costs.
Long-Lasting Fiberglass Windows
Combine a tough, maintenance-free exterior with a beautiful interior and you get fiberglass windows. Fiberglass is a durable material designed to resist the elements. Fiberglass windows are low-maintenance and stronger than vinyl windows. Our fiberglass windows are constructed from our proprietary fiberglass material. This material is layered with interlocking mats, a structural core, heat-set resin and a baked-on finish. There's no need to worry about the changing of seasons with fiberglass windows — our fiberglass windows are strong and will not warp in the heat of the summer or become brittle during the cold winter months.
Pella® Impervia® fiberglass windows are ideal for your home if you are searching for a window that looks like new for years or if you live in a climate with drastically different seasons. Pella® Impervia® series includes awning windows, sliding windows, casement windows and single- and double-hung windows.
Our Impervia® windows have a long-lasting factory powder-coated finish that stays looking fresh — so you won't have to worry about refinishing year after year. Upgrade your fiberglass windows with performance features that are best suited for your home's location. Optional foam insulation can further improve your energy savings in extreme climates.
When you're shopping for windows, it's all about what window material suits the needs of you and your home. Our team of Pella experts is here to help you make your decision. Learn more about Pella window materials and the Pella difference.
Window Features & Options
Explore What Pella Has To Offer