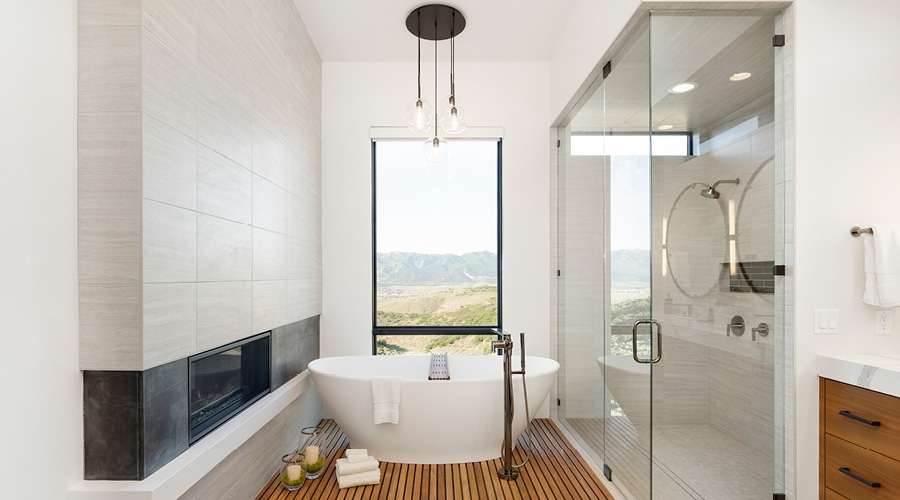 Window Ideas for Your Bathroom Remodel
Do you dream of enough natural light in your bathroom to light up your vanity and brighten your mood without sacrificing privacy? These creative bathroom window solutions show how to make it happen.
---

Beautiful Bathroom Window Ideas
Redesigning a bathroom to make the most of natural light is always a winner in our book. While natural light is the ideal light for applying makeup and shaving, it also a great way to add personal style. Bathrooms can be open to the sun and the sky with the addition of picture or awning windows placed higher on the wall. If you are lucky enough to have a private yard, you'll want to add both bathtub windows and windows near the vanity.
Bathroom Window Styles
Creating the illusion of a larger bathroom by making the room bright and airy, picture, sliding, awning windows are popular choices for bathroom windows. Each offers a unique blend of function, privacy and style.
Sliding Bathroom Windows
Sliding windows open horizontally from one side. Providing access to fresh air in tight spaces or areas that require a little extra ventilation, like a bathroom, sliding windows are popular in contemporary-style homes. The long-lasting designs are available in low-maintenance vinyl and durable fiberglass.
Awning Bathroom Windows
Hinged at the top and swinging out from the bottom, awning windows are another popular choice for bathrooms because of the ventilation they provide. Popular bathroom window designs often utilize awning windows placed higher on the wall. This allows for more natural light in your bathroom in addition to privacy the height of the window provides.
Picture Bathroom Windows
Make your bathroom brighter and feel larger with picture bathroom windows. Some of the most popular bathroom designs feature picture windows as art — framing a freestanding bathtub or lighting a vanity from the side or above. You'll most commonly find picture bathroom windows used in the same bathroom as other windows that open and provide ventilation, like an awning, sliding or hung window.
Enhance natural bathroom window light with other general light sources, such as recessed ceiling fixtures and hanging pendants or chandeliers. Here are some other recommendations for beautiful bathroom windows.

Shower Windows Add Natural Light and Privacy
If you are remodeling a small space, make sure you consider adding a waterproof bathroom window in the shower. Adding natural light with a bathroom shower window will help your shower and overall bathroom feel larger — and that natural light could also boost your mood on those early mornings.
With an addition of a window in the shower, you need to consider privacy. The level of privacy that you desire can be most easily achieved with frosted and obscure glass options. Both of these privacy glass options cloud the view into the bathroom from the exterior of the home. Operational shower windows can also be a great source of natural ventilation.
Recently, influencers Julia and Chris Marcum of Chris Loves Julia remodeled their entire bathroom, including the shower window, with products provided in partnership with Pella. The couple chose an extremely durable Pella® Impervia® picture window with obscure glass for the shower. "You'll appreciate the mood-enhancing natural light and the sense of spaciousness frosted glass bathroom windows create in a shower remodeling," Julia says. The chosen Pella Impervia Black fiberglass window with matching hardware is designed to resist air and water infiltration, providing sleek style and peace of mind.

Bathroom Privacy Windows
Curtains are not the only option to achieve privacy with a bathroom window. Both natural light and privacy can be achieved in your bathroom using several customizable and built-in features.
Frosted glass bathroom windows
A common way to add privacy to any window is by adding frosted glass. Start with the most energy-efficient glass for your region. Frosted windows blur or obscure the view into or out of your bathroom window permanently, while still allowing an abundance of natural light into your bathroom.
Obscure or decorative glass
Using Pella's uniquely textured obscure glass windows allows in light while maintaining complete privacy. Obscure, decorative glass bathroom windows are an excellent choice when additional privacy is needed anywhere in the bath, but especially in the shower or toilet compartment. These glass options provide an additional touch of style with a number of design selections to choose from.
Between the glass blinds and shades
If you don't want to hang curtains in your bathroom, but still want a lot of natural light and privacy, consider windows with between the glass blinds or shades. Build directly into the window and sealed between panes of glass, between the glass blinds and shades are protected from dust, water and damage. Available in a variety of colors and types to suit your bathroom's design including blinds, and light-filtering and blackout shades.

Waterproof Bathroom Windows
In especially damp areas of your bathroom, such as the shower, waterproof windows are the best option because they can best withstand the water. Waterproof window-in-shower options include both fiberglass windows and vinyl windows.
Naturally resistant to water, our extremely durable fiberglass windows will never rot or corrode and can withstand extreme temperatures. They are engineered for the rigorous performance requirements commercial building and provide outstanding resistance to water, wind and outside noises.43 The tough powder-coat paint finish will never fade or need painting.
Vinyl windows are another good choice for bathroom windows with their low-maintenance, easy-care design. Our fade-resistant vinyl formula is performance tested for excellent weathering, durability and color retention. Multi-chambered frames and reinforced sashes help keep your room more comfortable and provide extra support to your window. Pella 250 Series vinyl windows feature an exclusive weather-repel system with three points of protection to channel water away from the home, including triple weatherstripping.

Bathtub Windows
For other areas of your bathroom, including over a vanity or tub, the window possibilities are endless.
One of our favorite designs uses a stunning picture window to frame the tub and cast light on it as if it is a work of art. Its large, luxurious placement welcomes natural light in and provides the illusion that the bathroom is much larger. Add to the look with between-the-glass grilles.
Used in conjunction with other venting windows, picture bathtub windows made of wood can be used and offer additional style customizations. Our wood windows are backed by the best limited lifetime warranty for wood windows and patio doors.47 Our windows have been carefully crafted and are designed to stand the test of time. Wood bathroom windows can be mixed and matched with vinyl and fiberglass windows create a cohesive look while capitalizing on other materials and their benefits.
Julia and Chris Marcum of Chris Loves Julia appreciated the knowledge their Pella window expert provided for remodeling their modern cottage bathroom. The expert showed Chris and Julia how to mix and match windows and window materials to create a cohesive look while still creating the volume of natural light and privacy they desired. "The only rule is that there are no rules," Julia says. Chris added, "In the bathrooms in particular, it was valuable to work with someone who could display all of our options, help us make everything look uniform, and create airflow."
The remodeled bathroom features a large black wood window over the bathtub finished with a simple, drywall return. The unframed window design maximizes the height of the window while creating symmetrical window placement on the home's exterior. A second window above the vanity is framed in pale gray painted wood to match the interior door trim and to artfully accentuate a view of their property's gorgeous tree canopy. The eye-catching black wooden windows are part of the Pella Architect Series.
Whether you're designing a new bathroom, remodeling an older one or just replacing an existing window, Pella has the beautiful bathroom window options and can help you every step of the way. Learn more about the window replacement process.
Explore What Pella Has to Offer