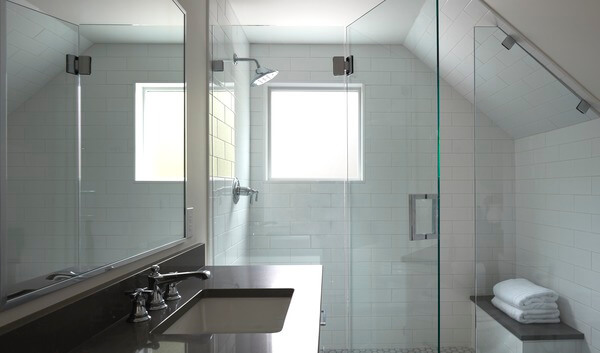 Window & Décor Ideas for Small Bathrooms
Does your bathroom have tons of potential, but sometimes feel a tad too small? Make the most of your small bathroom with these window tips and design ideas.
---
Maybe your bathroom is small. Maybe it's just a little outdated. Or, maybe, you just need some small bathroom ideas that'll reinvigorate your bathroom layout and design. It can be challenging to squeeze all you need in a tight space, but these small bathroom design ideas will help make your space feel bigger, whether you're completing a full bathroom remodel or a simple refresh.
Beaming Bathroom Light Fixtures and Windows

Increasing the amount of light that enters any room can make it appear more spacious. The right bathroom window increases the amount of light flowing through your small bathroom even more than artificial sources can. Additionally, new or replacement bathroom windows can help ventilate your bathroom. Because of the nature of this space, it's important to place your bathroom window high enough so privacy isn't a concern.
Fortunately, Pella offers unique glass types that deliver the style, privacy and light you're looking for in a small bathroom. Statement and select glass are intricately crafted, providing decorative options for privacy as well as style. Alternatively, Pella obscure glass bathroom windows come in textured patterns, combining elegance and privacy. Or choose blinds- or shades-between-the-glass, which are tucked between panes of insulating glass, for extra privacy. Available in many different options, you'll find a bathroom window that lets in light while providing ample privacy.

In addition to natural light from windows, the right light fixtures can provide smart lighting in a small bathroom. Chandeliers, recessed lighting, wall sconces and bathroom vanity lights are all practical and stylish lighting choices.

Awning Bathroom Windows
Along with privacy, energy efficiency is crucial when designing a small bathroom. No matter your bathroom layout, small bathrooms tend to experience high levels of humidity. High humidity levels can lead to moisture damage if you don't have a window in your bathroom for ventilation.
Because they're hinged at the top of the frame and swing outward from the bottom, awning windows can, feasibly, be left open for ventilation in any weather. This means humidity can be let out of the window, fresh air can flow in and your bathroom will be protected from any inclement precipitation. When deciding between casement windows and awning windows for your bathroom, remember that when awning windows are open, and when paired with textured glass, they still offer a significant degree of privacy.
To maintain privacy and ensure energy efficiency in a small bathroom, selecting vinyl awning windows in Pella® 250 Series might just be the right choice for you. Strong and durable, Pella 250 Series windows can be joined with other windows to not only add character to your small bathroom design, but to also create a roomy feel. Awning windows in large configurations or paired with transoms are all great considerations when you're focused on beauty, privacy and additional light.
Choose Bathroom Colors Carefully

When picking colors for your small bathroom, it's important to remember that darker shades can make an already small room feel even smaller. Choosing whites or soft blues, for example, can help make your bathroom feel larger and more modern all while promoting a relaxing atmosphere.
Just because you crave the beauty of wood doesn't mean you can't cultivate a bright bathroom that makes the most of a small layout. Pella Architect Series® windows give you the authentic, long-lasting beauty of wood with stunning craftsmanship to boot, and these finely detailed windows are available with interior finishes that'll brighten up your space. Opt for Linen White, Bright White, Primed or Artisan Greige to assure your window craftsmanship is outstanding and your bathroom space is stellar. And to make sure your home's curb appeal remains high and your exterior attractive, Pella EnduraClad exterior finishes are fade resistant and also boast a wide spectrum of color options.
Modern Mirrors & Glass Doors

Beautiful, modern and small are no longer mutually exclusive phrases. With the increased popularity of glass shower doors, you can create extra space in your bathroom by ridding yourself of the clutter associated with shower curtains. Occasionally unsightly, shower curtains also decrease the amount of visible square footage when you walk into a bathroom. Transparent glass shower doors give your home a modern look and open up your bathroom's layout.
If you do opt for transparent glass shower doors, the need for privacy could be heightened. Pella offers glass with textured patterns for added window privacy. If you prefer blinds or shades, we also offer between-the-glass options tucked away from dust and moisture. Between-the-glass blinds and shades can make a stylish statement without requiring additional roomside window treatments. And because they're integrated, you won't forfeit any valuable space in your small bathroom layout.
For added functionality, consider Pella's Insynctive technology. Program your blinds or shades in your bathroom windows to open or close automatically — perhaps closing them during the morning when you're getting ready for work.

Mirrors can be another great décor choice for small bathrooms A seemingly minor feature, mirrors can instantly double the appearance of your small bathroom's square footage simply by creating a reflection.
When you're looking to remodel or redesign your space, Pella has many window options to choose from so your small bathroom doesn't have to feel quite so small. Contact us for a free in-home consultation today.
OTHER PRODUCTS YOU MIGHT LIKE