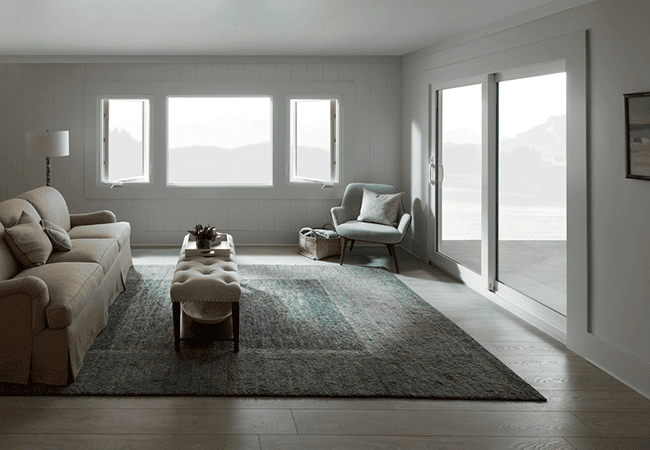 Perfect Your Patio with These Sliding Door Types
Sliding glass patio doors can enhance your home's design, creating seamless transitions that form a connection between indoor and outdoor living spaces. By reading this article, you'll learn the differences between the various types of sliding patio doors and be set up for a simple path to find the right fit for your home.
---
When you walk into a home for the first time, it can be a great pleasure to sense what makes it unique and distinct. Sometimes though, the effort that goes into developing this originality can be easily overlooked. With both Pella's traditional and modern sliding patio door offerings, your individuality need not go unnoticed. Below, we'll cover different sliding door types so you're always ready to stand out.
Spruce Up Your Home with Wood Sliding Patio Doors

Whether they're made of mahogany or stained in black, wood sliding patio doors can add architectural interest to your home. Versatile to a surprising degree, wood sliding patio doors come in a wide array of shapes, sizes, grille patterns and exterior colors. The right grille pattern can even complement your home's existing architectural style and add an upscale feel to your space.
To customize your patio door even further, Pella has high-transparency screens that are almost invisible, truly forming a connection with the great outdoors. Our Pella Rolscreen® retractable screens conveniently roll out of sight when you're not using them, giving you expanded access to the beautiful scenery outside of your home. When not in use, the retractable screens roll back into place, providing protection from the elements and any unwanted pests.
In the comfort of your home, you should expect style that's smart and sightlines that are clean. Contemporary wood sliding doors feature such minimalist visual tones. Accompany your sliding patio door with a simple square grille profile. Add on a sophisticated hardware style and complete the package with a finish option to show off your personal design style you've worked hard to build in your home.
Energy efficiency and sound control shouldn't be an exception, it should be an expectation. Our Lifestyle Series line of wood sliding patio doors can be outfitted with dual- and triple-pane glass options, combining the innate beauty of wood with the Pella performance you've come to count on. Advance performance even more by adding built-in, motorized between-the-glass blinds or shades, which are protected from dust, pets and little hands.
Durable Fiberglass Sliding Doors
Made from our patented fiberglass material that's among the strongest, most durable window and patio door materials, fiberglass sliding patio doors offer excellent long-term performance.16 You won't have to sacrifice polished design for performance either. Types and options exist to fit any budget, with contemporary interior and exterior finishes ranging from black to Morning Sky Gray.
Conventional fiberglass sliding door screens sometimes limit the clarity of your view. With fiberglass sliding doors, you can opt for one of our innovative screen choices that provide a clearer view. Our InView™ Screen, improves air and light flow, creating a brighter and more lively living space.
And, should you want to stay in control of your patio doors when you're on the go, Pella Insynctive® technology helps protect what matters most, adding hidden security sensors so you can self-monitor your windows and doors.40 The easy-to-install and simple to navigate application will keep you connected even when you're outside the home.
Double Down on Double Sliding Doors

Double sliding French patio doors widen the entryways of your home, stamping down a dazzling modern design statement. The symmetry of the double doors tends to inherently evoke visual appeal, strengthening the exterior aesthetic of your home. Sliding doors can add depth and intrigue to your room, providing a pathway for increased natural light and warmth, to enter your home.
Sliding Patio Door Alternative

When making your patio door selection, it's important you do your due diligence, evaluating all the different options, finishes, types, materials and individual benefits of each choice. When comparing sliding doors to other patio doors, the biggest differentiator and benefit, is that after installing sliding patio doors, you'll save a substantial amount of space in smaller rooms. Still, if you prefer a hinged patio door and don't have ample interior space, you could opt for an out-swing hinged patio door.
Handsome Sliding Door Hardware Options
As functional as they are pleasing to the eye, sliding door hardware for your patio door shouldn't be an afterthought. The right hardware can be more than a finishing touch on your door, it can add a layer of unexpected personality and style.
We offer a range of collections, including our Classic, Modern, Rustic and Pella Essential lines. Crafted with sophistication in mind, experience sliding door hardware as you never have before. For extra peace of mind, Pella sliding patio hardware secures the door in two places. We've also partnered with Baldwin® Reserve® to assure our hardware selections are robust and tasteful. Punctuate your Pella sliding patio door style.
Adding a new or replacement sliding patio door can change the entire aesthetic of your room and, ultimately, your home. There are many types to choose from and should you need more guidance during the selection process, your local Pella experts will be happy to assist you. We're here to help make sure your decision is one you can feel confident about.
Patio Door Features & Options
Explore What Pella Has to Offer