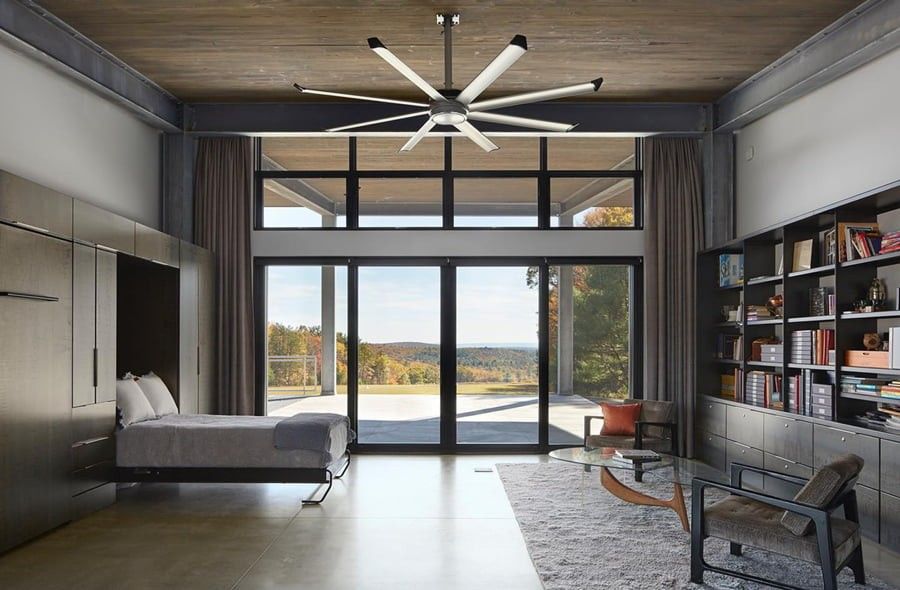 Black Patio Doors: A Trending Look to Love
Trendy and timeless, there are many reasons to love black patio doors. From black French doors to black sliding glass doors, adding a black patio door brings a modern touch to any style home.
---
The color black is trending right now and it's a look that's here to stay. Black is bold, elegant, modern and never goes out of style. Whether a small-scale accent color or the prominent focal point in a room, the color black is extremely versatile and can be used just about anywhere on the interior or exterior of a house. When adding black to your home's aesthetic, do so with intention. Black can be used as a dramatic and chic statement or it can be deemed a neutral color that brings grounding depth to your home.

Incorporating Black Patio Doors Inside and Out
Want to jump on the black color trend? Consider choosing black patio doors for your home. Black patio doors are both a trendy and timeless way to bring rich natural sunlight into your home and easily access the outdoors. With many patio door room ideas, a black patio door adds a touch of bold, modern style and fresh air to many different spaces in your home. Patio doors with black frames make a bold focal point in both interiors and exteriors. For both windows and doors, choosing black as the exterior color can distinctly frame the glass and pick up other black accents on the outside of your home such as light fixtures, roofing or stone. Dual-color frames, available in fiberglass and vinyl materials, give you the ability to select black for the exterior of your patio door with a white interior. This option offers design flexibility inside your home without compromising the crisp look that black brings to the exterior. For those who prefer the warm beauty of wood inside, wood patio doors can be stained any color for the interior and are available with black aluminum cladding on the exterior to protect them from the elements. Whether you prefer solid-color black or dual-color patio door frames, there are many patio door styles to fit the look you love most.

Universally Gorgeous Black Patio Doors for Any Home Style
From modern and contemporary to traditional and farmhouse, there are many different style homes well-suited for the modern flair that comes from adding a black patio door. In this compilation of black patio door ideas, learn how the color black can enhance your space's style.

Modern and Contemporary
In homes with modern and contemporary style, black patio doors offer sleek lines and thin profiles to make the space stand out. There are a number of modern and custom grille patterns to suit this style. Modern patio doors are commonly composed of fiberglass or wood, offering durable finishes that make a space feel polished and clean. Black frames stand out next to the expansive glass panels, offering a minimal profile that furthers a modern aesthetic.

Traditional
For those with classic style in search of more traditional patio doors, black French doors made of wood with simple grille patterns are a modern complement to a traditional home. Being that black is a neutral and timeless color, it pairs well with traditional home décor. Black combines steady tradition with a trending modern touch, keeping the home classic yet interesting.

Farmhouse
The charming black and white contrast is a hallmark of modern farmhouse design. As a bold color, black draws your eye and acts as an interesting focal point. When paired with light-colored walls or siding, black sliding patio doors create a dramatic look to achieve the highly desired modern farmhouse aesthetic. Not only does a black patio door command attention, it also maximizes light to enhance the neutral color palette and rustic furnishings that make this style so comfortable and appealing.

Black Patio Door Types
There are many different types of patio doors to fit your space and style. Each type of patio door functions in a distinct way to benefit your unique lifestyle.

Black French Doors Swing Open to the Patio
French doors, also called hinged doors, feature one or more panels that swing in or out. With wide openings and smooth swinging operation, exterior black French doors create a sophisticated entrance to a backyard or patio area. In a spacious dining room, black French doors lined along a single wall create a show stopping look while bringing sun and elegance to the space. The French door buying guide shares more about the history of French doors, common types, security considerations and styling options.

Black Sliding Glass Doors Provide Extra Space
Sliding patio doors don't swing open, but instead feature 2, 3 or 4 sliding panels of glass. A distinctive benefit of sliding doors is that they require less space to operate. In addition, the option to get black sliding glass doors with blinds brings privacy and energy efficiency to the home. Perfect your patio with many different types of sliding doors.

Multi-Slide Patio Doors Seamlessly Connect Indoors and Outdoors
Multi-slide patio doors, featuring expansive glass panels, slide open to stack against each other or tuck away out of sight into a wall. Bring the "wow" factor to any home with multi-slide doors that completely open to the outdoors and effortlessly extend any room. Creating a wall of glass, multi-slide patio doors are wonderful additions between a kitchen and outdoor patio area as they seamlessly blend the two spaces. As shown in this black multi-slide patio door project, they require no additional space to operate. This makes them well-suited for an open living room or even a bedroom that opens to the backyard.

Bifold Patio Doors Neatly Fold to Completely Open Panels
With bifold patio doors, your space benefits from distinctive design and operation that extends your living space beyond the exterior walls. These doors have multiple panels that are connected to slide and fold together when opened, like an accordion. Bifold patio doors can completely open all panels to allow light and fresh air into the home. A new trend surrounding bifold doors are smaller versions used as a pass-through window over a countertop. This is ideal for passing food and beverages between an indoor kitchen and an outdoor bar space.
Always Built for Your Lifestyle, Never Out of Style
For those shopping for a new patio door, consider the timeless and trendy appeal that the color black offers. Lending itself to modern, contemporary, traditional and farmhouse designs, a black patio door can be used to make a statement or blend seamlessly into a space. With types of patio doors fit for many different spaces and lifestyles, enhance your home's design with the addition of a black patio door.
Explore What Pella Has to Offer