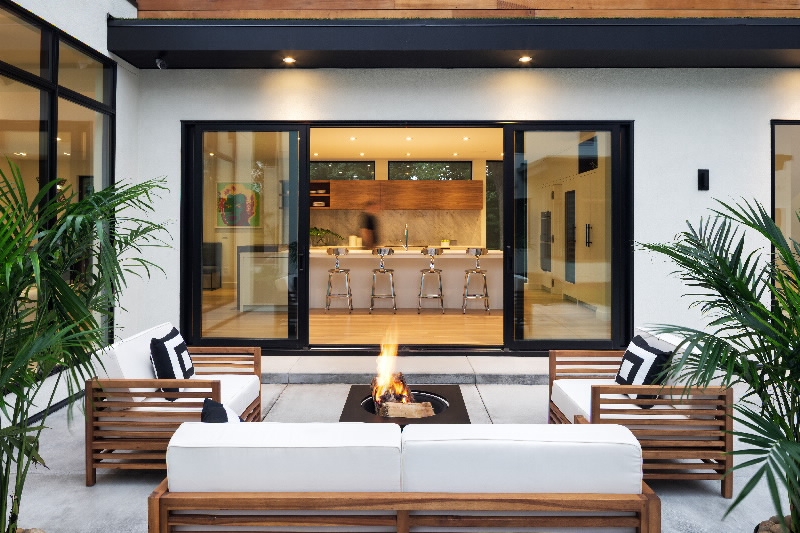 The Most Popular Types of Patio Doors for Your Home's Architectural Style
Our guide to the most popular patio door styles for your home makes finding the right new or replacement patio door easy.
---
Highlight Your Home's Architectural Style with Patio Doors
Each home's architecture is unique, and when you're considering a home improvement project, it's important to understand what style of patio door is right for you. Selecting the right patio door creates a cohesive design throughout your home, both inside and out.
Pella's design team and your local Pella showroom representatives are knowledgeable in all architectural styles. They'll work with you to determine which patio door is best to help you create an authentic look in your home. Keeping your home's style and architecture in mind not only brings together the best design elements for your project, but also enhances the overall character of your home.

Contemporary Patio Doors
If you're looking for a timeless style that incorporates design aspects from different eras, contemporary is the choice for you. Contemporary style is all about clean and modern lines without too much detail that can be dated back to a specific time period. Contemporary patio doors are built with clean lines to focus on the expansive glass that provides abundant natural light and artful views.
For a modern approach, use a sliding or multi-slide patio door to create a transitional indoor-outdoor space. These sliding glass doors can be customized to have fixed and operable panels, perfect for creating a door that is unique to your home. If you're working with a smaller space, contemporary hinged patio doors are a great option. These doors swing out or in and are available with a square grille profile that complements a contemporary aesthetic.
Upgrade your patio doors with minimalistic hardware for a more modern look. Choose from a number of beautiful hardware options in high-contrast finishes to complete your contemporary patio door.

Craftsman Patio Doors
Craftsman-style architecture puts a focus on highlighting natural materials, such as wood and stone. Craftsman homes are recognizable by their large front porches and tapered columns. One notable feature across craftsman-style homes and bungalows is their grilles, which are often used in the upper section of doors and windows to add character.
Highlighting the true style of craftsman patio doors, Pella offers naturally stained wood patio door options. For this reason, wood French patio doors and hinged patio doors complement any craftsman home. Pella's Architect Series line offers multiple wood options and finishes to accentuate the iconic craftsman style. Complete your patio door replacement with curved handle hardware, which is right in line with a craftsman-style home.

Traditional Patio Doors
A home with traditional style focuses on classic design qualities that can stand the test of time. Combining multiple architectural styles, a traditional home may have one or two notable characteristics from a certain period, but most are pared down to be simple and refined. Traditional-style homes often feature both a dining room and a formal living room, wide front porches and expansive decks. Pella offers traditional patio doors that can fit the needs of a classic home.
A wood sliding door is a great choice for a traditional home. Wood patio doors help bring warmth to a space. You can customize the exterior and interior of your patio door to fit the style of your home, from formal grille patterns and hardware to a more simplified look. Traditional vinyl sliding patio doors are another excellent choice. Pella's vinyl sliding patio doors are low-maintenance, energy-efficient and versatile in style — with many different finishes and hardware options to choose from.

Farmhouse Patio Doors
The farmhouse-style home is making a comeback. First appearing in the mid-1800s, the American farmhouse was built as an affordable and simple home. Those who had the means to build a more ornate farmhouse added artful, Victorian touches to the interior and exterior of their home. Today, you can see farmhouse-style homes popping up across the nation, often with traditional, simple detailing and expanded roof lines.
In the past, patio doors were not popular in farmhouses. But today, patio doors are an easy way to add natural light and flexible space to an already open floor plan. French patio doors with natural trim and a transom window are a popular combination for bringing in additional light. If you're looking for a more contemporary, modern farmhouse feel, a sliding glass door is a great option. Classic wood patio doors are available in multiple styles including bifold, multi-slide and sliding. Pella® Impervia® fiberglass sliding patio doors have a beautiful finish that resembles the look of painted wood and are made from the strongest, most durable material available for patio doors.16

Create Your Own Custom Patio Doors
One thing to consider when picking out a new or replacement patio door is options for customization. No matter your home's style, Pella offers homeowners the ability to create custom patio doors. This is a great solution if your home has a unique style. Whether you're looking for a particular finish or a custom hardware piece, the choices are nearly endless. Our team of Pella design experts will help guide you through the simple process of creating a custom patio door that you can enjoy in your home for years to come.
No matter your home's unique architectural style or your design preferences, Pella has the right patio door to complete your home. Our team is focused on providing homeowners with long-lasting, energy-efficient and high-performing patio doors that stand the test of time.
Patio Door Features & Options
EXPLORE WHAT PELLA HAS TO OFFER