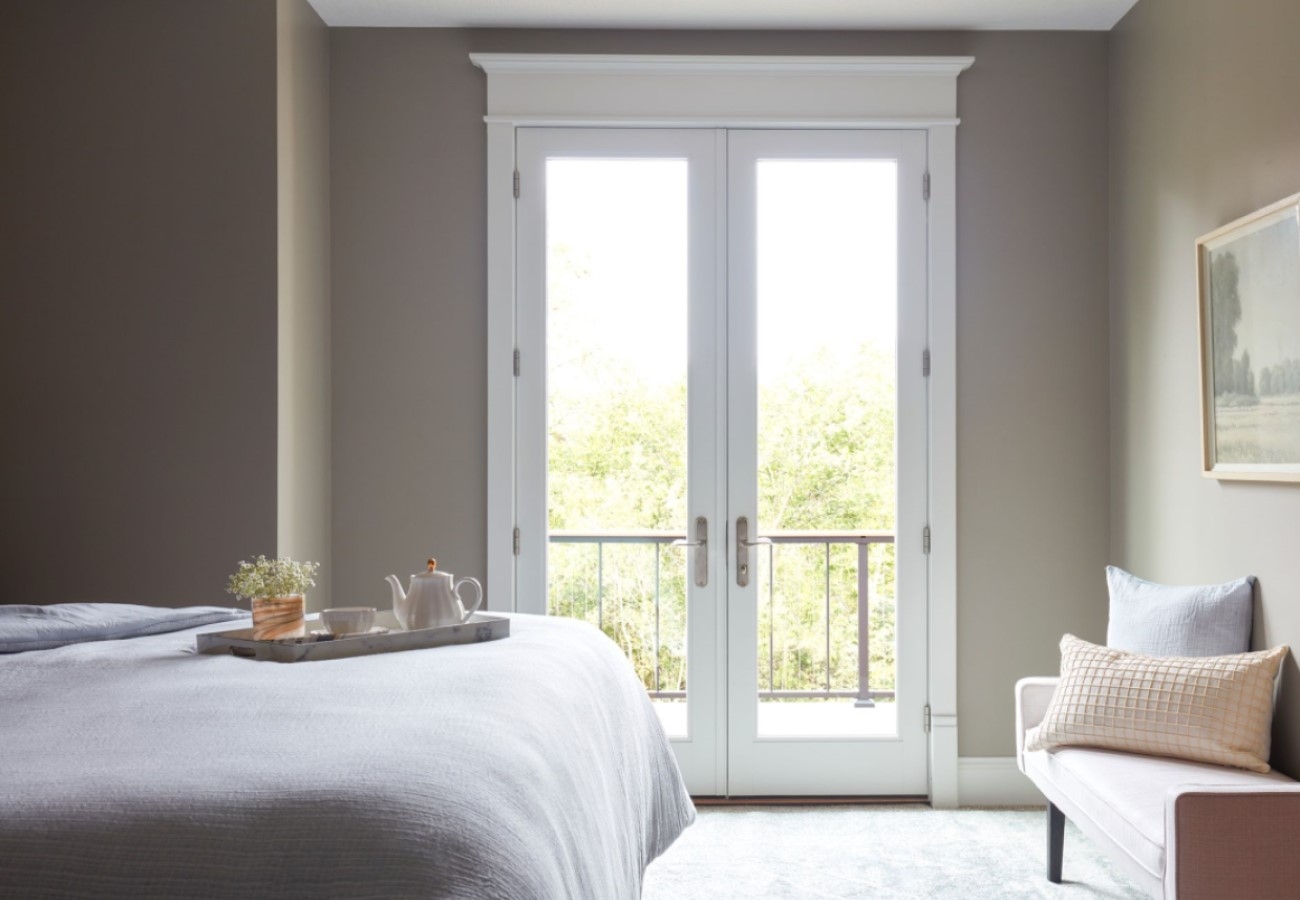 A Room-by-Room Guide to Choosing a Patio Door for Your Home
A patio door isn't just for your patio anymore. Add a focal point and encourage movement from room to room by installing a sliding or hinged patio door.
---
Planning for Functional Interior Doors Around Your Home
Sliding doors and hinged French doors can be used throughout your home to create a transitional space from indoors to out or add character to the interior of your home. These functional doors serve as more than just the entry point to your home. The right door can open up a room, add natural light to a space and add beauty to your home's exterior.
Consider your home's architectural style when selecting new or replacement patio doors. If your home is more traditional and classic in style, a hinged French patio door with grilles might be the perfect choice. If your home is new construction, you might choose a bifold or multi-slide patio doors to create a seamless transition from inside to out. Choosing the right material and patio door type will further enhance the value and style of your house.
Replacing your patio doors can help your home become more energy-efficient, improve your security and safety and increase your home's value over time. Pella offers a wide variety of patio doors to fit nearly every budget and architectural style. When you choose Pella for your patio doors, you can be sure that you're selecting a quality product that will last for years.

Extend Your Living Room Space
Adding a patio door to your living room is an easy way to create an indoor-outdoor living space. As homeowners look to expand their living areas by opening up to a patio or backyard, indoor-outdoor living spaces are becoming a popular home remodeling trend. Beyond traditional sliding glass doors, homeowners are also incorporating bifold and multi-slide patio doors to create a distinct connection between inside and out. Both bifold and multi-slide doors function as a gateway to the outdoors. These types of patio doors are created from expansive glass panels to give the appearance of a wall of windows. They can then be opened up completely to merge your indoor living area with an outdoor living space.
If you're going for a more traditional look and feel, hinged French doors can be used to extend your living room. Hinged doors work to create a flow throughout the house when open, or they can create privacy when a more intimate moment is needed. Add architectural interest to your doors by including grille patterns, between-the-glass blinds or choosing a hardware option that is more suited to the style of your home.

Kitchen Patio Doors
Create the illusion of space in your kitchen by adding in a sliding or French patio door. The kitchen is often the center of your home, where time is spent cooking together or enjoying a meal as a family. Adding a French or sliding patio door allows you to let natural light into this space or even add interest to your pantry or breakfast nook.
Choosing between a hinged French door and a sliding door will depend on your home's style and the available space. Both door options create a visual connection between the indoors and out. If your home is more traditional in style, French doors are a great choice to bring a touch of character to your kitchen, while a sliding glass door can provide a modern and contemporary look. No matter the style of your home, grille patterns on both sliding and French patio doors can be modified to fit your home's style.
French and sliding patio doors can also be a great solution if you're looking to spruce up your eat-in kitchen. French doors hinge out or in to open, so you will need to consider the space around your table and chairs to ensure the doors can function effectively. Pella offers durable wood, fiberglass and vinyl patio door options, each with their own style to fit seamlessly into your kitchen.

Dining Room
If your home has a traditional dining room, both sliding and French patio doors are a great way to bring a bit of distinction to your home. Glass panels help bring natural light into a space, which can be especially helpful if your dining room doesn't have many windows. Interior French doors boast a very traditional look perfect for craftsman- or traditional-style homes. White French patio doors with grilles are a classic choice for many homes.
Sliding doors for your dining room are another choice if your home is more contemporary or modern in style. No matter the look you're going for, Pella is able to help you find the perfect transitional door for your dining area.

Beautiful Bedroom Doors
Your bedroom is the perfect place to add a non-traditional door. Adding patio doors to your bedroom can make your personal space more enjoyable. Our hinged doors are highly customizable, so you're able to choose from different grille patterns and hardware for a personalized look.
If your home's design allows, double doors can be a great choice for adding a personal touch to your master bedroom. If you have a Juliet balcony or other outdoor space off your master suite, a sliding or French patio door allows you to maximize the indoor-outdoor connection and airflow into your personal retreat. Adding French or sliding doors is an easy way to add a unique touch to your bedroom.

Backyard Patio Doors
Patio doors leading to your backyard should be inviting and encourage people to enjoy the outside space. No matter if you have a sunroom, a basement walk-out or a balcony, there are plenty of different options to make your patio door unique to your home.
Sunrooms, or four-season rooms, are great indoor-outdoor spaces in a home. A comfortable space, often used for reading, enjoying a cup of coffee or conversing with family and friends, picking the right patio door is essential to achieve the perfect feel and function for your sunroom. Multiple sets of French patio doors are a great choice for traditional and contemporary style homes. Each set of doors can function independently, allowing you to let in sunshine or a light breeze when you want.
Many homeowners are looking to expand their indoor-outdoor space by creating an outdoor living area on their patio or deck. Design your outdoor space around your patio doors to encourage conversation and movement between the inside and outside of your home. A space like this is perfect for entertaining a large group. The design team at Pella is here to help you design a cohesive outdoor living area you'll love for years to come.
If you're looking to use patio-style doors for the exterior or interior of your home, the options are nearly endless. Pella is proud to provide homeowners with high-quality, energy-efficient doors that will leave an outstanding impression on all your guests.
Patio Door Features & Options
Explore What Pella Has To Offer