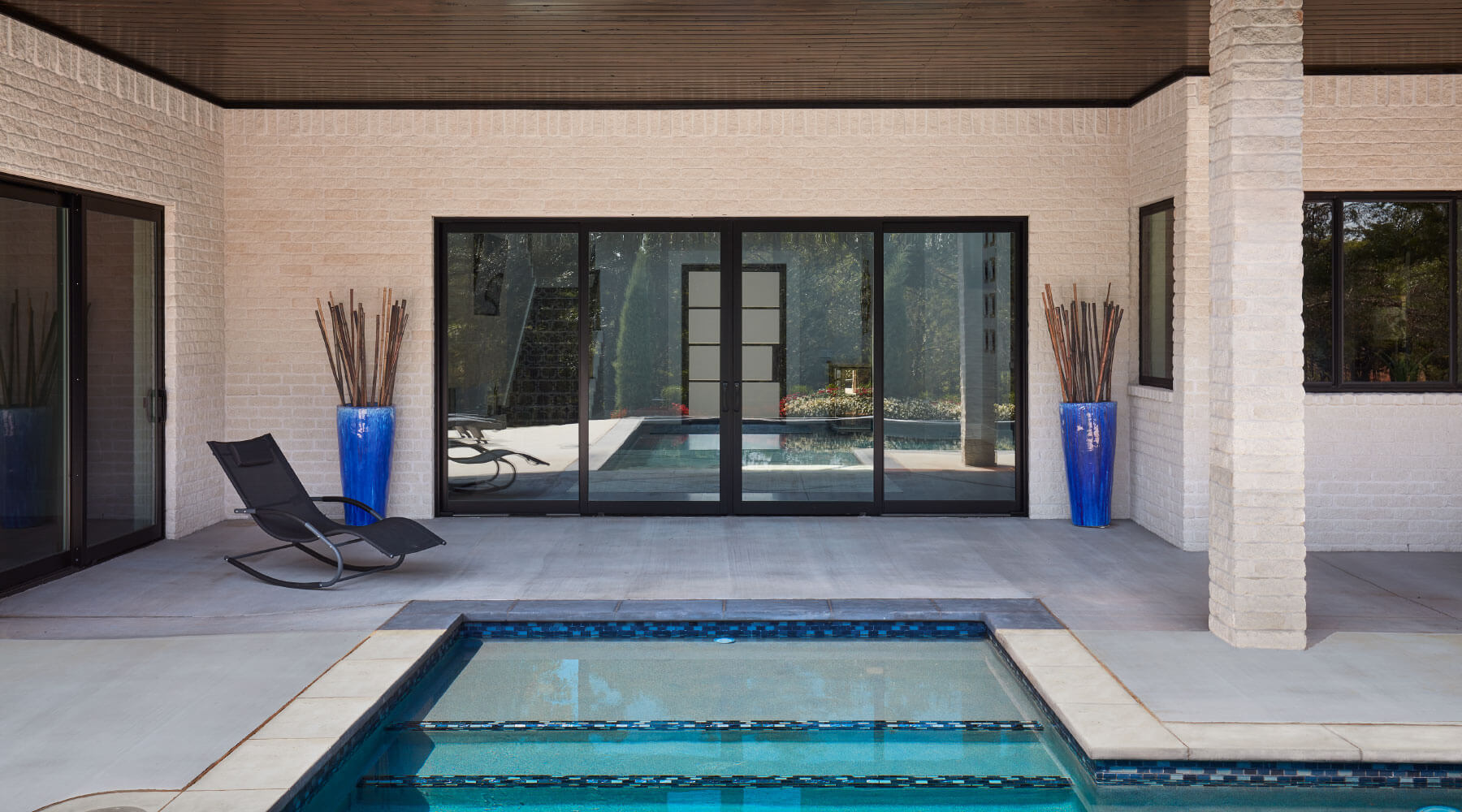 Shopping for Replacement Patio Doors
Replacing your patio door opens up a world of opportunity. Don't settle for just a simple door. Pella makes it easy for you to get the patio door of your dreams.
---
A patio door is much more than a gateway to the outside. The right patio door can provide plenty of sunlight and fresh air while adding a splash of character to your home. With the multiple options, features and customizations offered by Pella, there's no reason you can't find the patio door perfect for you.

Replacement Patio Door Shopping Process
So you've decided to tackle your next home improvement project — replacing your patio door. There are a number of factors to consider when it comes to buying a replacement patio door, from materials to design to functionality. A patio door is much more than just a door. The right patio door can cut energy costs, create a beautiful focal point and improve the value of your home.
When the time comes to order a replacement patio door, the team at Pella is here to help guide you and will take your ideas and needs into consideration. Whether you're looking for a simple sliding patio door, or a more elaborate bifold patio door, our Pella professionals will provide care and attention to detail from start to finish.
As you're shopping for a replacement patio door, you'll probably be comparing a few different options. Here are a few things to consider when you're comparing patio doors.

Types of Patio Doors
Patio doors can be a great way to accentuate the architectural style of your house. We offer various types of patio doors to fit exactly what you're looking for. Many of our patio doors can be enhanced even further with upgrades and options — we'll talk about that later on.
Due in large part to its ease of operation and low-maintenance approach, one of the most common types of patio doors is the sliding patio door. Sliding patio doors don't swing open, so they make a great choice for smaller rooms where space is a concern. With a sliding patio door, you're able to place your furniture closer to the door without having to consider door swing.
If you have more wall space, consider taking your sliding door to the next level with a multi-slide patio door. Comprised of large panes of glass, these doors create a wall of windows and enhance your connection to the outdoors. Multi-slide patio doors slide out of the way and stack against each other when open, creating an expansive indoor-outdoor living area.
Bifold patio doors open like an accordion. Just like multi-slide patio doors, bifold patio doors are great for adding a unique look to your indoor-outdoor space. Traditional and contemporary options allow for a focus on beautiful wood frame or more expansive entertainment areas with minimal framing.
Finally, a type of patio door many homeowners are familiar with and love is the French patio door. French, or hinged, patio doors are very versatile and open either inward or outward. Options are available for two operable doors that swing open from the side, one operable door paired with one fixed door or just a single door for an elegant look.
Patio Door Materials
Once you settle on a type of patio door that will function best in your space, you'll want to decide what type of material you're looking for in a patio door. Is your current patio door meeting your needs? Or are you looking to make more of a statement with a complete change in the material? Pella offers patio doors in three materials: wood, fiberglass and vinyl. While all our materials are designed and tested to be energy-efficient, these three options each look and function a little differently, so it's a good idea to compare them to understand what will work best for you.
Wood patio doors are classic. Wood patio doors are crafted to be long-lasting. Since wood is an organic material and a naturally good insulator, they are designed to decrease your utility costs. Wood is an option for all available patio door types: French, sliding, bifold and multi-slide. Depending on your home's architecture and your design aesthetic, our team can work with you to customize the style and frame of your patio door to perfectly meet your needs.
Pella's high-performing fiberglass patio doors are a low-maintenance option. Made from our five-layer patented fiberglass material, fiberglass patio doors have the ability to withstand extreme highs and lows in temperatures, making them ideal for climates that fluctuate with the seasons. While energy-efficient fiberglass patio doors help save money on your energy bills, a hassle-free powder-coat finish helps save you time. This finish appears just like painted wood, without the need to restain or refinish year after year. Fiberglass patio doors are available in a sliding option.
Pella's vinyl patio doors are a great choice for any homeowner. Available in a sliding option, our vinyl patio doors are low-maintenance, energy-efficient and come in two different product lines. Pella® 250 Series products are our mid-range option that was designed to provide exceptional safety and security. Encompass by Pella® is our competitively priced option fitted with our easy-care vinyl.

Customize Your Patio Door
Pella makes it easy to design a patio door unique to your home. We offer numerous finish options to fit each architectural style. Whether you choose a wood, fiberglass or vinyl patio door, there's a color to suit you.
If your home has a particular style, accentuate it with between-the-glass grilles. Grille patterns are an easy way to add character to your patio door and enhance curb appeal. We offer a variety of grille patterns, including traditional and Victorian, or you can customize a grille to get exactly the pattern you're looking for.
Looking for a low-maintenance solution that offers enhanced privacy? Between-the-glass blinds are an upgrade option that do double-duty. Open and close between-the-glass blinds with ease to control the amount of light entering your space as well as adjusting privacy levels. Because they are enclosed between panes of glass, these blinds also help save you time and reduce dust and allergens around your home. For added convenience upgrade to Insynctive Technology and control your blinds on the go.
Don't overlook the small details that can complete your patio door. We offer various hardware options for you to get the most out of your patio door. Whether your style is traditional or more modern and sleek, we offer the hardware and finish options to complete your patio door from top to bottom.
When you're ready to start shopping for your replacement patio door, give your local Pella experts a call to schedule a free in-home consultation. We'll discuss all the materials, features and options that you're interested in then get started crafting your perfect replacement patio door.
Explore What Pella Has to Offer