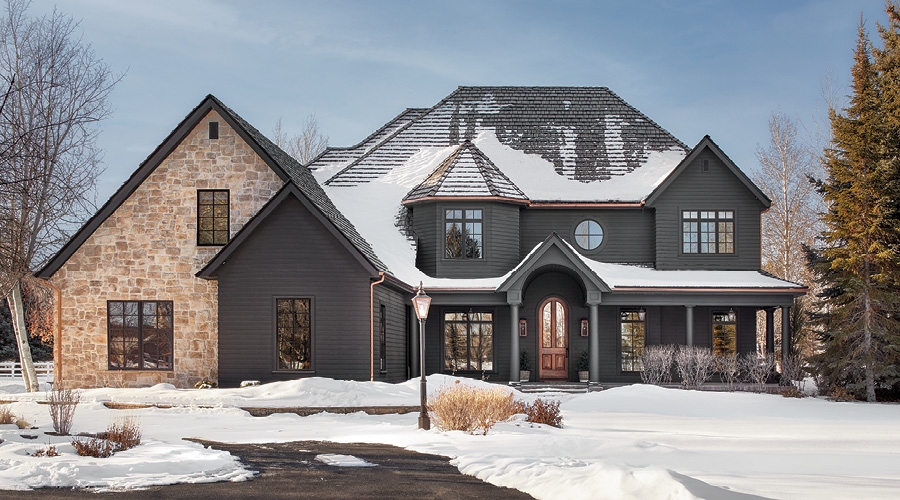 Chris Loves Julia's Modern Cottage House Renovation
Gorgeous new Architect Series wood windows brighten Chris and Julia Marcum's modern cottage style home.
---
Products provided in partnership with Pella.
Chris and Julia are the home design experts from the popular website and blog Chris Loves Julia. "Our home renovation goal was to create welcoming, livable spaces that are beautiful and comfortable for everyone," Julia says.
Bringing the outdoors inside was key. "In every house we've owned, we've added windows," Chris says. "It's easier than you might assume. If there is a place in your home where you want more natural light, all you have to do is ask your Pella rep. We learned that in most cases, the answer is yes."


What is modern cottage style?
Modern cottage style embraces traditional elements like arched doorways and vintage look fixtures, but folds in modern elements such as moody paint colors, layered patterns and different wall treatments and textures.
"Modern cottage style embraces traditional materials along with something modern and fresh in every room. It's a family friendly design that's really casual and approachable," Julia says. "For us, it's the perfect balance between timeless and trendy and a design aesthetic we can live with for a long time."
"The best thing about modern cottage style is that it's an aesthetic you can truly make your own," Julia continues. "It's more about a warm, welcoming feel than it is about a specific list of features, so you can make it very personal. If you love it, it works."
For Julia, windows create living art. The color and the beauty changes with the season. "I'll take a window over a painting every time," Julia says.
The living room window is the focal point of the room and was custom made from a simple sketch Julia drew. Architect Series windows and patio doors are available in a variety of custom sizes with intricate grille patterns and nearly endless possibilities. "We knew we were going to add this window before we even bought the house," Chris says. "There used to be a fireplace on this wall with windows around it, but the fireplace blocked most of the view. Our backyard is so beautiful. We wanted to be able to enjoy it from both inside and out."
The arch of the window is repeated on interior archways and furnishings throughout the home. Arch windows are a timeless element that combines traditional and modern styles. "I'm a big fan of repeated design elements," Julia says. "It's an easy way to achieve a cohesive look from room to room."

Why did you choose wood windows and patio doors?
"Our Pella rep was an incredible help to us," Chris says. "He went over all the features of the various window types, but we fell in love with the timelessness of the black wood."

"Architect Series is stunning, and the wood enabled us to get our exact vision," Julia says. "I knew I wanted black and I love that when you look close, you can see the texture from wood grain. Every room can benefit from a touch of black. It's grounding and sophisticated."
Our wood windows and patio doors are incredibly energy efficient and offer beauty, warmth and design flexibility. And as our most customizable material, if you can dream it, we can create your window or door. They're available in a variety of popular colors, including Black, and are protected with our exclusive EnduraGuard wood finish. This protective treatment provides advanced protection against the effects of moisture, decay, stains from mold and mildew — as well as termite damage.
"We added Pella windows to our last home, and we loved the quality," Chris says. "While adding windows and doors is an investment, it pays off. Adding the French doors to the dining room is wonderful for entertaining during the summer. When the doors are open, it's truly an inside-outside space. During the winter months, swapping out the windows and doors saved us $100 a month in gas bills." According to EnergyStar.gov, replacing single-pane windows with ENERGY STAR® certified windows can help homeowners across the United States reduce their annual heating and cooling costs by 12% on average, when compared to non-certified products.

What was the window and replacement door process like?
If you follow Chris Loves Julia, you know the couple embraces remodeling projects. To keep their budget in check, the couple opted to replace all the windows in their modern cottage style, southeast Idaho home in two phases: first along the back of the house and then along the front.
"The installation process went smoother than we could have imagined," Chris says. "They delivered all the windows and doors at once and stored them in our garage. It only took the installation team a few days to install everything."
The finished result is exactly what the partners of Chris Loves Julia had in mind. "Love where you live," Julia says. "We certainly do."

Watch the Video

03:21
Explore What Pella Has to Offer