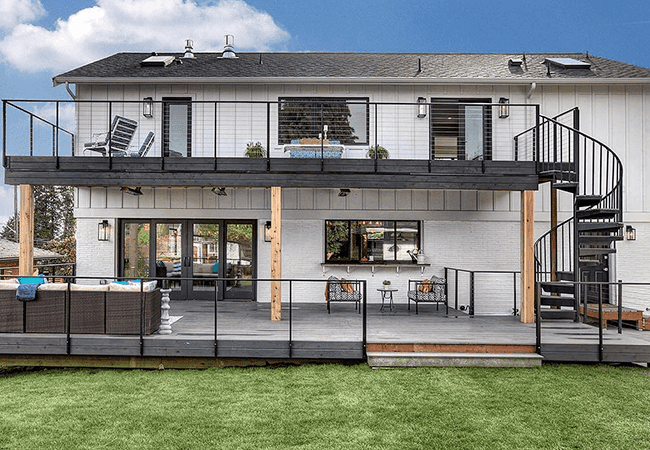 Best Sliding Glass Doors
Need ideas to spark inspiration for your next home renovation project? The right sliding glass door could do the trick. Read through this article, and you're sure to be inspired.
---
Maybe you know you'd like new sliding glass doors or replacement patio doors for your home, but aren't sure which kind will look best. A good place to start is with our very own Pella customers. They continually amaze with their creative home designs, layouts and stunning architecture.
We're fortunate enough to receive numerous social shout-outs every month featuring sliding glass doors. The choices run the gamut — warm kitchens, stunning living rooms and breathtaking patios. Keep reading to see some of our most recent favorites.
Narrow Kitchen? Slide into More Space

Whether your home is cozy or expansive, you deserve to feel like there is enough space in your kitchen. Enough space to unwind and savor a delicious home cooked meal. Or to entertain and celebrate a momentous occasion. For areas in your home with limited space, sliding patio doors can breathe life into any room.
Take a peek at Kim and Scott Vargo's kitchen. At first glance, this modern, contemporary kitchen seems a bit narrow, but the sunlight seeping in through the six-foot, black sliding glass patio door offers a sense of environmental expansiveness. The family pets even seem to enjoy the sun-drenched entryway as their new favorite napping area.
Now the brightest room in the Vargo's home, the family also installed Pella Insynctive technology so they can control their motorized sliding glass door blinds with the click of a button. On days packed with too much sunshine, they can simply access the app. Or, they can set a scheduled time in which they want their blinds to close.
Spacious Sliding Glass Doors, Spacious Living Room

A place to gather and shape memories together, living rooms can often be a home's focal point.
This living room, fitted with roomy, full sliding glass doors, contributes to the contemporary beauty of this design by Starwood Custom Homes. The door's vertical and horizontal lines juxtaposed with the sleek flooring and fireplace mantel create an aesthetic that's easy to appreciate.
Not a fan of the sliding glass door curtains? You can opt for sliding glass patio doors with blinds between-the-glass. Permanently sealed between the panes of glass, your blinds will be protected from dust and damage. Have a few kids running around? Between-the-glass blinds will keep the blinds, and your family, safe.
Should you want a more traditional look for your living room, wood sliding glass doors could be fitting for your style of choice. Pella wood products are available in eleven stain colors and five paint colors. And with low-maintenance EnduraClad® and EnduraClad® Plus exterior finishes to select from, your sliding glass doors will look great from both inside and outside the home.
Exterior Glass Doors Create Astonishing Deck Space

Deck spaces can sometimes be the most exciting area of your home. It's a place where people spend time together outside, appreciating one another's company. In the summer, a backyard patio deck with a sliding glass door can be accessed quickly and easily, giving your family even more time to soak up the sun.
The combination of this home's window shapes and sizes, along with sliding black doors, creates a sense of harmony. With over 1,000 square feet of space to entertain, the deck is further augmented and refined with the selection of a black frame.
Sliding Glass Doors: Budget and Types

Now that you've seen some inspiring ways in which sliding glass doors can renew the style of almost any room or area in your home, you're probably thinking about some of the more nuanced details associated with picking the right sliding glass door for you. Air flow, daylight levels, maintenance, color, cost and energy efficiency can all be important factors in the decision-making process. Material selection impacts all these elements.
Glass Door Materials
Wood is a classic sliding glass door material selection offering warmth and design flexibility. Wood sliding glass doors also tend to have more features and options than other materials, from blinds to high-transparency screens. This provides flexibility in décor, making wood sliding glass doors a solid option for accenting the unique look of your rooms and home. Plus, wood frames are natural insulators, providing the energy efficiency you're seeking.
Featuring air chambers inside the vinyl itself, heat loss and sound transmission don't need to be concerns if you opt for vinyl sliding glass doors. If you do have a deck in which you entertain many guests, closing your vinyl sliding glass doors will help keep the noise from a gathering out of the home, allowing any little ones to get the rest they need.
Extremely strong, fiberglass sliding glass doors can keep your home warm when colder weather comes around. The same can be said for extreme heat situations should you live in a climate that experiences high temperatures throughout the year. Fiberglass sliding glass doors are low maintenance and easy to care for, providing excellent aesthetics without the time demands of caring for other material options.
Inspiration doesn't always come easy. But, hopefully, after reading about a few of our favorite rooms outfitted with sliding glass doors, you're feeling confident about your own design opportunities. Almost any room in your home can be forever changed with the addition of a sliding glass door.
Explore What Pella Has to Offer