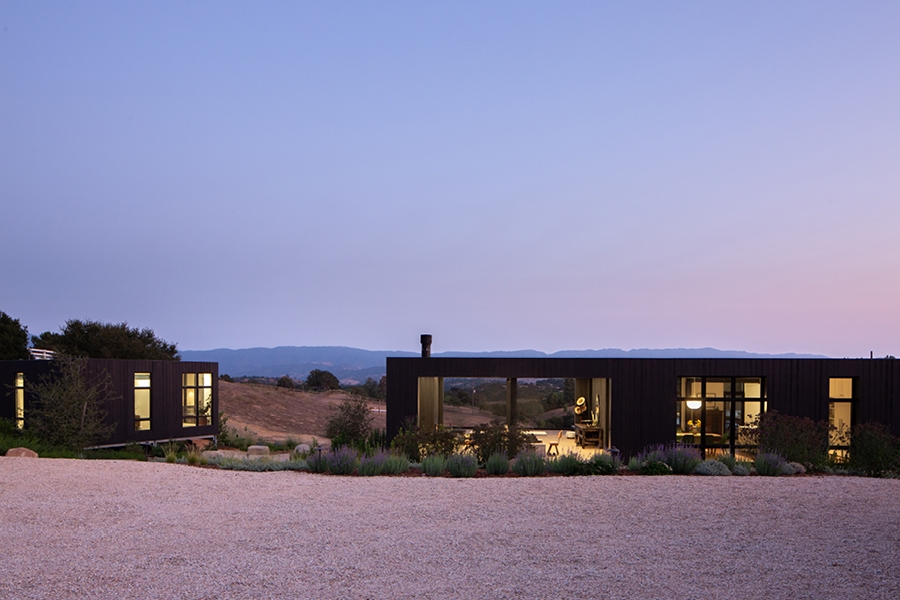 Creating a Californian Oasis with Hygge Supply's Kit Guest Home
See how Hygge Supply brought high, modern design and sustainability to a new kit home, used as guest house.
---
Project Details
Type:

New Construction

Location:

Santa Ynez, California

Products Used:
Kit homes or accessory dwelling units (ADUs) are taking the West coast of the United States by storm. ADUs are also known as secondary guest houses, in-law suites or cottages and are commonly used as backyard offices. Kit homes are popular because materials and finishes are pre-selected for an entire space and then are shipped directly to a build site for simple construction.



Hygge Supply offers two kit home designs and several combinations. Starting with a small or large base unit, you can combine multiple units together with an optional breezeway. Hygge Supply's cottage designs range from approximately 150 to 950 square feet with options to meet your added space needs. Some of the most popular combinations include two small units attached with a breezeway, a large and a small unit or two large units.
Kit home serves as guest house for family and friends
Hygge Supply is well known for their high-design, modern spaces. The goal is always to create an ADU that gives peace, serenity and comfort to all those who use it. Often, a modern space can feel cold and unapproachable, but with Hygge Supply it is the opposite.

In a modern luxury space, every detail matters. Hygge Supply proves their attention to detail in every product and material selected — even down to the lighting and paint color. A hallmark of their design, Hygge Supply ADUs feature a floor-to-ceiling cabinet system. The custom cabinet fronts provide a uniform look throughout the home and custom furniture helps create the ultimate modern space.
The Santa Ynez, California guest house is a kit home and has a keen focus on sustainability and high efficiency. This modern space is full of comfort with warm paint colors and finishes, subtle lighting and expansive full-length windows and glass doors.

Floor-to-ceiling windows and doors deliver indoor/outdoor living
The modern ADU guest house features floor-to-ceiling Pella Lifestyle Series windows and patio doors, which offer the beauty and durability of wood combined with style flexibility and high performance. To achieve indoor/outdoor living and maximize every square foot of the ADU, the guest house features dual-pane windows and patio doors that slide side-to-side or open outwards. This allows furniture and décor to be placed closer to the windows and doors.
Stacked, one on top of the other, the simple, three window combination features two picture windows, or windows that do not open, at the top and bottom with a casement window in the middle. This specific arrangement of windows is strategic for this Santa Ynez, California home. The windows fill the home with natural light while meeting tempered glass requirements of the fire zone. The wood glass doors also played an important role in the home's design because it allows for Hygge Supply's own electronic locking system to be used.
To simplify the process for their customers, Hygge Supply offers a standard set of windows and doors with customizable interior and exterior finishes. Choose from white or black paint or a clear pine stain on the interior and a white, black, bronze or gray exterior finish.

Choosing Pella windows and patio doors was easy
"Pella strikes a good balance between giving a great product, at a good price point for us to offer," says Kelly Sean Karcher, President at Hygge Supply.
When choosing the right windows for their kit homes or ADUs, Hygge Supply leaned on their personal experience with Pella. Kelly Sean Karcher, President at Hygge Supply chose Pella windows for his family's Michigan lake house for their quality, reliability, energy efficiency and high design.
EXPLORE WHAT PELLA HAS TO OFFER