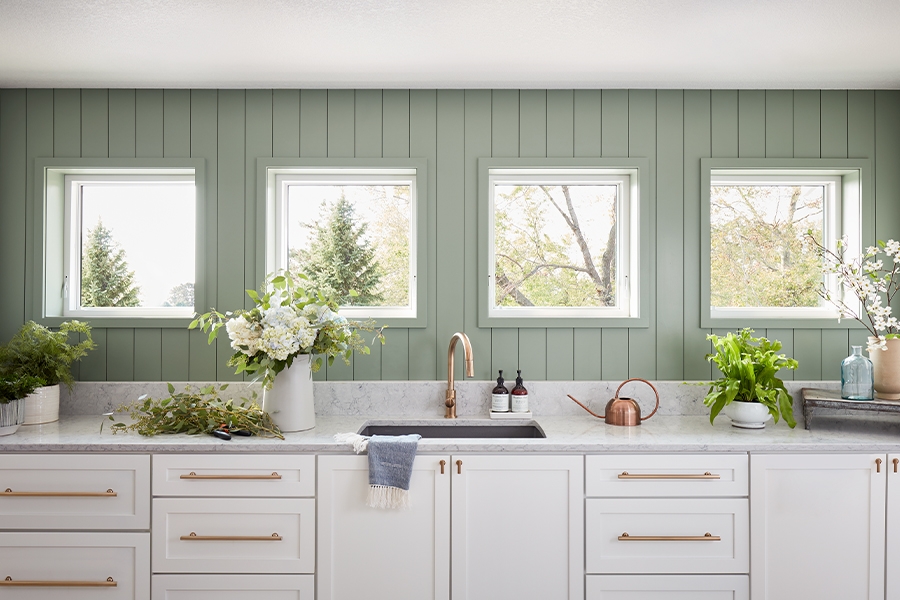 Types of Kitchen Windows
From different types of windows and window sizes to window placement and treatments, here are some of the best kitchen window ideas to elevate your space.
---
The kitchen is the heart of the home. Given the large amount of time people spend in this space, kitchen windows are crucial to brightening the room, adding design interest and making a high-traffic area feel bigger. A new window can transform the feel of your kitchen. Check out some popular kitchen window ideas to inspire your next home remodeling project.
The Best Kitchen Windows
The best kitchen windows for your home depend on the personality and style you're hoping to achieve. There are so many different types of windows to fit any lifestyle. Think about where you want to place the windows, whether you want them to ventilate, what size they should be and how you can style them with window treatments. Replacing windows will always be a smart upgrade to make, and the best kitchen windows will bring light, function and style to the room where you spend so much of your time.
Popular Kitchen Windows Over Sink
Kitchen windows over sinks are beautiful and practical additions to any kitchen. No matter the type of kitchen sink window, placement above the sink gives one the ability to watch their young kids play outside and offers extra natural light with a refreshing breeze. Below are some common types of kitchen windows above sinks

Welcome Cool Air with Casement Windows
When it comes to kitchen windows over a sink, casement windows are especially popular as they are easy to open and close, even in hard-to-reach spaces. Choose between a crank that folds away when not in use, or the Easy-Slide Operator that allows you to simply slide to open and close without the effort of cranking. Casement windows are often used in pairs and hinged to swing outward like French doors, offering ventilation and a breeze in a room that might otherwise generate heat. Adding casement windows above the sink is an aesthetically pleasing yet practical way to take advantage of space that often goes unutilized.

Brighten Your Space with Kitchen Picture Windows
Picture windows are another great option when you're looking for additional light in the kitchen. Picture windows do not open and look gorgeous over sinks. Rectangular black windows act as a contemporary design focal point over the sink. To make your space feel brighter and even more inviting, consider kitchen window design ideas such as white picture windows over the kitchen sink.

Add Aesthetic Flair with Arched Kitchen Windows
If you're searching for a more unique picture window shape for above the kitchen sink, look no further than arched windows. Arched kitchen windows combine graceful curves with sharp edges. Also called full springline windows, arched windows bring timeless character and style to a traditional kitchen.

Create an Entertaining Space with Kitchen Pass Through Windows
Kitchen pass through windows are another creative way to bring light, air, style and function to your space. When you want your kitchen to open up and embrace the outdoors, pass through windows create wide openings to merge the indoor and outdoor living spaces. It is most common to place pass through windows on the wall between the kitchen and backyard as they are intended to bridge the kitchen prep area with an outdoor dining area. Kitchen pass through ideas include bifold, multi-slide and sliding windows. No matter how the windows open, kitchen serving windows will make it easy to pass trays of food in and out while keeping everyone included in the conversation.

Kitchen Bay Windows Extend the Limits of Your Walls
Combining three or more windows at an angle, bay windows extend out beyond the walls, adding more space to your kitchen. Similar to bay windows, bow windows also extend beyond the walls, but in a more graceful curve composed of many windows. Acting as a kitchen window sill, bay windows are commonly used behind the sink or in a breakfast nook area to showcase décor and plants. If the window sill idea catches your attention but you don't have things to display, benches below kitchen windows are a clever and stylish way to seat more people around the table.

Large Kitchen Windows Elevate Your Space
An especially popular kitchen window idea right now is large kitchen windows that tower above the counters. Tall kitchen windows bring ample light to make the space seem larger, and also offer a modern aesthetic to keep the space feeling elevated and minimalistic. For those who love the look of big kitchen windows, consider installing open shelves instead of wall cabinets. This allows you to maximize storage, while leaving more space on the wall for large windows.

Kitchen Window Treatments to Dress Up Your Room
A roundup of kitchen window ideas wouldn't be complete without talking about the finishing touches: kitchen window treatments. Adding treatments to your kitchen windows is a budget-friendly way to enhance the style and energy efficiency of your home. From curtains and valences to blinds and shades for kitchen windows, window treatments make the room feel cozier and cooler simultaneously. On warm days, sun-facing windows with blinds or shades can help maintain your kitchen's ideal temperature. Smart home kitchen window shades make life easier by allowing you to open and close the shades with an app, especially helpful when you have big kitchen windows that are difficult to reach. Additionally, blinds and shades can be built in between the panes of glass, protecting them from dust and damage.
Put Your Windows to Work
Offering natural light, energizing breezes, distinctive style and seemingly larger spaces, windows can work for you and your lifestyle in many different ways. You've learned some popular picks when it comes to choosing windows for a kitchen. Now it's time to start making your dream kitchen a reality.
Explore What Pella Has to Offer