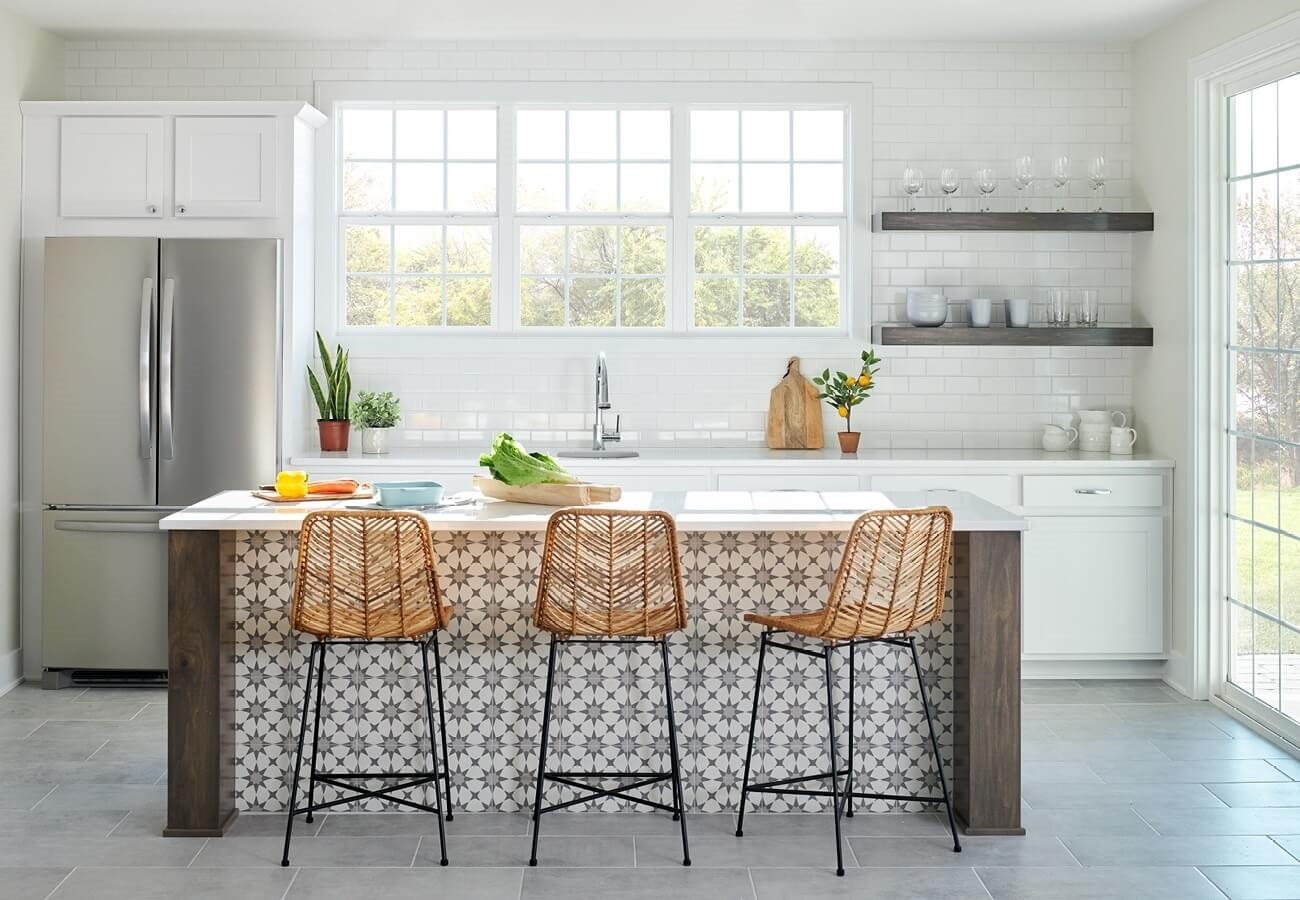 Kitchen Window Design Ideas: White and Light
Single-hung windows and a sliding patio door underscore farm fresh kitchen style in this must-see, light-filled kitchen with Pella products.
---
There is nothing that makes a kitchen feel more inviting than abundant natural light. Here, a trio of classic, single-hung white kitchen windows over the sink combines with a sliding glass door to allow in plenty of natural light. Increasing the size of windows brightens and visually expands the appearance of even a modest-size kitchen. The chosen vinyl Encompass by Pella windows are low maintenance, easy on the budget, and a beautiful addition to any home. Sliding patio doors increase usable floor place and allow in even more light and views.
Warming Up White
Add visual appeal to a mostly white kitchen design with pattern, texture and dimension. Classic window grilles on the kitchen windows over the sink and the matching vinyl Encompass by Pella patio door add a designer touch to both the kitchen and home exterior. Shaker-style cabinets, simple subway tile walls, and easy-care tile floors instill a farm fresh kitchen design that will look equally as captivating decades from now as it does today.
Gray and white vintage tile on the kitchen island create an unexpected focal point. Driftwood-look open shelving beside the kitchen windows underscore an open and airy vibe. Woven bamboo barstools and potted plants lend warmth.
Kitchen Window Placement
While a kitchen window above the sink may be the "traditional" choice for a kitchen window, if you spend a lot of time at this spot, then a window in this position is a good option. Expanding its size allows in more light while creating a more modern design. If your sink is in the island, you can still put large expanses of windows over perimeter cabinets, but we do not recommend installing windows over the cooktop or stove, as you don't want to reach over a hot surface.
Windows and cabinets compete for wall space. To get the best of both, maximize your base cabinet storage with pullouts and easy-reach drawers. If you need every drop of storage you can get, consider installing open shelves above windows or placing inoperable windows above wall cabinets, in the backsplash area, above a kitchen desk, or inside a walk-in pantry.
Kitchen Window Styles
Keep in mind that the kitchen is the room in the house where you'll likely spend the most time, so if you plan to splurge anywhere, this is the spot to do so. Remember, too, that windows in the kitchen should blend with the other windows in the house, especially if the kitchen faces the street.
If you prefer natural ventilation, choose kitchen windows that open like these single-hung kitchen windows. Operable windows need to be easily accessed to open and close, so make sure you consider this in your remodeling plan. If you never plan to open your kitchen windows, stationary windows, also called picture windows, are an excellent option. The addition of sliding patio doors can provide the ventilation you desire.
For more design inspiration, check out our kitchen window ideas. Will you be replacing windows in other rooms of your home? Then don't miss our home remodeling ideas for windows and doors.
Which Kitchen Window is Best?
The best kitchen windows are the ones that complement your lifestyle. Each window style has unique benefits.
Sliding windows include single-hung as shown in this kitchen, double-hung windows, and sliding windows, which open horizontally instead of vertically.
If reach is a consideration, casement windows, often called crank-out windows, are a good choice. They open outward from the turn of a handle.
Fixed frame windows, often call picture windows, are inoperable and pair beautifully with standard operating windows. For more window options, visit Pella Window Types.
Why Use Vinyl Windows and Doors in the Kitchen?
Vinyl windows, like the Encompass by Pella windows in this kitchen, feature quality vinyl frames that look great without the maintenance of painting, staining or refinishing. Vinyl windows can also help you save on heating and cooling costs.

Mood Board Sources
Window Features & Options
OTHER PRODUCTS YOU MIGHT LIKE