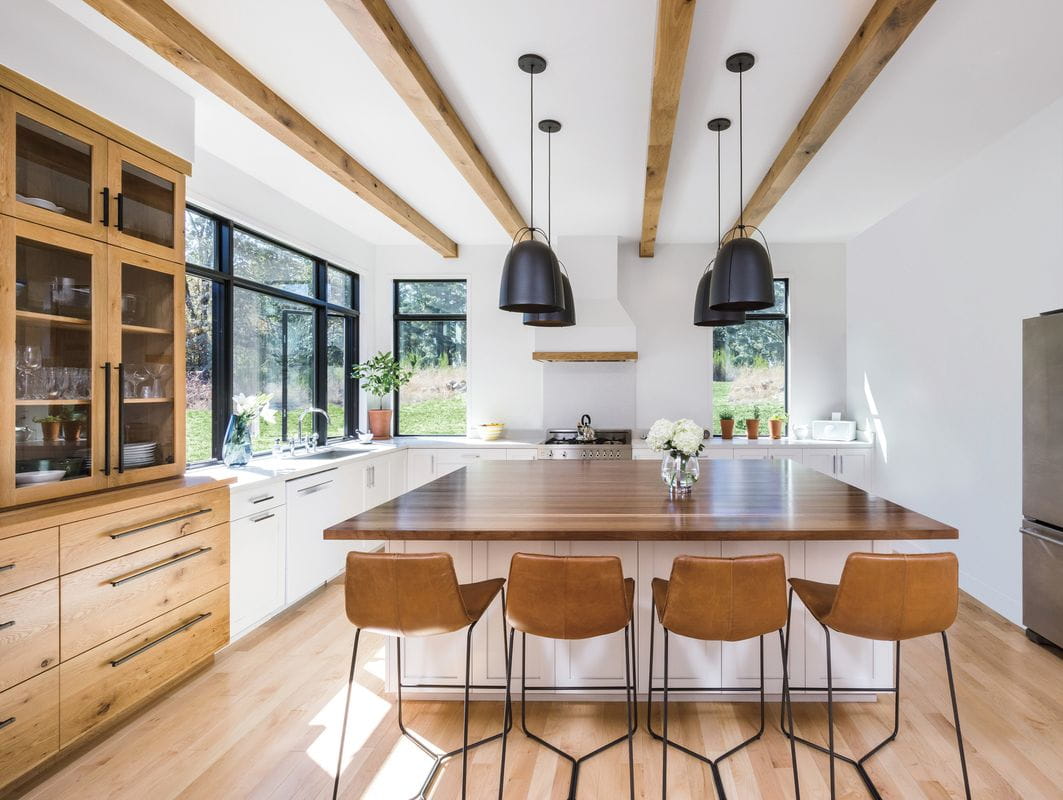 8 Smart Kitchen Upgrades
Looking to update your kitchen but don't know where to start? These eight home improvement ideas will give you a return on investment and a more beautiful, breathable kitchen.
---
Kitchen Upgrades That are Worth It
Kitchens tend to see a lot of daily hustle and bustle. If you spend a good chunk of time in yours, you've likely spent time thinking about how your ideal kitchen might look or function. While a kitchen renovation can be exciting, you certainly don't need to undertake a total remodel to transform your space. From small changes to big upgrades, we're sharing the different ways you can update your kitchen to better meet your needs.
1. Window Replacement
Whether you use your kitchen primarily for cooking or have additional space for dining or working on projects, light plays an important factor. When you think about how you function in your space and where you spend the most time, how does your current window setup serve you? Do you have fixed windows that you wish you could open up during nice weather? Or perhaps you have an operable window in a tough-to-reach spot and a picture window would better meet your needs. Maybe your windows are dated and no longer go with your contemporary kitchen, or it could be that your windows are drafty and making your space uncomfortable. Replacing your windows with functional, energy-efficient windows that better mesh with the style of your home can go a long way towards improving the overall feel of your kitchen. When you're ready to upgrade your kitchen windows, a knowledgeable Pella representative will be happy to talk through the different options for replacement.

2. Add Window Screens
While you're thinking of windows, don't forget to consider kitchen window screens. Window screens can dramatically change the look and function of a space. While traditional window screens certainly give you increased ventilation, our Integrated Rolscreen retractable screen offers a more polished look and increases the amount of fresh air and natural light that streams into your kitchen.
As you can see in the photo above, this screen rolls out of sight when you close the window, so you'll have an unobstructed view when you don't have the window cracked open. This cutting-edge design will give you beauty without compromise.
3. LED Lighting
Your windows might be providing you with ample natural light, but there may be other areas of the kitchen that need to be illuminated. Light up your kitchen in new, innovative ways by placing LED lighting under or above cabinets. There are several shades and styles of LED lighting, so, whether your home features cool or warm tones, you can pick a product that will match your home's style. Under-counter lighting not only adds an additional layer of lighting to your kitchen but helps make it easier to see all of your kitchen counter tasks.
4. Declutter Your Counter
Perhaps it's not literal light you need in your kitchen, but rather the feeling of lightness. Decluttering countertops can help your kitchen look bigger, brighter and visually lighter. That coffee machine or stand mixer you never use? Donate it or place it in a storage closet. Making a point to keep counters clear of mail, old cups and food items will help your kitchen stay looking sharp all day, every day.
5. Upgrade Countertops
If you've been living in your house for a while, chances are your taste in countertops might have changed. Updating old kitchen countertops doesn't just benefit you while you are living in the home. The majority of today's homebuyers desire new countertops when looking for their dream home.
Increase your home's resale value and aesthetics by replacing laminate with Corian, granite or quartz countertops. You can also extend the lifetime of your existing counters by refinishing to get rid of nicks, scratches or dings caused over time.

6. Swap Out the Old for a New Kitchen Sink
Sinks sustain a considerable amount of wear and tear over the years. If that damage becomes visible, or you find yourself constantly needing to repair the kitchen sink, a replacement might be in order. Or, perhaps you're just ready to upgrade to a new sink that better matches the style of your kitchen and the way you like to operate. Farmhouse-style sinks or updated divided sinks that provide flexibility are popular choices for kitchens.
Stainless steel sinks offer exceptional durability and pair well with granite or engineered stone countertops. On the other hand, enamel-coated cast iron is a beautiful option for people who are not tough on sinks.

7. Paint Cabinets
Simply applying a fresh coat of paint can be an instant lift for your kitchen, but painting your cabinets a completely new color to better match the vision for your dream kitchen can be an extremely gratifying and relatively inexpensive upgrade to make, especially if you do it yourself.
One of the top trending kitchen design ideas is two-toned kitchen cabinets. Consider creating contrast with natural elements, focusing on a small section of cabinets or adding a touch of vibrant color to create movement and enhance your kitchen's look.
8. Replace Cabinet Hardware
Want a project that won't take more than a few hours but can instantly refresh your kitchen? Updating your hardware can be another relatively quick and inexpensive way to update your space. Drawer pulls and cabinet knobs can easily be replaced and upgraded to add even more design appeal. Repainting your cabinets and replacing your hardware at the same time can give your kitchen an entirely new look. Or, simply picking out and installing new hardware in a finish and style that you enjoy can boost the appeal of your cabinetry.
If your kitchen is the heart of your home, it should be a place where you truly enjoy spending time. So go ahead and make those updates, big or small, that will transform your space into the kitchen of your dreams.
Window Features & Options
Other Products You Might Like