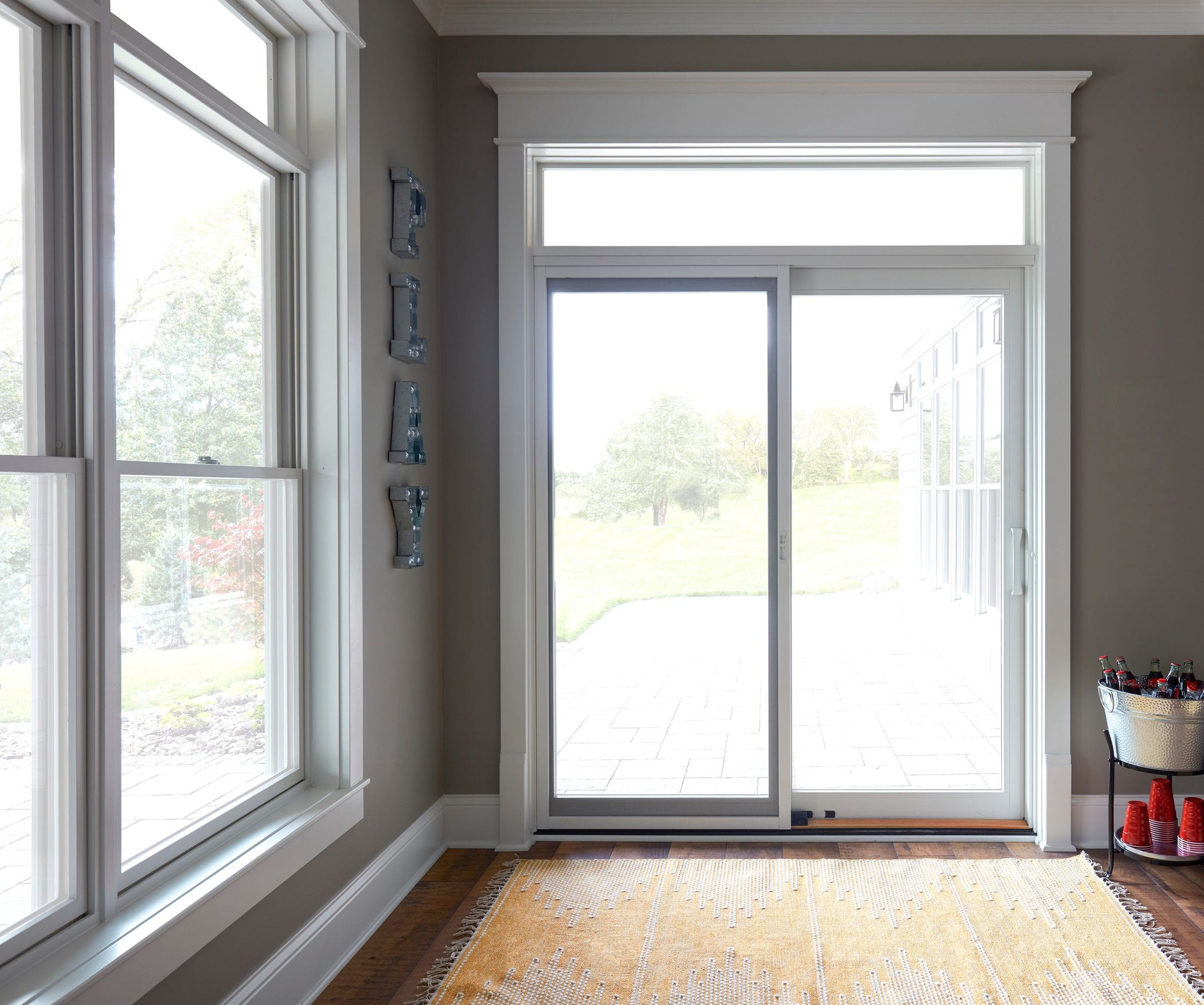 Choosing the Right Material for Your Patio Doors
Patios doors help create an indoor-outdoor connection. Choosing the right material for your patio door will help bring character to your home.
---
Three Material Options for High-Performing Patio Doors
Before you decide on the type of patio door that's right for your space, you'll need to figure out what type of patio door material best suits the needs of your home. Not all material options are available for each type of patio door, so you will need to take that into account when you are planning to replace your patio doors. Pella® patio doors have an energy-efficient design to help prevent drafts and provide energy savings. Wood, fiberglass and vinyl patio doors each have their unique benefits, but deciding which one is right for you comes down to what best complements your home's architectural design, your functional needs and your budget.
How to Decide on Materials for a New or Replacement Patio Door
With three different materials available for your patio doors, it may be hard to choose between wood, fiberglass or vinyl. Each type of material offers multiple benefits for your home that are worth considering as you research and shop for your options. No matter which material you choose, you can be assured that you're getting a high-quality patio door that will last. Below, three factors to consider.
Weather-Proofing Your Patio Door
Depending on the location of your house, you may see a vast change in climate throughout the year — or none at all. For climates that experience both hot summers and frigid winters, fiberglass is a great option as it is durable and will withstand the pressures of atmospheric changes. Pella's fiberglass patio doors are built from our patented, five-layer fiberglass that is the strongest, most durable material available for patio doors.16
Patio Door Maintenance
Another item to consider is the maintenance and upkeep of your patio door. All of Pella's patio doors are built to last, but considering the climate and exterior of your home, upkeep such as refinishing may be necessary once in a while.
Wood patio doors might require more exterior maintenance to prevent your door from showing wear and tear. Fiberglass and vinyl patio doors both require minimal refinishing and might be a better option for a homeowner who wants an easy-care option.
Energy-Efficient Patio Doors
There are many ways to help make your patio door energy-efficient. All of Pella's patio doors are built to be energy-efficient, but there are upgrades you can make to your doors to improve the energy efficiency.
Adding insulating glass to your patio doors is one way to improve energy efficiency. Or add tinted or obscure insulating glass — depending on your home's style. We rank our insulating glass so it's easy to understand which glass is best for you to use for your patio door depending on your location. For further protection from the elements, add in foam insulation to your wood or fiberglass frame. This prevents the airflow from coming through your patio door and keeps your home comfortable year-round.
Wood Patio Doors
A classic and versatile option, Pella's wood patio doors come in a variety of styles including hinged, sliding, bifold and multi-slide options. Wood patio doors have the most options for style, design and functionality that Pella has to offer. A popular material due to its stylish and traditional look, wood patio doors are energy-efficient but do require a bit more maintenance compared to our other options.
Wood exposed to weather conditions will need to be refinished every few years. If you're looking to protect the exterior of your patio door, aluminum-clad wood is a great option. Our EnduraClad® finishes are weather-resistant and low-maintenance to keep your patio door looking brand new, year after year.
Pella offers multiple product lines to fit the needs of your home's architectural style. Wood patio doors are available in our Pella ReserveTM, Architect Series® and Pella Lifestyle Series product lines.
Each Pella wood product line has unique benefits. Pella Reserve products, available exclusively through your local Pella showroom, are our most historically authentic line of wood patio doors. Enjoy a beautiful patio door customized to fit your unique style with Pella Reserve products. Architect Series products highlight a timeless style with distinctive detailing and durability. This line features refined sightlines and has minimalist hardware choices for those looking for a more contemporary approach. Like all of our wood product lines, Pella Lifestyle Series products also offer an aluminum-clad finish, as well as the option for integrated blinds and shades. You can easily utilize your patio door without blinds or shades getting in the way. Lifestyle Series products have the added benefit of being our most sound-resistant line, helping to reduce noise pollution and increase the comfort of your home.
Fiberglass Patio Doors
Fiberglass sliding patio doors from Pella are a great option for homes in locations that experience a major shift in climate throughout the year. Our patented fiberglass material is nine times stronger than vinyl and twice as strong as aluminum. Due to its strength, our fiberglass sliding doors have the ability to withstand extreme heat without warping, sagging or softening. They are also able to withstand extreme cold, as low as -40 degrees F, without becoming brittle.
Pella offers fiberglass sliding doors through our Pella Impervia product line. Our Impervia fiberglass has a long-lasting powder-coat finish that is fade resistant, so you won't have to worry about the upkeep of the exterior of your patio door. All Pella Impervia glass doors come with conventional screens, with the option to upgrade to Pella InView™ Screens, which improve airflow and allow for 14% more light to pass through.5
Vinyl Patio Doors
Vinyl is a popular, low-maintenance and affordable option for sliding glass patio doors. Pella's vinyl patio doors provide resistance to air and water infiltration, wind and outside noise — meaning you'll have peace of mind when it comes to protecting your home from the elements. Our vinyl patio doors are energy-efficient and keep your home comfortable throughout the year, while also helping to lower your energy bills.
Pella offers vinyl patio doors in two sliding glass options — Pella 250 Series and Encompass by Pella. Pella 250 Series patio doors have smooth, clean equal lines for a high-quality vinyl look. Encompass by Pella is our most competitively-priced option for vinyl sliding glass doors and comes in styles and options to fit almost any budget.
There are many ways to upgrade the style and functionality of your vinyl sliding patio door. Pella 250 Series products offer between-the-glass blind options, which are a great solution for high traffic areas and can help reduce the cleaning needs of your patio doors. Select from multiple exterior and interior finish options with both of our vinyl product lines. Our vinyl patio doors don't require painting, staining or refinishing, making them a perfect low-maintenance choice that keeps your home looking its best.
When it comes to selecting a patio door, it's all about what patio door material makes the most sense for your home. Our team of Pella experts are here to help you make the decision that's right for you.
Patio Doors Features & Options
Explore What Pella Has To Offer