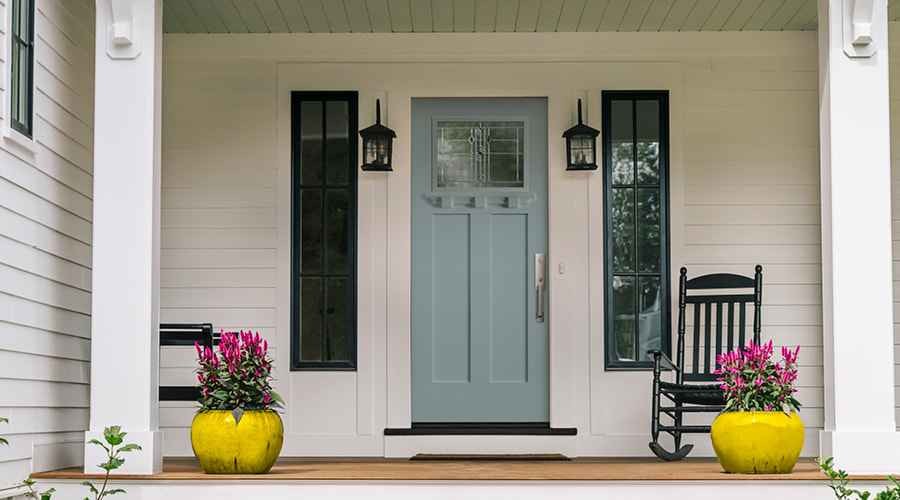 A Guide to Popular Front Door Styles
Choosing a new or replacement front door is a lot easier when you understand the design options. Check out these popular door styles to discover the look that best complements your home's unique architecture.
---

Find a Front Door that Enhances Your Home, Inside and Out
A distinctive front door is key to boosting curb appeal and upgrading the look of exterior architecture. In addition, the ideal entry door provides a focal point for visitors and hints at the style inside. Because every home is unique, our design team is well versed in popular front door designs and details. We've created this simple introduction to help you choose the style that's right for you.

Modern Front Doors: Bold and Beautifully Streamlined
When your project calls for clean lines, expansive glass and a bold color statement, nothing shines brighter than our modern entry door collection. Sleek silhouettes and minimal detail are the key components here. The addition of glass panels or sidelights typically feature simple grille patterns and some of the narrowest sightlines available. As a result, modern front doors with glass can flood your home's interior with maximum natural light and provide an uncluttered look.
Contemporary colors and stains add a modern finish to our premium wood or fiberglass front entry doors. Our paints are created in collaboration with Sherwin-Williams DesignHouse for Performance Coatings for on-trend color that lasts. Choose from crisp white, gray, natural-hued stains and more. Of course, pure black lends our modern doors drama and style that stands out in any neighborhood. Steel panels are available primed or painted white.
Modern hardware, including the high-performance Pella collection, is crafted to complement your home's architectural style and coordinating window hardware. Elevate your modern front door with a sleek handleset finished in tones from gleaming chrome to stunning matte black. The look is cutting edge.

Modern Farmhouse Front Doors Elevate Classic American Living
Seeds for this popular style grew from the comfort and down-home sturdiness prized in traditional American farmhouses. Today, the modern farmhouse front door maintains the same welcoming feel with more streamlined architecture, ample natural light and neutral color schemes.
A little less rustic, a pinch more sophisticated, the modern farmhouse front door balances classic with contemporary. Look for vertical planking, traditional crossbucks, grids, grilles or simply trimmed inset panels. An arched-topped double door adds elegance, while square, single-entry doors hint at farmstead nostalgia. When considering glass and grille patterns, 2x2, 2x3 or 2x4 grilles echo original farmhouse doors from generations past. Full, ¾- and ½-light sidelights create classic symmetry.
The right paint or stain makes any modern farmhouse style door the jewel of your entryway. A solid black door against white siding creates interesting high contrast. Match the door with black window frames for a bold, contemporary look all around. Go with natural or stained wood door for warmth or choose a muted color for an intriguing pop of color.
When it comes to hardware, there are countless options available. Rustic, squared-off sets finished in distressed bronze are a classic choice. Sleek handlesets in gleaming chrome or matte black deliver a fresh look that gets noticed. Explore what speaks to you.

Craftsman Front Doors Offer Natural Beauty and Timeless Detail
America's Craftsman movement grew as a reaction against the Industrial Revolution of the 1800s. Weary of mass-produced buildings with overly ornate details, many architects promoted a return to hand-made dwellings that celebrated creativity. Today, this iconic beauty is reflected in our Craftsman front door styles. Most commonly made of wood, they are a stunning addition to bungalows, cottages and any homes that incorporate natural elements in their design.
Many classic options are available to enhance your Pella Craftsman front door. Add a dentil shelf, a small ledge with square blocks placed below glass panes. Consider decorative wrought iron nails called clavos or rustic hinge straps to achieve the handcrafted look. As for glass options, a Craftsman style usually has glass on the panel's top quarter, either in a traditional grille pattern, or often with obscure or even a decorative glass. Matching sidelights and a full transom also help make the most of natural light.
In addition to our palette of rich paint colors available on fiberglass doors, prefinished stains such as Bordeaux, Natural or Rosewood are ideal choices for wood Craftsman style entry doors. Fiberglass designs come pre-painted in an array of curated colors from our collaboration with Sherwin-Williams. To achieve the look of wood without the maintenance, add wood-grain texture to our fiberglass doors. Consider a prefinished stain such as red mahogany, wheat or charcoal as a realistic finishing touch.
Choosing the ideal hardware adds a finishing touch to your authentic Craftsman front door. While a distressed bronze finish enhances its practical-yet elegant lines, gleaming nickel or chrome creates a bold contrast to the door itself. Pella partnered with the Baldwin company to produce rock-solid hardware featuring the colors and finishes so popular with today's front door styles.

Traditional Front Doors Bring Home Elegance that Endures
Rich detailing, softer lines and European-inspired accents are hallmarks of traditional front doors. Ornate, yet skillfully refined for today's home, each entry door adds charm and character that never wears its welcome. Solid or enhanced with glass, ornately trimmed or minimally finished, the traditional front door has many looks. Our collection features an almost endless variety of panel configurations. We'll work with you to choose a door that complements everything from exterior landscaping to interior design.
Clear glass and simple grille patterns are time-honored choices for traditional front doors. Decorative glass options can range in styles from traditional to modern. Their hand-assembled patterns feature clear and obscure glass types to add privacy while making a statement. Inspired by Old World craftsmanship, exquisite wrought iron designs add artful luxury you'll love. Whether you choose a door with glass or a solid door, consider adding sidelights or an overhead transom to invite in more natural light.
Depending on the door's material, a rich mahogany stain or even navy blue paint on your traditional front door looks stunning. Choose from our wide range of paint colors created with the help of legendary Sherwin-Williams. Each is pre-applied to your door to help ensure a lasting bond and fade-resistant brilliance.
It's easy to select great hardware for your traditional front door. Go with refined curves and a gleaming metallic finish such as brass or chrome. Choose a more substantial, geometric profile finished in matte black or bronze. The beauty of traditional style lies in its flexibility.

Create Your Own Custom Front Door Style
It takes vision to make your house a unique home. With that in mind, Pella can help personalize the front door of your dreams. The process is simple, and the result is a show-stopping front door that's reliable, energy-efficient and built to stand the test of time.
No matter what material you choose, the design and finish options are practically endless. Go with a stain to enhance the natural beauty of a wood front door. High-performance fiberglass front doors offer smooth or textured surface options, plus a variety of popular paint and stain finishes. If a steel front door is the answer, your choice arrives painted white or pre-primed and ready for your color. Thanks to our collaboration with the team at Sherwin-Williams, a curated collection of paints and finishes are available.
A glass front door maximizes natural light and curb appeal. Pella offers three main categories of glass to choose from: clear, textured obscure and decorative. Grille options include between-the-glass, fixed, true- and simulated-divided-light. For the ultimate in low maintenance, between-the-glass blinds are tucked away between panes. They help control interior light and are protected from dust, damage and little hands. As for hardware, select from our wide variety of designs and finish options.
Your front door style should reflect your style and your home's unique character. Pella is ready to help you through the front door shopping process. Industry-exclusive innovations in smart home monitoring, uncompromised quality and enhanced security has distinguished us as the #1 preferred entry door brand by homeowners.58
Explore What Pella Has to Offer