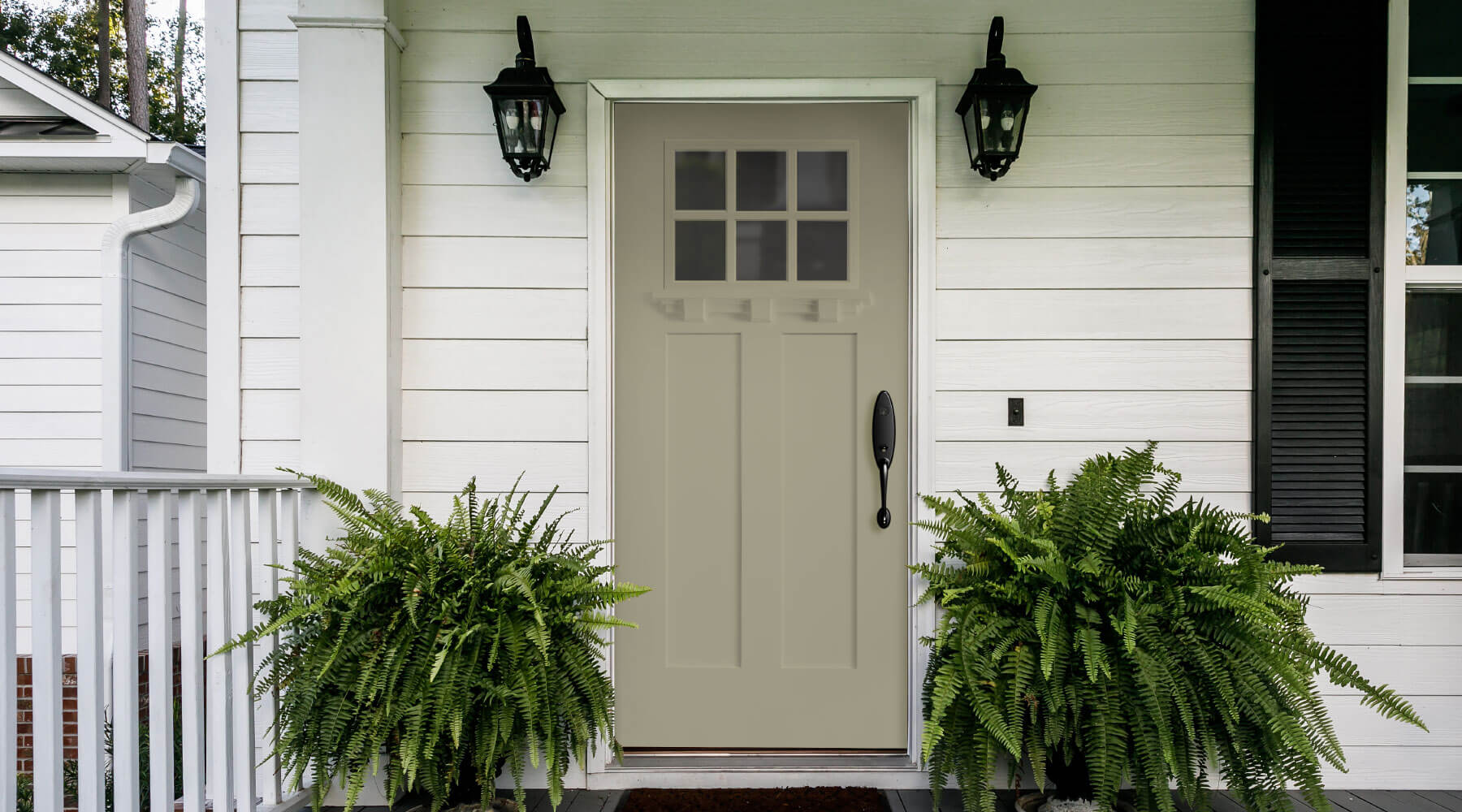 Shopping for Replacement Entry Doors
From our materials to our glass and hardware options, Pella offers a virtually limitless selection of replacement entry doors. Here is what to keep in mind when shopping for your new door.
---
Every home is unique — yours included. So don't settle for just any front entry door. With more styles, sizes and materials to choose from, we can help you find what's right for your home.

How to Choose the Right Front Entry Door for Your Home
Consider that your front door is one of the first things your friends, family and other guests will notice about your home. A front entry door can even set the tone for the entire exterior of your home. Finding a new or replacement entry door is not a task to be taken lightly, but it does not have to be an overwhelming process either. We can help you get a better understanding of the process and the decisions involved, so that you can feel confident and comfortable door shopping.


Simple Steps to Smart Entry Door Shopping
As you begin your search for a new or replacement entry door, there are simple steps you can follow to ensure you're on the path to finding the right fit for your home.
Look around for inspiration. Check online for photos, ideas and tips that can help you get a better sense of what you like and don't like. Our website is also home to a number of product and project photos that might catch your eye.
Explore your options. Stop by a home improvement store, one of our showrooms or a home show for a closer look at the different door types and styles.
Set a budget. Prioritizing the material, features and options that matter most to you can help narrow your search for the door that best suits your budget.
Work with an expert. It never hurts to have a conversation with a home improvement store rep, independent contractor or manufacturer's installer.
Types of Entry Doors
What makes one entry door different from the next? For starters, the material from which the door is made. Wood, fiberglass and steel are the most common entry door materials. Although fiberglass and steel certainly share similarities, distinguishing between the three materials can help you determine which entry door is best suited to your home.
Wood Entry Doors
No matter the architectural style of your home, there is certain to be a wood front door to match. Wood entry doors can be designed for different aesthetics and in distinctive styles to complement your home. But the beauty of wood entry doors lies in the exquisite details. If you're looking for a front door that stands out from the rest, look no further.
If you're unfamiliar with the types of wood entry doors available to you, mahogany is as good a place to start as any. It is one of the most popular choices among homeowners, with natural wood that offers a traditional look and pairs well with factory-prefinished stains and rich detailing. Rustic walnut is a more distinctive alternative. Naturally distressed, rustic walnut entry doors are full of charm and can be customized with unique decorative accents.
Fiberglass and Steel Entry Doors
Fiberglass and steel entry doors are coveted for the premium quality of the material and for their minimal amount of care and maintenance. Fiberglass doors, in particular, have a reputation for lasting quality. They are very durable and resist warping, rotting or rusting. Beyond that, there is also the performance aspect of fiberglass entry doors. The material itself reduces heat transfer and boosts energy efficiency, allowing for improved climate control within your home.
Durability is also a strength of steel entry doors. As the entryway into your home, the front door is subject to heavy traffic, and that wear and tear can take a toll. But steel is one of the strongest materials available for entry doors. There is also an undeniable aesthetic appeal. If you are looking to boost your home's curb appeal, the sleek and clean look of steel is tough to beat.
Entry Door Features & Options
The type of material is the foundation of your entry door. The features and options are how you build upon that foundation and personalize your new or replacement entry door to suit your style.
Start with the color. Entry doors are available in a wide range of finishes and colors to complement both the interior and exterior of your home. Prefinished paint in the color of your choice can look beautiful for years. Wood-grained prefinished stains provide the authentic appearance of wood and can complement your home's trim, floors and cabinetry.

Glass Options Open Up Your Entry Door
Decorative glass options can help provide your entry door with the added style, privacy or natural light you're looking for. There are decorative glass patterns for every style of home, from traditional to modern. If you're looking for a more elegant addition, statement glass offers intricate craftsmanship, with available beveled-glass prisms and lead-crystal jewels.
Speaking of glass, there is an opportunity to make your doors more energy-efficient with the type of glass you choose. Two or three panes of glass generally offer more insulation than a single pane. And look for doors with Low-E (low-emissivity) insulating glass with argon between the panes to block more of the sun's ultraviolet rays. To ensure you're purchasing an energy-efficient product, look for products that meet ENERGY STAR® requirements.
Entry Door Features to Add a Touch of Sophistication
Sidelights and transoms add even more natural light and can improve curb appeal. The variety of available shapes and styles make them especially appealing to homeowners who hope to create a more dramatic entrance. Transoms sit above the door to fill your interior entryway with natural light, and sidelights are placed on either side of the exterior door.
Door hardware can provide both style and function. Choose a sophisticated design for your handle set that showcases your style and serves as the finishing touch to your new entry door.
You can also choose from a variety of interior and exterior trim options, with something for every architectural style. The more styles available to you, the more likely your new or replacement entry door can be consistent with your home's design and décor.
When you are ready to start shopping for an entry door, we'll be waiting to help. You have an open invitation to our nearest showroom, or you can schedule a virtual or in-home consultation.
Entry Door Features & Options
Explore What Pella Has to Offer