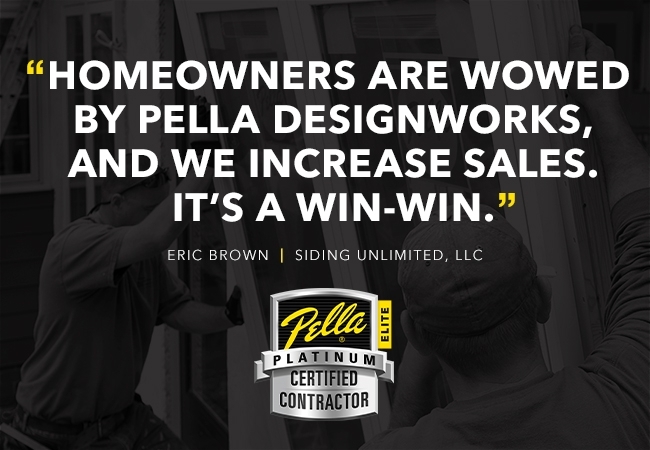 How an Elite Platinum Pella Certified Contractor® Revved Up Sales with Pella DesignWorks
Discover how contractor Eric Brown increased profitability Pella DesignWorks exterior virtual design service.
---
Elite Platinum Pella Certified Contractor® Eric Brown of Siding Unlimited, LLC, has always offered full-service exterior remodeling. And in 2020, Brown realized he had an opportunity to simplify his business and increase profitability with Pella DesignWorks exterior virtual design service, a program that helps homeowners visualize their home with new features, including siding, roofing, windows and doors.
"With Pella DesignWorks, we simply send Pella photos of our customer's house, and they give us renderings of two to three creative design options. The designers include ideas for things like siding, soffits, windows and entry doors in the 3D visualization. Homeowners are wowed by Pella DesignWorks, and we increase sales. It's a win-win," Brown said.
Brown includes features in the renderings that customers may not be considering to help them visualize the full potential of their project — often resulting in increased sales and customer satisfaction.
"A lot of our customers might be so focused on a roof or siding that they're not even thinking about other features," Brown added. "By being proactive and showing them more with Pella DesignWorks, we've been able to sell more. For example, when we include a new entry door in the photo, about 50% of customers end up adding it to the project. We've seen a significant increase in sales from that feature alone."
Every Pella DesignWorks package includes photo realistic renderings, a virtual consultation with a Pella DesignPro and color and style revision. Brown said that while there are other 3D visualization tools available, Pella DesignWorks is the only one that takes pressure off of him and allows him to maintain focus on his business' key strengths.
"The design process slows us down. Being able to lean on the designers at Pella DesignWorks allows us to focus on the other parts of our business — which allows us to be more profitable," Brown acknowledged.
In addition to streamlining the sales process, Brown says Pella DesignWorks helps provide homeowners with an enjoyable remodeling experience and a positive impression of his business.
"Working with Pella DesignWorks is such a simple process, yet it carries so much weight with the customer. By showing homeowners how their home can look with different styles, colors and features, they feel like Siding Unlimited is going above and beyond to do more for them," Brown stated. "The truth is Pella DesignWorks is doing all the work."
Pella DesignWorks renovation options include Pella windows and doors, roofing, soffits, facades, paints and stains, gutters and downspouts, siding, stone and brick veneers, and architectural embellishments. Work with Pella Design Pros today to streamline your business and realize more opportunities for success.
Product Details & Downloads