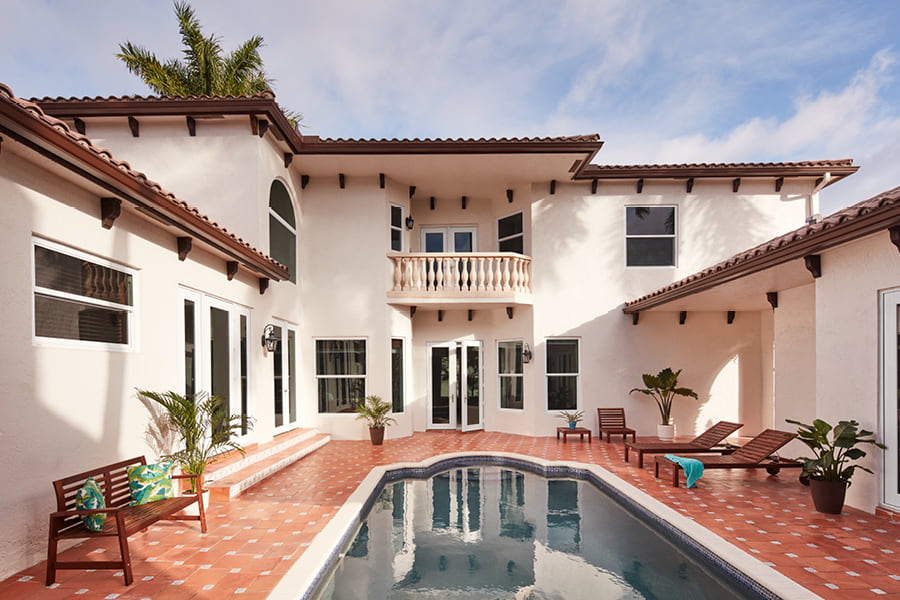 How to Choose Hurricane-Impact Doors
For exceptional protection and performance, it's important to choose the right hurricane-impact door.
---
From warm, humid days to stormy nights, living in a coastal community comes with a unique set of weather conditions. Whether you live in the High Velocity Hurricane Zone (HVHZ), on a hurricane-prone coastline or a town farther inland, it's important to know how to properly protect your home from the threat of hurricanes. While completely hurricane-proof doors don't exist, our impact-resistant products provide additional security and peace of mind no matter where you are.

What Is A Hurricane-Impact Door?
In the simplest terms, a hurricane-impact door is a patio door that has special features that help protect your home from damage related to a hurricane or tropical storm. With impact-resistant patio doors, you can forget storm shutters and plywood — no additional storm preparation for your patio doors is required.60 Just close and lock your products. These patio doors are built with a stronger glass, panel and frame than ordinary doors, and are designed to withstand strong winds and impact from flying debris — meeting stringent building code requirements, such as the Florida Building Code and Texas Department of Insurance. Depending on which patio doors you choose, you can get trusted protection no matter your region.

Laminated Glass or Impact-Resistant Glass for Added Protection
One of the most important factors in a hurricane-impact door is a strong glass option. While regular glass might be shattered with flying debris, laminated or impact-resistant glass will protect your home, even if it is broken. Laminated glass uses a strong polymer interlayer to help reinforce your patio door. The interlayer holds the glass together if it's shattered — helping prevent damage and injury that can be caused by wind, water and debris entering your home. Available on a variety of vinyl and wood patio doors, you can count on laminated glass and impact-resistant glass to provide additional protection for your home.

Durable Frames to Help Protect Your Home From the Elements
A durable frame is another critical component for effective impact resistance. Vinyl patio doors are designed with multiple insulating air chambers that help to reduce the transfer of heat, helping to keep your home more comfortable. Proper installation is required for best performance, so select patio doors arrive with installation holes pre-drilled, helping ensure precise installation, exceptional performance, and peace of mind.

Hurricane Impact Doors That Meet Building Codes
To make sure you're choosing the right impact-resistant door for your region, it's important to look at any building codes your state or town might have. Each patio door is rigorously tested, including being tested and rated according to the Florida Building Code (including High Velocity Hurricane Zone requirements) and the Texas Department of Insurance, two of the most stringent guidelines for Hurricane resistance. The Florida Building Code sets requirements for all building products, including hurricane windows and patio doors, with the most stringent codes in Miami-Dade County and Broward County, since they fall within the HVHZ.

Popular Hurricane Impact Patio Door Styles
Installing impact-resistant patio doors doesn't mean you have to sacrifice style. They're available in sliding, hinged and multi-slide configurations to complement the style of your home and give you more possibilities. And you can choose from two material types — wood or vinyl. Wood patio doors with impact-resistant glass are available with more personalization options, while vinyl patio doors offer popular features and a lower maintenance option.
No matter the style or material you choose for your hurricane impact patio door, it has been subjected to extensive testing for air and water filtration and structural performance. There are a separate set of conditions for each of these tests meant to simulate the harsh conditions experienced during a hurricane, and our testing simulates both positive and negative wind loads.

Impact Sliding Glass Door
For a classic look in a room limited on space, an impact-resistant sliding glass door is a great option. Depending on the options you choose, a sliding patio door can help create a traditional or contemporary look. On Pella Hurricane Shield Series impact-resistant sliding patio doors, consider a minimalistic grille pattern and profile for a contemporary home, or an ornate, traditional grille pattern for a classic home.

Impact Multi-Slide Patio Doors
Added Benefits of an Impact-Resistant Patio Door
While most homeowners choose impact-resistant patio doors for hurricane and storm protection, there are a number of additional benefits these doors can give your home. From improved energy performance to noise reduction and more, an impact-resistant patio door can be the perfect finishing touch for your home.

Improved Noise Reduction
As mentioned earlier, impact-resistant patio doors are made from multiple panes of a strong glass. In addition to providing extra protection, this glass option also makes it harder for sound waves to travel in and out of your home. With impact-resistant and laminated glass, different glass thicknesses are paired together, including a polymer interlayer, helping to dampen sounds at different frequencies and improve the sound resistance.
Glass Options for Energy Efficiency and Solar Protection
Laminated glass can help improve your home's energy efficiency and protect your home from the effects of harmful UV rays. Low-E insulating laminated and impact-resistant glass helps reflect the solar rays out of your home, keeping your space more comfortable. For extra energy efficiency, consider adding a tint to your glass. Not only does it add design interest, but it also helps reflect sunlight away from your home. Laminated glass comes standard on Hurricane Shield Series products and blocks 99.7% of harmful UV rays — preventing the sun from fading your curtains, furniture and artwork.

Safety and Security
To test our impact products to HVHZ requirements, we fire a 2'x4' at 50 fps at three different places on our windows and doors. The window and laminate need to remain intact to prevent a large rush of air and debris from entering the home.
After impact, we subject the window to 9,000 cycles of hurricane pressures to help ensure the window will remain intact. If that wasn't impressive enough, the door still must operate after the testing is complete. Impact-resistant patio doors can be secured with multi-point locks, which provide an extra layer of protection. No matter the material or style, we test our products beyond the ordinary.
When you live in a hurricane prone area, it is important to protect your home with the proper patio doors. Pella has several options that will meet your home's unique design needs while maintaining a strong structure. If you're interested in learning more about our hurricane impact-resistant patio doors, contact your local Pella expert.
Explore What Pella Has to Offer