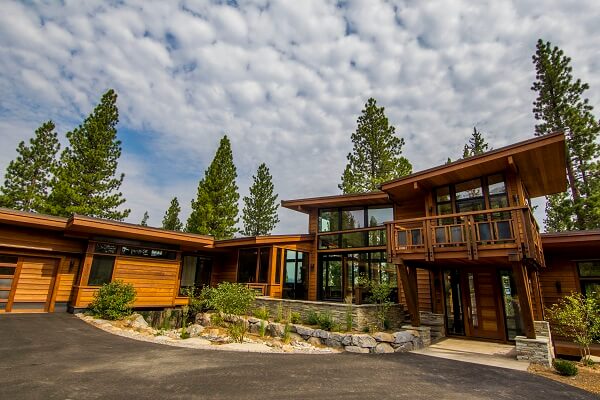 Contemporary Windows & Patio Doors Frame Mountain Home's Natural Beauty
Custom walls of glass matched this home's impressive light-centric design.
---
Project Details
Type:
Location:
Products Used:

Pulitzer Prize winning poet Gary Snyder had it right: "Nature is not a place to visit. It is home." We think that idea comes alive in every detail of this newly built mountain getaway located in Truckee, California. Masterfully modern in design, it showcases a streamlined profile with wonderfully rustic elements. The end result is a family retreat that nestles seamlessly among the sugar pines, white firs and quaking aspen.

Our custom-crafted wood windows brought the outside in.
The talented builders of this home envisioned a residence that balanced everyday life with the beauty of nature. Essential to this plan were expansive windows—walls of glass that flooded rooms with natural light and offered panoramic views of the outdoors, season after season. Pella Windows & Doors of Northern California were more than happy to provide the ideal products. Our Architect Series – Contemporary line delivered floor-to-ceiling, picture and casement windows, plus sliding and multi-slide patio doors, all crafted of naturally durable wood. After installation, walking through this home felt like taking a scenic nature tour—from the inside!

Architect Series – Contemporary Windows enhance your home's unique style.
Form follows function in our modern-style wood windows and patio doors. Sleek sightlines provide more space for expansive glass. And these bigger openings never compromise our window's exceptional energy efficiency. Better yet, it's easy to fine tune all the details. The builders of the Truckee, CA home, for example, decided the windows should feature dark, wood-stained interiors, but include black aluminum cladding on the exteriors to help protect against the elements. From minimalist hardware designed specifically for our products to a diverse palette of striking finishes, we offer a myriad of ways to make your style statement.

Explore What Pella Has to Offer