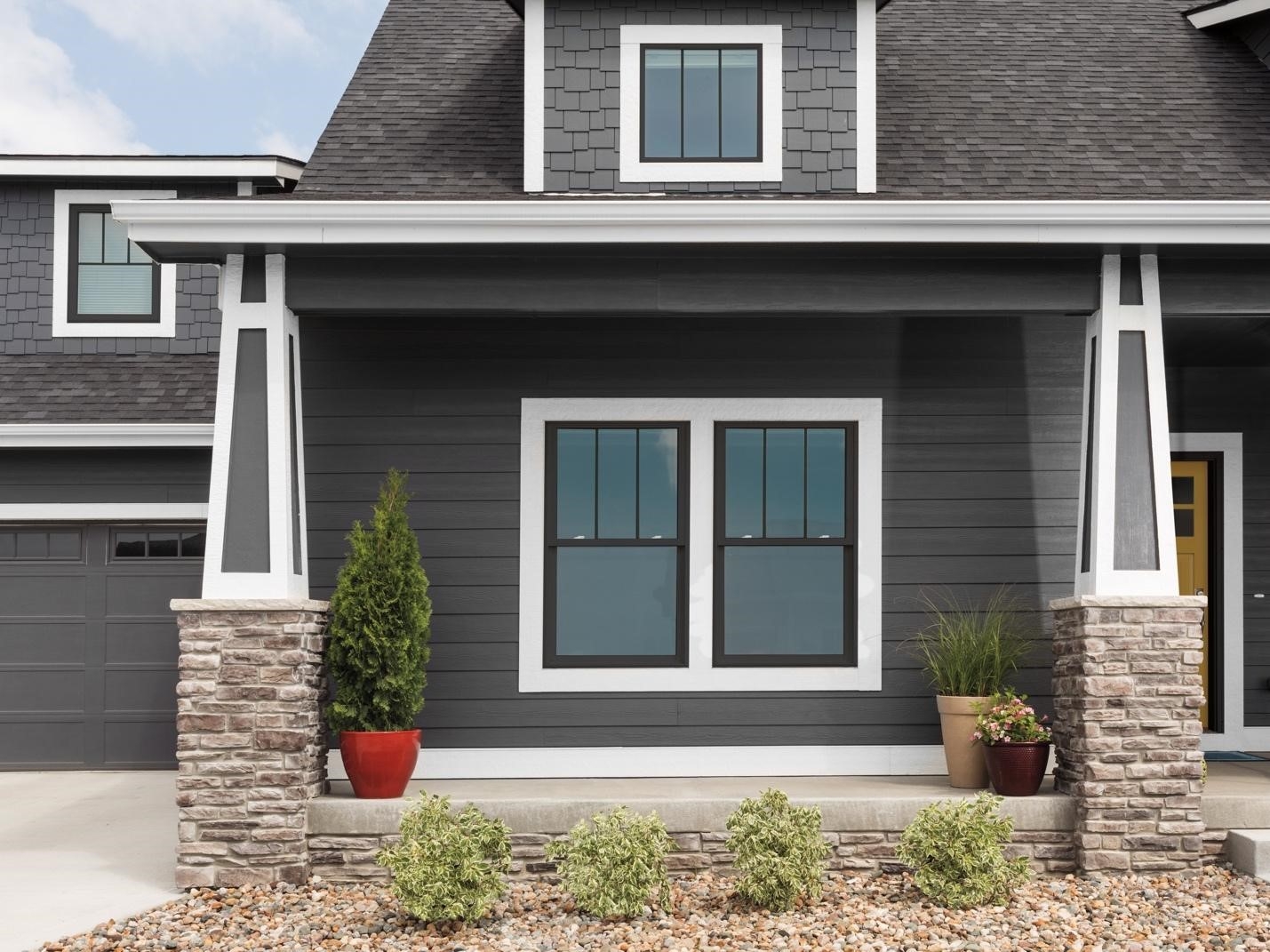 Homeowner's Guide to Vinyl Windows
Learn more about the advantages of vinyl windows. Read on to get your vinyl window replacement and installation questions answered.
---
If you're shopping for new or replacement windows, you've likely stumbled upon vinyl window offerings. So what are the advantages of vinyl windows? How are they made? What features and options do they come with? We're here to help you understand vinyl windows so you can make your big decision.

Everything You Need to Know About Vinyl Windows
Known for their easy care and energy-efficient features, Pella vinyl windows come in a number of window types and are available in three different product lines. Pella vinyl windows give you exceptional performance and curb appeal. Today, we're answering your top questions regarding vinyl replacement windows to help make the product selection process easy and smooth from start to finish.

Vinyl Window Advantages
The advantages of vinyl windows are plenty. One of the biggest advantages our vinyl windows offer is exceptional energy efficiency. In fact, Pella® 250 and 350 Series vinyl windows were recognized as the Most Efficient of ENERGY STAR® 2019, a distinction recognizing products that deliver cutting-edge energy efficiency along with the latest in technological innovation.
Pella's exclusive energy-saving system is made up of triple-pane glass, insulating foam and up to 18 insulating air chambers. Triple-pane glass is 54% - 83% more efficient than single-pane windows.11 And our vinyl windows contain significantly more insulating air chambers than ordinary vinyl.
Another advantage of vinyl windows is that they are low-maintenance. Easy-care vinyl frames require no painting, staining or refinishing and stay looking great for years. Plus, the fully welded sashes and frames on Pella vinyl windows add strength and durability.

Types of Vinyl Windows
As our most energy-efficient vinyl product, our Pella® 350 Series windows are 54% to 83% more energy efficient than single-pane windows.11 SmoothSeam™ interior welded corners give these windows a more premium look inside and out, while numerous eye-catching exterior colors help you design a custom look for your home. Distinctive detailing includes a robust frame profile with a beveled edge for a more polished, high-end aesthetic. Pella 350 Series windows includes awning, casement, double-hung, single-hung and sliding windows.
Pella® 250 Series windows are also available in a variety of colors and are up to 77% more energy efficient than single-pane windows.12 Their multi-chambered vinyl frames and reinforced sashes also make them 52% stronger than ordinary vinyl.13 Enjoy more peace and quiet with triple-pane options that reduce outside noise or choose AutoLock hardware for enhanced security. The 250 series includes awning, casement, double-hung, single-hung and sliding windows.
Our third product line of vinyl windows, Encompass by Pella®, offers affordable windows that are easy to care for. Features like between-the-glass blinds and grilles make everyday life a little easier. Encompass by Pella® includes double-hung, single-hung and sliding windows.

Construction of Vinyl Replacement Windows
Our exclusive SmoothSeam™ welded corners are virtually invisible on Pella 350 Series products and contribute to the overall strength and durability of the window. This window frame construction enhances the aesthetic appeal of your home compared to what the typical vinyl window offers. The beveled edge, which is similar to what you would get with wood windows, adds to the overall sophisticated look.
Pella vinyl windows are comprised of multi-chambered vinyl frames with optional foam insulation for added energy efficiency. Insulating double- and triple-pane glass with argon gas further enhances the energy efficiency and durability of our new and replacement vinyl windows. And we are so confident in the construction of our products that all vinyl windows installed in owner-occupied single-family homes come with a limited lifetime warranty.
Vinyl Window Maintenance
If your vinyl window is in need of repair, the first step is to request a service visit. During the visit, a Pella service representative can diagnose the problem and determine how to address the issue. Should you choose to do the window repair yourself, always make sure you remove the outer sash that holds the window in place.
Regularly cleaning your windows is one way to help improve their longevity and keep windows functioning properly.
Vinyl Window Replacement
When replacing vinyl windows, there are two installation methods to choose from. The first is called a pocket installation. In this method, only the sash of the old window is removed and the new window slides neatly into the existing frame. This is a great option if you want to try and preserve existing trim or are replacing a similar-sized window into the opening.
A full-frame installation method removes the entire window, including the window frame and trim. This method allows for greater design flexibility, as you can change not only the window, but also the frame and trim colors and styles. This method takes longer and requires more work both inside and outside the home, but includes the installation of a new window, trim and insulation. This can be an especially ideal choice if energy efficiency is a concern.
Vinyl windows are a low-maintenance, energy-efficient and budget-friendly choice for new or replacement windows. With three product lines to choose from, as well as many of our most popular features and options, Pella vinyl windows offer homeowners versatility. Contact us to schedule a free in-home consultation today and learn more about the vinyl window options available for your home.
Explore Window Features & Options
Explore What Pella Has to Offer