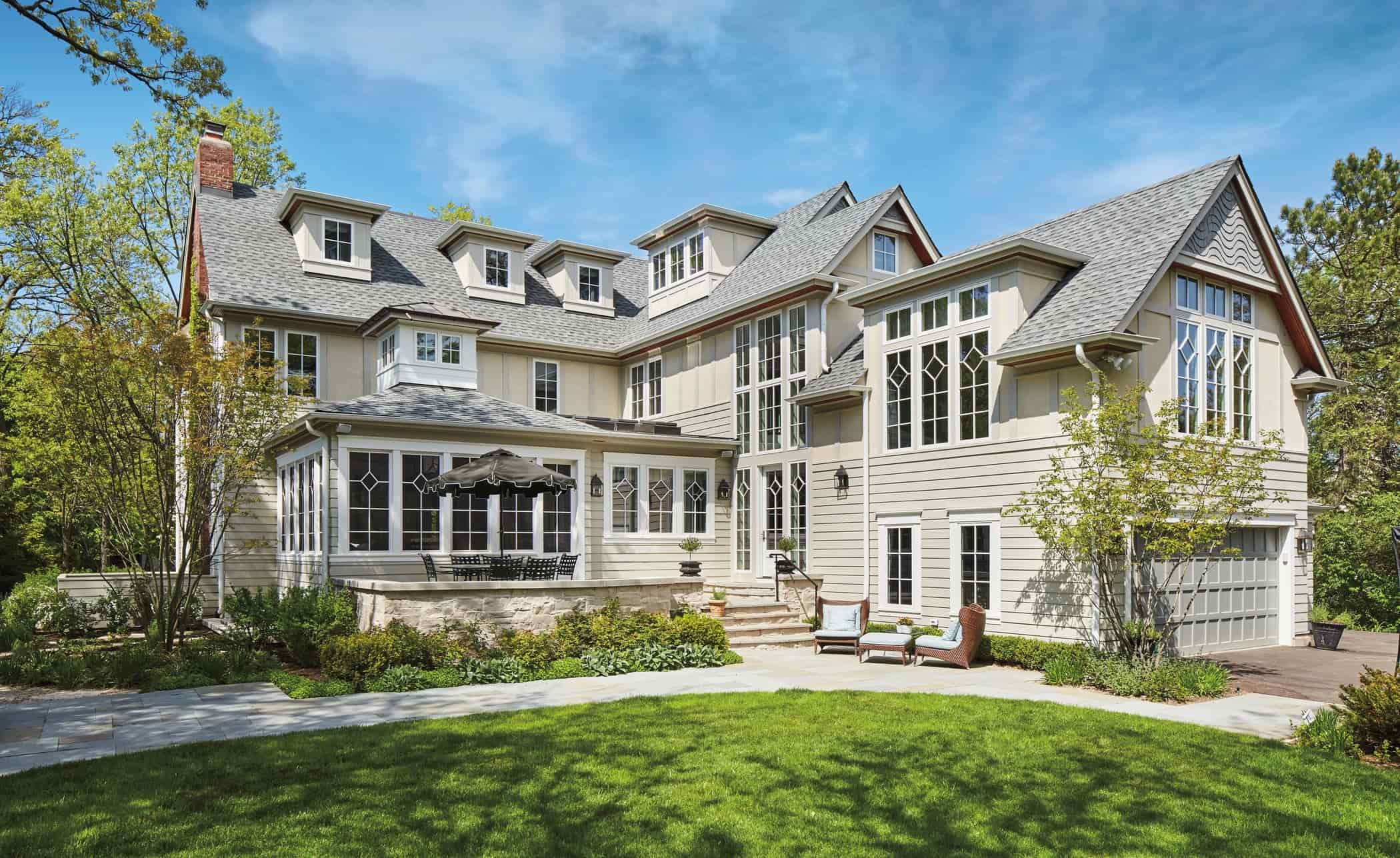 Photo by Morgante Wilson Architects and Werner Straube Photography
Pella Custom Windows for Your Custom Home
With so many options for personalization as well as custom shapes and sizes, you can design windows and patio doors that perfectly match your new home, serving as a focal point or highlighting surrounding features.
---
When you're building a custom home, you want everything in it to be beautiful and built to last. So, as you go about selecting paint, countertops and other interior features, make sure to consider what kind of style and performance you want out of your windows. Choosing the right new construction windows will allow your home to look and function great for decades to come.
Custom Windows and Doors
Choosing a variety of window types will create movement and add architectural intrigue to your home. Larger window sizes will allow more natural light in to keep rooms bright. Available in a range of standard sizes, our windows are built-to-order in ⅛-inch increments for a precise fit. Specialty functionalities and custom sizes are also available. Talk to your local Pella representative to discuss the nearly endless choices of window options available, so you can be sure to get the perfect windows for your dream home.
And while you're thinking about the ways you'll bring light into your custom home, don't forget to consider how the glass used in entry and patio door systems can play a role. Windows in and around your doors, like sidelights and transoms, or fixed patio door panels are all excellent ways to add natural light into your home. These styles can transform a dark entryway or dim living area into an inspired space where everyone loves to be.
Window Designs for Every Home
Whether your home is classic or contemporary, casement and awning windows are versatile choices that can really open up your home to the beauty beyond its walls. Both windows operate on hinges and typically extend away from the home to open fully. The only difference between the two windows is that a casement window is hinged on the left or right, and awning windows are hinged at the top.
These hinged types of windows provide clear, unobstructed views to the outdoors. Casement windows are a great solution for letting light and airflow into spots that are difficult to reach, like over the kitchen sink. Awning windows are often placed above or below a stationary window to create a pleasing combination of window types and provide additional functionality.
Fixed frame windows offer design flexibility. Because these windows don't open or close, they have a tight seal, making them an energy-efficient choice.
Double- and single-hung windows are both excellent choices for traditional homes. Double-hung windows are some of the most popular and recognizable types of windows. Unlike a single-hung window, which opens from the bottom, double-hung windows are designed to be raised from the bottom or lowered from the top — providing two different options for ventilation. The sashes also have a tilt-wash feature, making cleaning convenient and fuss-free. Double-hung windows work especially well in bedrooms, bathrooms and kitchens.
Pella windows also come in the bay or bow configurations, which provide an elegant architectural feature as well as the illusion of space. Even with limited wall space, these windows, which extend beyond the walls of your home, expand your view and provide abundant natural light. Use bay or bow windows in a master bedroom, office or living room to add style and beauty.
Read more about our window offerings to determine which type of window is best suited to your particular needs.

Custom Window Shapes for your New Home
There are many different ways to customize your windows to perfectly suit your home. From unique shapes and sizes, to distinct hardware and grille profiles, to custom colors and finishes, you can create a beautifully unique window.
Pella custom windows are available in a wide variety of special shapes and each offers grille styles that can match the rest of your home's windows and patio doors. Our gothic-shaped window, above, is perfectly positioned over a bathtub. Another homeowner favorite is the hexagon or octagon window, which you can use in your kitchen or bathroom to add contrast to rectangular or abstract tile.

While most homes feature square or rectangular windows, oval and circle windows add architectural interest to both the exterior and interior of a home. Consider including these window shapes in the design plans for your entryway, office or stairway for a unique window option that provides a pleasant departure from the traditional, expected shapes.
Choosing Window Sizes for Your New Home
When it comes to choosing window sizes for your home, seek input from builders and window installers who can help you build your home around your windows.
With standard 8-foot walls, windows most often match the top of interior doors and start at least 2-feet above the floor, but a professional can help you choose the size that will meet design requirements and make your home look its best. Thinking about window treatments for your windows or patio doors? Consider the functionality of both the window and your space as well as your overall style. Between-the-glass blinds and shades are great choices for patio doors or hard-to-reach windows as they remain out of the way and free from dust and allergens between multiple panes of glass.
Ready to start choosing windows for your home? Read more about our custom windows or connect with your local Pella showroom to talk through your project with a window and door expert.
Window Features & Options
Other Products You Might Like