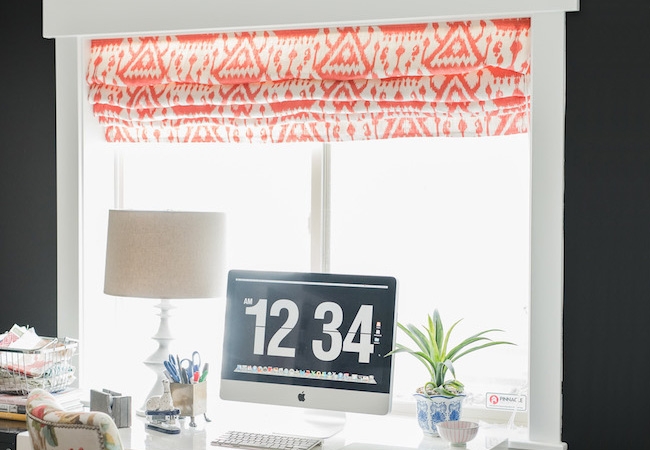 How to Choose the Best Window Treatment Styles for Your Windows
We sat down with seamstress and business owner Melissa Laymon to talk about the best window treatment styles for every type of window in your home.
---
When it comes to selecting a window treatment that suits your style, there are plenty of options out there — floor-to-ceiling drapery panels, between-the-glass blinds, Roman shades — but what about selecting the right window treatment that works well with not just your style, but also the types of windows in your home? Because of the shape, size and function of different types of windows, there are some window treatment styles that are better suited than others.
Affordable Custom Window Treatments

While many undergrads were taking it easy, Melissa Laymon started sewing her way to her own window treatment business. She only had $30 to her name, but her passion for interior design motivated her to create window treatment styles from whatever material she could find.
A few years later, Laymon found herself in a predicament. As a stay-at-home mom with a working husband, she needed to find a way to help support their growing family that would also allow her to stay at home. One evening, visiting relatives commented on a Roman shade Melissa had made. As the relatives complimented her on the shade, they mentioned that they had priced some shades at a home improvement store, and the cost was unbelievable. After recognizing the need for affordable custom window treatments, Laymon went on to launch her own custom window treatment business called Window Treatments by Melissa in 2010. Laymon lets clients pick a fabric that matches their décor and personal taste for a truly custom product.
"Business grew rapidly, and I began hiring other mothers who were in my same situation to sew and work alongside me," Laymon says. "I enjoy being able to provide our clients with products that are unique and pleasing to them. But most of all, I am grateful to our clients who provide us with enough business that my team of seamstresses and I can be at home and available to our children, where we can strengthen home and family."
We sat down with Laymon to learn more about window treatments – what's trending and what treatments work best with different types of windows.
Pella: What's trending in window treatments this year?
Laymon: The biggest trend I'm seeing right now is gold. Whether it's gold-colored fabrics or a gold metallic ink pattern, gold is everywhere! I recently worked with Luna Grey Interiors on a project with gold linen fabric that I made into pleated draperies to hang on a track system. We lined them in blackout material so that the gold color didn't wash out when the sun was shining through the window, and it looked fabulous.
Gold is definitely a statement color, but it's possible to implement this color trend into your home without overwhelming your space. For example, if you want to use a gold metallic, I usually recommend it be used as a border along the bottom or top of curtains and on Roman shades.
The Best Window Treatments for Different Types of Windows

Pella: What treatments work best for each of the different types of windows?

Laymon: Even though custom window treatments can be made to unique window measurements, it does not mean that any style of treatment can work for any window. The direction the window opens needs to be taken into account.
In the case of awning and casement windows, it is best to stick with a window treatment that can be hung outside the frame, so you don't obstruct the window access. While a valance or curtain panels would be a good option for these types of windows, a Roman shade that mounts to the wall can also work. This gives you more control over the amount of the window that gets covered. A Roman shade can be raised and lowered to a desired height. With an outside-mount Roman shade, you can mount it as high above the window as you want and be able to clear the window entirely for access and opening and closing.
Window Treatments for Single- and Double-Hung Windows

A lovely way to accent single- and double-hung windows is to mount Roman shades or add curtains mounted between two pieces of trim. If the right amount of depth allows, inside-mount treatments work well for this type.
Window Treatments for Sliding Windows

Sliding windows should have outside-mount shades, curtains or valances. Anything mounted inside will obstruct the function. If an inside-mount shade is desired, there would need to be about four inches of depth. (I recommended that sliding window treatments be hung at least 4 to 6 inches above the frame.)
The recommended width depends on the style of treatments. An extra four inches of width would suffice for Roman shades. For curtains with lots of fullness, however, you want to extend the rod up to eight or ten inches on each side of the window so when they are open, they don't obstruct the view or light coming in through the window. These mounting recommendations will ensure maximum light coverage and privacy coverage when your treatments are drawn. If the treatments are just for decorative purposes and not for privacy or light blocking, a valance mounted above the frame would be a great option.
Window Treatments for Bay and Bow Windows

Bow windows look best with curtain panels or valances on a curved rod. Because Roman shades are mounted to a 2-by-1 block that cannot be curved, they are not an ideal style for bow windows.
Bay windows are best with Roman shades. Curtains can be used here as well, but the amount of space in between each window would be important in deciding the width of your curtains. If the windows are close together, I advise clients to use two panels that would cover the width of all the windows. If there is space in between the windows, it is possible to do several panels: one on each end of the bank of windows, then smaller half panels in between each window.
Window Treatments for Custom Windows

Specialty windows, such as eyebrow or arched windows, can be tricky to dress. If you want to enhance the shape of the window, decorative pegs can be placed above the frame of the arch where the curtains can hang. The curtains would not slide from side to side as they would on a rod and would require a tie back. But this would accent and celebrate the unique shape of the window.
If you are interested in adding style, privacy and light control to your windows through window treatments, connect with the experts at your local Pella showroom to learn more about options, including between-the-glass blinds.
Window Features & Options
Explore What Pella Has to Offer