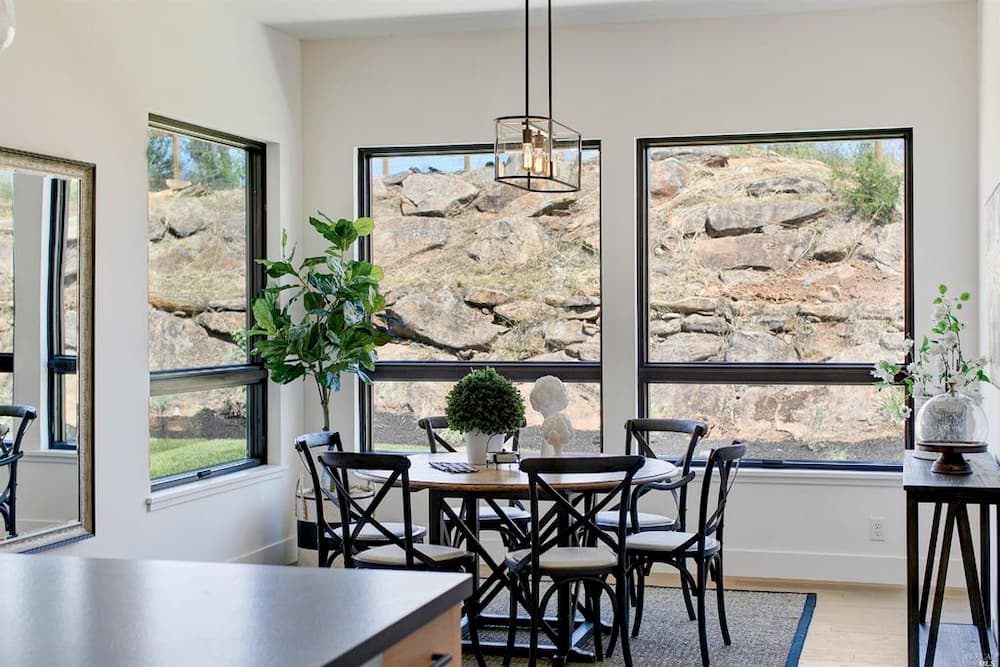 Black Windows and Doors Enhance a Stunning Study in Contrast
Architect Series® – Contemporary line brings a bold finish to this California home
---
Project Details
Type:
Location:
Products Used:
Monochrome interiors are anything but monotonous! Take this marvelously modern new construction in Santa Rosa, California for instance. White walls punctuated by black-trimmed windows and patio doors create cool drama. Random explosions of color are simply not needed here. Now take a moment to envision your own home décor in black, white and even subtle shades of grey. The look is keenly contemporary and stylishly sophisticated.
Architect Series – Contemporary wood complements this striking style trend.
Finding that visually pleasing balance of black and white takes creativity, strategy and craftsmanship. The savvy team working on this home reached out to our design experts to help bring their vision to life. Our answer was a selection of custom-made patio doors and windows crafted from our versatile Architect Series ­– Contemporary product line. Their clean-lined profiles feature minimalist window grilles, streamlined door panels and sleek hardware that truly fit the space. Best of all, we gave everything a lustrous black finish on all the interior sides.
Loving the results—room by room.

In the dining room: the lines of our Architect Series wood windows match the clean design of this space. Expansive glass turns up the brightness with lots of natural light.

In the bathroom: the symmetrical picture window is built big to bring in more outside light. The custom grille pattern is definitely modern and soothingly uncomplicated.

On the second floor landing: this trio of matching windows emphasizes the clean angles of the home. Black trim and grilles was the best color choice to bring out such modern geometry.

In the bedroom: a dramatic black, French sliding door beckons you to enjoy the sun or snooze. Whichever way you go, its full-light glass and high-performance design makes either choice the right one.

In the living room: it's the way that ottoman echoes the modern design of the picture window and sliding patio door! We can't be sure which one came first, but Architect Series wood patio doors and windows may be customized to match any vision.
Pour over the possibilities for your home with our Architect Series wood windows and doors. See more project details from the local Northern California showroom.
EXPLORE WHAT PELLA HAS TO OFFER PANEL