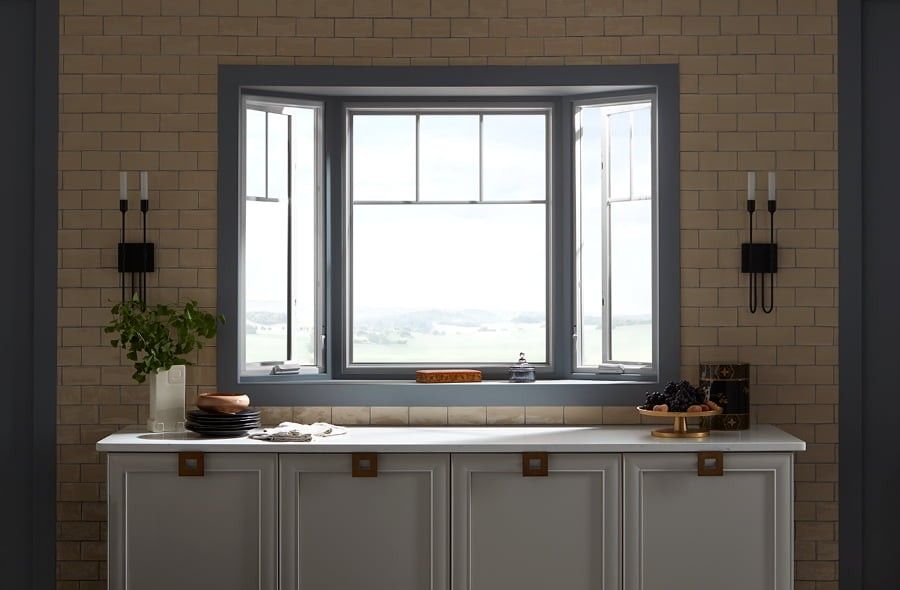 Bay Windows vs. Bow Windows: What's the Difference?
Expand your space beyond the walls of your home with a bay or bow window. Explore the difference between these styles and the benefits and costs of each.
---
There are subtle differences between bay and bow windows. Both bay and bow windows are created from a combination of windows joined together to create a curve that extends beyond the walls of your home. These windows allow in more light and greater airflow. The main difference in a bay window versus a bow window is in the number of windows each has.

What is a Bay Window?
Bay windows consist of three windows, typically two angled operable windows with one fixed inoperable picture window between. Bay windows feature more angular lines than a bow. Because of this, bay windows are more often used in transitional and contemporary home styles, but they look equally at home in more traditional style homes, such as a classic cottage or vintage Victorian. With only three windows, bay windows are narrower than bow windows. The two operable angled windows in the bay most commonly feature either casement or double-hung window types.

What is a Bow Window?
Bow windows, also called compass windows, are comprised of four or more windows of the same identical size and shape to create a more subtle curve than a bay window. Bow windows are usually referred to by the number of windows in the bow, such as a four-lite bow, a five-lite bow or a six-lite bow. Bow windows provide multiple design options and work best in exterior walls or corners with 80 inches or more of space, making them more suitable to fit large areas than their bay counterparts. Extremely versatile, bow windows can even be wrapped around the corner of a home, forming an attractive turret shape on the outside and an inviting nook on the inside.
Three Materials Available
At Pella, bay and bow windows are available in your choice of three materials — wood, fiberglass and vinyl. Wood bay and bow windows provide design flexibility for modern or traditional homes with exceptional energy efficiency. Bay and bow windows made of fiberglass deliver sleek lines with lasting durability. And vinyl bay and bow windows are made from an easy-care formula that will never need to be painted, stained or refinished.

Popular Home Styles for Bay and Bow Windows
A bay or bow window can be used in any style of home and have been used in multiple architectural styles dating back to the 15th century. Typical home styles featuring bay or bow windows include Victorian, Tudor, Mid-Century Modern, Craftsman, as well as Modern. Over time, architects have discovered these windows add elegance and eye-catching architectural detail while increasing natural light and access to fresh air.

Where Should You Use a Bay or Bow Window?
Bay and bow windows can be added to any room in a home. Bow and bay window sizes vary to fit multiple replacement applications. Both window types make a room appear larger by adding additional light and depth. The little extra square footage can be used for whatever purpose you like — a window seat, a reading nook, a display shelf, an indoor garden, a bathtub alcove or for any purpose you might imagine. A bay kitchen window can be placed in a breakfast nook for more seating space, or add a bench by your bay window for a window seat. They're also helpful above a kitchen sink to allow room for plants and an indoor herb garden.
Installation Considerations
Bay windows and bow windows are commonly installed in new construction homes, as it is easier to determine the structural considerations at this stage. While you can replace a standard window with bay or bow windows, it will probably require working with a structural engineer and other installation considerations. If you have decided to purchase bay or bow windows and are ready to install them, you can use a certified installer, such as your local Pella rep, or you can install them yourself. We offer installation guides to help you with step-by-step instructions to install your new bay or bow windows.
A Variety of Sizes Available
Bay and bow windows are available in a variety of expansive sizes to create architectural interest for your home. Bay windows are available with three windows in sizes that are small enough to sit above a kitchen sink, or large enough to create additional seating. Bow windows can span up to six windows and are a great option for a bump-out space with additional seating.

Ample Ventilation for a Refreshing Home
For excellent ventilation, consider adding a bay or bow window to your home. Consider two casements or double-hungs paired with a fixed window for a bay window. Bow windows provide more ventilation options because they can contain more venting windows. Bow windows can contain up to 4 venting panels, most commonly casement, double-hung or single-hung windows.
Stunning Natural Light to Create a Welcoming Home
To create a bright and warm environment, bay and bow windows allow in plenty of natural light. Because bay windows only contain three panels of glass, they do not allow in as much light as four-window bow windows. Bow windows are the perfect choice for homes that desire an abundance of natural light.
Comparing Costs: Bay vs. Bow Windows
Custom-created and unique, bow windows typically cost more than bay windows. Bow windows are custom created by putting together four or more matching windows from any product line. Bow window installations require a soffit tie-in or an extended hip roof, which may require the help of a structural engineer. Pella offers many different types of windows to match your home's architectural style. Pella® bay or bow windows are available in multiple product lines including Pella 250 Series vinyl, Pella Impervia fiberglass and three wood product lines — Pella Lifestyle Series, Pella Architect Series® and Pella ReserveTM – Traditional. With bay and bow windows available across a variety of product lines, we have options to meet every budget.
Have a Specific Bay or Bow Window Design in Mind?
No matter your design vision, Pella can make it happen. Available in a variety of materials, Pella offers virtually unlimited design choices. Choose from 3-unit 30º and 45º bay windows, 4- and 5-unit bow windows or choose your own custom sizes and angles. Explore the benefits you can achieve with new or replacement windows.

Explore What Pella Has to Offer