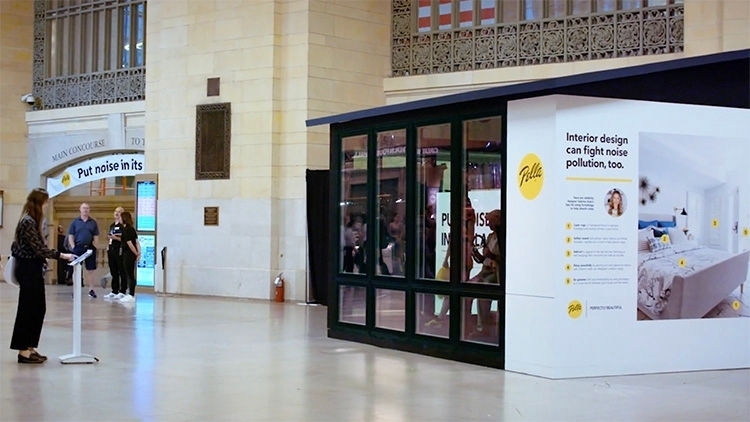 New York on Mute
See how we used Pella® Lifestyle Series windows to mute the noisiest city in America.
Noise Pollution is Harmful to Your Health
Is outside noise from traffic, construction or people keeping you up at night?
At the first-of-its-kind pop-up home in the heart of Grand Central Terminal, Pella is taking on the classic sounds of New York. We are measuring how much noise our sound-reducing Pella Lifestyle Series windows can keep out.
Interior Design Can Fight Noise, Too
Here are three tips from celebrity interior designer and HGTV host, Sabrina Soto, on how to design your home's interior to fight noise pollution outside your home.
What's Your Biggest Noise Complaint?
Noise isn't just a problem in New York. We polled homeowners across the country and asked them to share their biggest noise complaints. Here are the most common:
Barking Dogs

Construction

Garbage Trucks

Airplanes

Lawn Mowers
Traffic

Noise-Reducing Windows for a Healthier Home
Pella Lifestyle Series products help keep the good noise in and the bad noise out. They are the #1 performing wood window and patio door for the combination of energy, sound and value.44 And offer performance options that reduce 52% more sound48 and are on average 79% more energy efficient45 than single-pane windows.
Explore Lifestyle Series

Performance

Sound Control
52% noise reduction.46 Exceptional noise control for a quieter home.