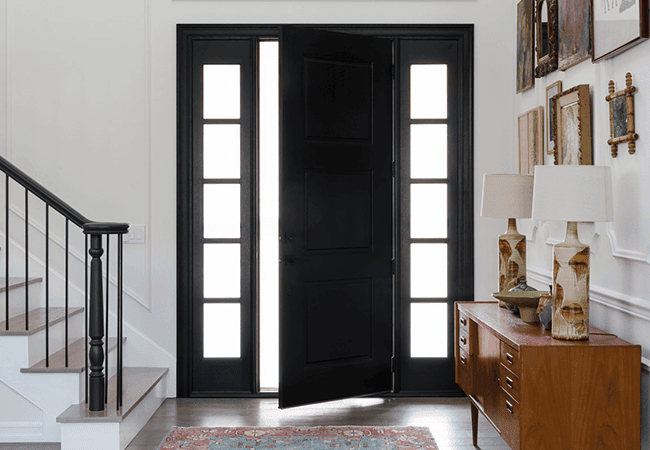 Extraordinary Exterior Doors: French, Patio & More
An entryway into your home, whether it features an exterior door with an in-swing or a bifold patio door on a straight track, can serve as a welcoming sign to guests and visitors. Read on for a roundup of some creative exterior door selections that'll warm up the way you greet the world.
---
The best home design is one that the homeowner feels the most, well, at home in. But, still, we all have our favorite styles and unique tastes. Every month, designers, builders and architects from all over tag us in photos showcasing their own custom designs and Pella® door uses. Here's a collection of a few exterior doors that caught our eye and stood out from the crowd.
And if, while reading, you think your Pella exterior or patio door deserves to make the next list, feel free to tag us on social media. Who knows? Maybe you and your home will be featured in an upcoming Pella article.
French Doors for Any Area
French patio doors, or hinged patio doors, are quite versatile, working exceptionally well in a variety of modes and situations. They can bring a dash of style and streams of natural light into your home.
Pella® Reserve™ patio doors are meticulously designed to achieve your vision. From simple yet sophisticated style to historical detailing, our traditional and contemporary patio doors will complement your home. Pella Architect Series patio doors are designed to make a statement and add architectural interest, inside and out. Adding interest to your home or a touch of contemporary style can be achieved with energy efficiency and aesthetics in mind. Pella Lifestyle Series® possesses the natural beauty of solid wood doors with exceptional performance characteristics. A more beautiful home can start with Pella French doors.
Pella Patio Doors Captivate the Neighborhood

Although French patio doors can enhance your wood door décor, accenting your porch or patio with a perfect plant arrangement can go a long way in increasing curb appeal and sparking smiles for neighborhood passersby.
Pella Instagram follower Our Humble Abode has done a terrific job complementing her patio doors with simple greenery. The potted perennials underscore the muted, yet alluring, hue of the Hemlock finish on her French patio door. Custom colors can help balance the warm, welcoming tones of the home's wood siding. Altogether, the wood siding, French doors and plants culminate in a traditional and inviting exterior appearance.
Perhaps your home requires something a little different to create optical symmetry that can make exterior doors and your patio truly stand out. Pella offers a range of exterior finish colors that are as stunning as they are easy to care for. Resistant to fading, our finishes will help protect your exterior door for years to come.
Southern Vibe, French Door Pride

As a focal point that lets light flood into your home, French doors can make a living space something striking and grand. And who doesn't enjoy a nice, calming nap in a room filled with natural light?
Dedicated social media fan Love Hurtts designed a room with a swirl of light by completing a Southern vibe with double-hung windows, French patio doors and transoms. The double-hung windows possess an authentic look and fine-furniture detailing while the transom allows even more sunshine to stream into the space. A half-circle window hovers close to the ceiling and familiar wood grille patterns complete the look with a stylish, traditional oomph.
Colonial and Contemporary Curb Appeal
Pella fiberglass entry double doors are fashioned from only premium fiberglass, delivering a rich and realistic wood-grain look that even feels like genuine wood when you swing the doors open. Coming home from a long day at the office? You'll be continually comforted by the authentic appearance and exceptional feel.
Two of our favorite Pella customers from the past few months took advantage of unique entry door panel styles and vibrant colors to blend conventional homefront styles into something that's worth taking note of.
Front Door Fiberglass

The only thing better than a single door? A cheerful red double entry door. This homeowner has a lot to blush about considering the charm of the lovely red fiberglass European light doors. The combination of the traditional grilles round off the Colonial home's front porch.
Black Doors & Beyond

All homes deserve to be cherished and recognized, but it's a special feeling when your home is an entrant in the Parade of Homes. Mike Stevens is undoubtedly proud of the blended beauty he's been able to capture with this combination of Southern traditional and contemporary architectural styles. The European panel black doors and window frames add a dynamic contrast against the home's white siding.
Shining Sunroom Ideas

Fashion and design trends ebb and flow, constantly change and are sometimes difficult to keep up with. Although some things never go out of style. Period Architecture implemented black French doors and black casement windows, producing a unique, modern sunroom. The different casement window shapes result in a sense of movement and soaks the room with an impressive amount of light.
Exploring which product series and exterior door design options will give you a look you'll love has never been easier. Schedule a free in-home consultation with a Pella expert today so you can start creating the home you've always wanted
Patio Door Features & Options
Explore What Pella Has to Offer