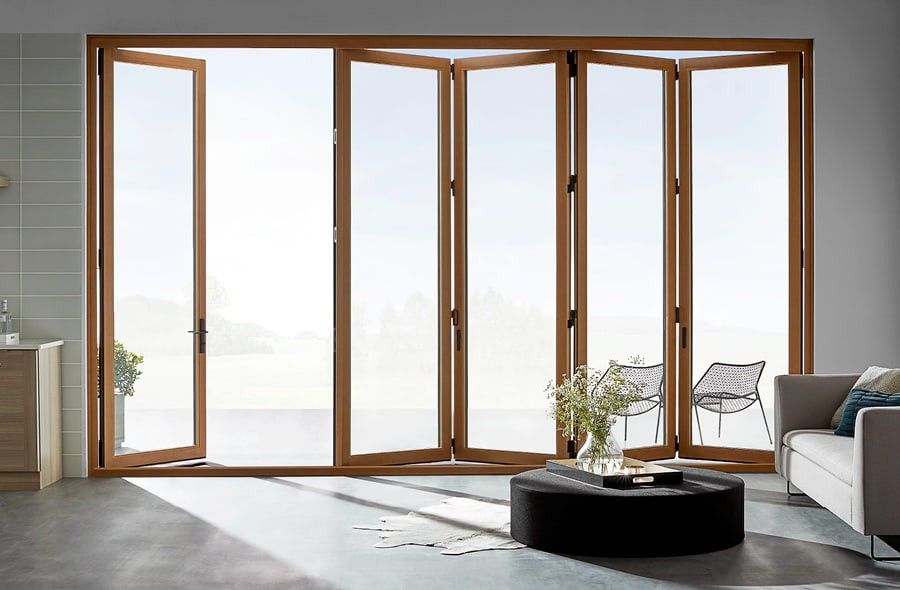 Benefits of a Folding Glass Door
Increase your home's wow-factor with an expansive folding glass door.
---
A folding glass patio door, commonly known as a bifold patio door, is a great addition to a home's design. Whether you're looking to create a space for entertaining or want to maximize your home's natural light, there are many benefits to a bifold patio door.

What Is a Folding Patio Door?
Folding glass doors are commonly referred to as bifold patio doors or accordion glass doors, because when they open, they resemble an accordion's folds. These doors are made up of three or more panels that are connected with hinges to fold open and closed. When bifold patio doors are closed, they create the look of a wall of glass. In-swing panels can be folded and stacked neatly indoors, while out-swing doors stack toward the outdoors when opened to create a larger opening. They close flat for a seamless look.

Benefits of Bifolding Doors
There are many benefits to choosing a bifolding glass door to your home's design. From unique, modern designs to increased areas for entertaining, we've compiled a list of the biggest benefits of a bifolding glass door.
Bold design statement.
With these expansive patio doors, it's easy to create a stunning focal point in your home. Their eye-catching sizes, combined with beautiful finishes and hardware options, allow you to create your dream aesthetic. Bold designs for bifold patio doors will make your home the envy of the neighborhood.

Contemporary appeal.
Sleek designs and narrow sightlines allow bifold patio doors to add a modern touch to the design of your home. Pair the sleek design with minimalist hardware designs and a modern color palette, like black or gray, to help further a sleek, contemporary aesthetic.

Perfect for indoor/outdoor living.
A perfect option for entertaining spaces, bifolding exterior doors open completely to blur the lines between indoors and outdoors. These doors give you the flexibility to extend your living space onto your patio or other outdoor entertainment area.

More natural light.
With expansive panels giving the look of floor-to-ceiling glass, folding patio doors create drama and allow in more natural light. If you're looking to create the look of a wall of glass, these doors can help you achieve this goal.


Where is the Best Place to Use Glass Folding Doors?
Bifold patio doors are most commonly found in kitchens that open to a great outdoor entertaining space, such as a patio or pool. They can also be used in a family room or walk-out basement that opens to an exterior space that is frequently used. They're available with a number of track types, including straight, curved or a 90º corner track, so they can be used in a variety of locations across the home to create your desired aesthetic. Corner doors on a 90º track are an excellent option to create walls of glass. Folding glass doors can be used to create design intrigue in new construction or replacement and renovation projects.
What Are the Sizes of Bifold Doors and How Much Do They Cost?
At Pella, bifold patio doors are made of wood, our most customizable material, and available in expansive sizes. Ranging from three to ten panels, these exterior folding doors can cover dozens of feet of a wall. Bifold patio doors are available on our top-of-the-line product lines, Pella® Reserve™ and Pella Architect Series® and cost a premium price. They are slightly more expensive than a sliding or hinged patio door.

Are Bifold Doors Worth It?
Determining whether bifold patio doors are worth it is a personal question. As you're evaluating whether they would be a good addition to your home, it's important to think about your budget, goals for your home and your personal design preferences. If you don't plan on opening your doors that often, other styles of patio doors might suit your home better. If you commonly gather with your friends and family and entertain indoors and out, folding glass doors can be a great addition. While bifold patio doors can be more expensive than other styles, they provide more opportunities to create a unique look for your patio door.
If you're interested in adding a bold design element to your home, schedule a free in-home appointment to talk to your local Pella showroom about adding a bifold patio door to your home.
How do bifold doors work?
Bifold patio doors are made up of three or more panels that are connected with hinges on the sides to fold open and closed like an accordion. When bifold patio doors are closed, they create the look of a wall of glass, and when they're open, they stack neatly on top of each other.
Explore What Pella Has to Offer