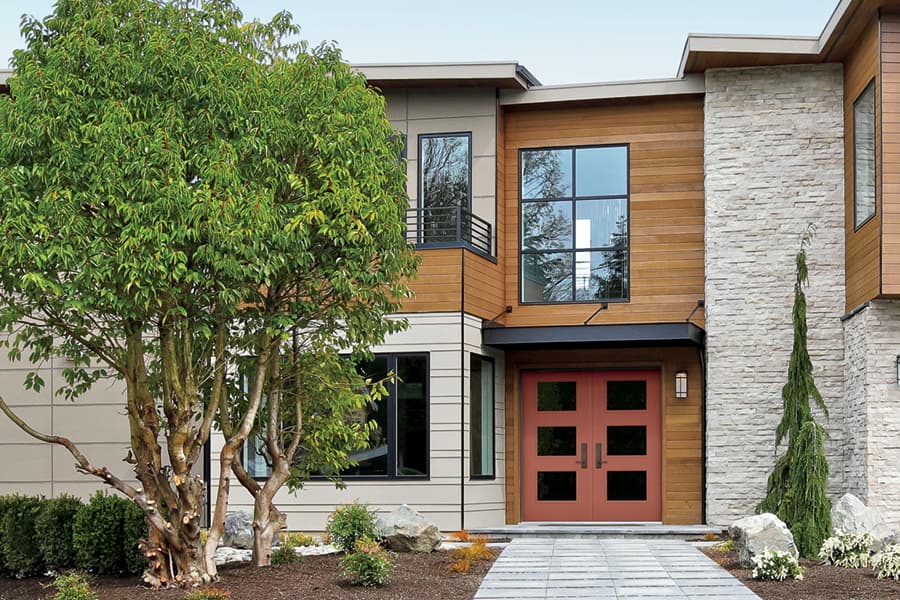 How to Choose the Best Front Door Color
Choosing the right front door color can help improve curb appeal and add design interest to your home.
---
Imagine driving by a beautiful home for the first time. You're immediately struck by the home's incredible curb appeal — beautiful landscaping, intricate detailing and a beautiful front entryway. By choosing the right color for your front door, you can increase your home's curb appeal and show the world your personality. From bold pops of color to classic neutrals, explore the latest on-trend front door colors.
Should You Paint a Front Door or Replace?
If you're considering a front door refresh, you might be wondering if it's better to paint your front door or to completely replace it. Replacing your front door gives you the chance to completely change the style of your entryway. You can choose a new panel style, such as an ultra-modern or craftsman style, and choose from a wide variety of color options and design elements. Often times, replacing your front door is a better option than repainting, as you have the opportunity to completely refresh your home's exterior. If you do choose to repaint your front door, we recommend using a high-quality oil-based or 100% acrylic water-based latex paint. Be sure to read your front door's existing warranty to ensure that painting will not void the warranty.

Black Front Doors
Black front doors are a stunning option for a variety of home styles, depending on the door panel style. Commonly used in modern, farmhouse and traditional homes, black front doors can be personalized to meet your home's style. Create stunning contrast when you pair black front doors with a light exterior. Black is a great front door color option for a gray or white house, or a home with red brick. Or for a bold, modern take, pair a black front door with a dark exterior. This monochromatic look catches the eye for a completely unique look.

Blue Front Doors
With a variety of blue front door shades, you can choose from several design aesthetics. Make a bold design statement with a bright or light blue front door, or choose a navy front door for a subtle hint of color. Blue front doors are an on-trend option and will make your front entryway stand out in your neighborhood. Any style of blue front door is sure to leave a lasting impression.

Classic Navy Blue Front Doors
Navy blue front doors are a sophisticated take on a blue front door. This classic color fits in perfectly with traditional and transitional homes. The neutral color helps create contrast with homes that are lighter in color. With a navy front entry door, you can add charm and character for the entrance to your home.
Teal Front Doors
An eye-catching color, teal front doors are a bold welcome for your front entrance. This pop of color pairs best with a white or light grey home, standing as the main focal point. As the main design element of a home, a teal front door is a playful way to make your home more unique.

Light Blue Front Doors
For a subtle take on a blue front door, a light blue hue is the perfect option. This carefree shade looks beautiful when paired with light color siding, such as a crisp white or classic cream. Light blue front doors are commonly seen in transitional and farmhouse style homes. Consider a light blue front door for a calming entrance to your home that provide a polished look while still playing with color.
Add a Pop of Color with Red Front Doors
Red front doors create a bold first impression for your home. A bright red front door makes a statement for your home and helps to create a warm welcome. For a subtle pop of color, consider a muted shade of red. Red front doors are commonly found in farmhouse homes, and are the perfect complement to a white or neutral color home.

Crisp White Front Doors
White front doors are a classic option for your home that adds a hint of timeless elegance. No matter your home's exterior color, a white front door is a great choice. Pair a white front door with a white exterior for a modern farmhouse feel, or pair it with a darker exterior color to create contrast. Consider adding options like grille patterns or decorative glass options for a bolder design.

Gray Front Doors
Choosing a gray front door is a great option for a variety of home styles. Depending on the style of door panel you choose, a gray front door can pair well with a traditional home, contemporary home or any style between. This neutral front door color option will match well with a variety of siding colors and other home décor elements. To create contrast, consider pairing a gray front door with a dark exterior color.

Stained Wood Front Doors
Stained wood front doors allow the natural beauty of wood shine through. A hallmark of craftsman and traditional home design, stained wood front doors are available in a variety of shades to perfectly complement your home. To create design interest at your entryway, consider pairing a stained wood front door with a brick exterior.

Other Front Door Color Considerations
As you're choosing what color front door is best for your home, there are a few other design elements you should consider. Determine if you are interested in adding a sidelight or transom to your front entry door. If you choose either of these options, consider whether you would like them to arrive with a matching or contrasting color.
You should also consider if you would like to add a storm door, and if so, what color you would like it in. For a cohesive look that draws your eye in to the front door, choose a color-matched or neutral storm door. If you would like to add design interest to your home, consider a contrasting storm door color.
Finally, it is important to think about the hardware for your front door. While the hardware style will likely correlate with the style of your door panel, there are several color options to consider. You can choose colors that are complementary to your front door color for a sophisticated look. Or create a bold design by choosing a contrasting color option for your front door hardware.
No matter your home's style, there is a Pella front door available in a variety of color options to help achieve your design goals. In partnership with the Sherwin-Williams Design House for Performance Coatings, we have front door colors to liven up your front entrance. If you're interested in learning more, contact your local Pella expert for more information.
Should my storm door match my front door?
This is up to your personal preference. If you would like to draw your eye in to the front door and have a cohesive look, choose a color-matched or neutral storm door. If you would like to add design interest to your home, consider a contrasting storm door color.
Explore What Pella Has to Offer