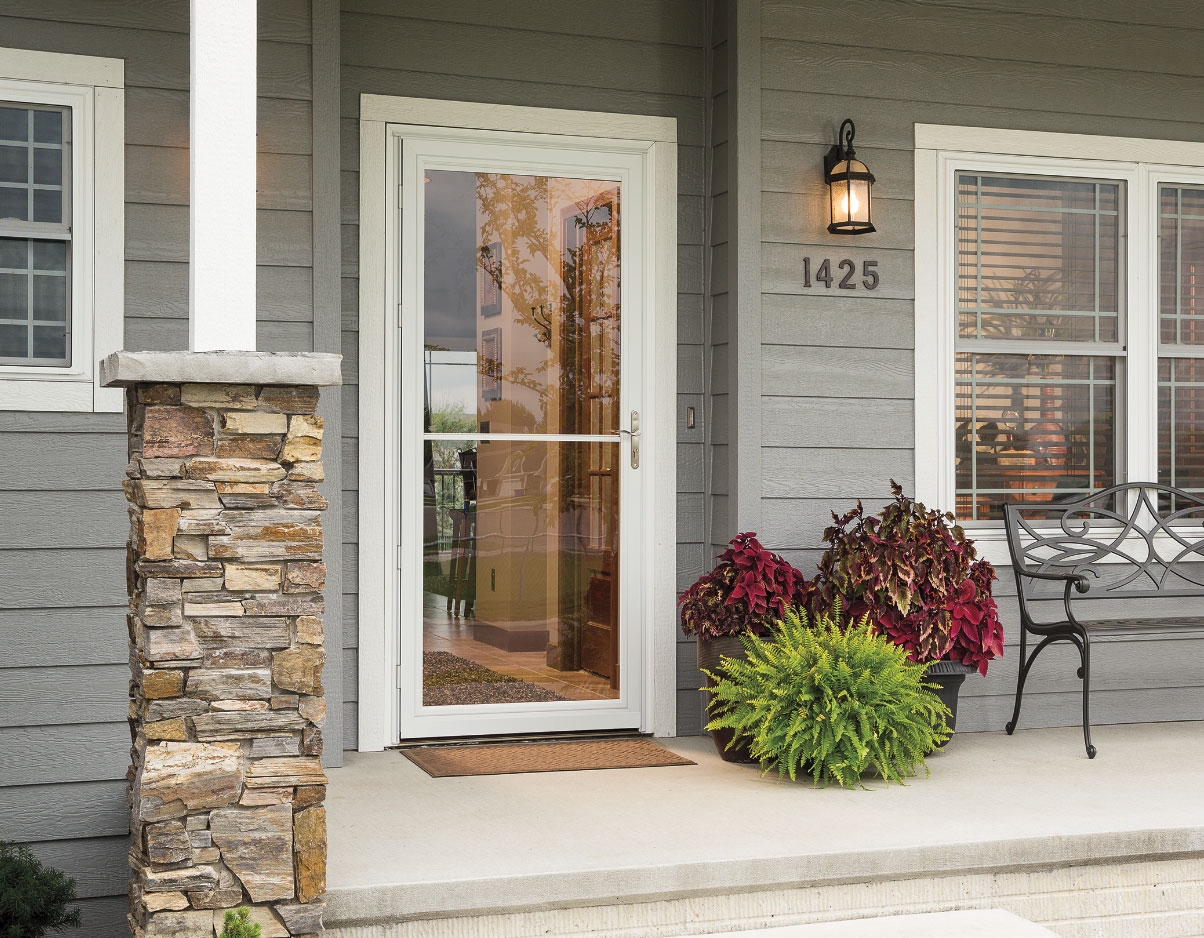 Benefits of Installing a Storm Door
Upgrade your home's style and security with Pella storm doors.
---
A home's front porch can define its curb appeal and provide a dedicated space for outdoor design and living. With the front door being the focal point of the porch, we spend plenty of time choosing a style that will really make our house shine – but what about a storm door?
The Pros of a Storm Door
The benefits of a storm door installation are numerous. As a second, outer door, it adds another level of comfort and protection to your home. When bad weather strikes, its glass panels protect your front door and home from damage. And when the weather is nice, screen panels allow for ventilation without letting in bugs.
As you explore your storm door options, consider these other benefits and product options.

More Natural Light
A bright entryway is more inviting, but without a storm door, an entry door must remain shut, blocking natural light. Long foyers are especially susceptible to being dark and dreary. Installing a storm door allows you to leave your front door open, allowing natural light to create a bright and welcoming space.
Exterior Door Protection
An entry door is a valuable investment. And because it can make or break your curb appeal, you want it to stay looking like new for as long as possible. A storm door can help protect your primary door from rain, ice and snow, reducing the costs of maintenance and helping it last longer.
All Pella® storm doors also come with a built-in keyed lock that is separate from a home's primary door adding an additional barrier against intruders.
Enhanced Curb Appeal
With stylish new hardware, beautiful glass designs, retractable screens and 12 colors to choose from, there are countless ways to personalize a storm door to complement the architectural aesthetic of your entryway. Our personal favorite this season: Pella Select Arch Bevel in Brown.
Improved Energy Efficiency
Storm doors can help improve energy efficiency by providing a buffer against summer heat and winter cold. According to the U.S. Department of Energy, storm doors can reduce energy loss up to 50 percent, saving you money on electric bills. When temperature permits, you can take advantage of the nice weather by installing storm doors with screens, which offer seasonal ventilation with an interchangeable full screen. Whether you want to catch the breeze or watch the rain fall, Pella Select and Fullview storm doors feature full glass panels that can be switched out with a full screen at any time.

A Warm Welcome
This benefit is often overlooked by homeowners but is so impactful. The beauty of storm doors is that they create a more inviting entry for guests. If the front door is open and they can see inside, guests know that you are home.
Because having a glass storm door allows you to keep the front door open, more natural light is able to fill your home. As a result, your entryway will be even brighter and more beautiful.
The Cons of a Storm Door
Storm door benefits usually outweigh whatever inconveniences they may cause, however, there are a few things you'll want to keep in mind as you make your purchasing decision.
Two Doors Can Be Inconvenient
It's true, having one door makes getting in and out of your house a lot easier. Fortunately, our One-Touch® closer holds the door open with a touch of a button. So even if you need to bring groceries into your home, you won't have to keep opening and closing two doors while you walk to and from your kitchen and car.
Heat Build Up
A storm door's glass panels trap heat and can damage to a front door with prolonged sun exposure. If your porch receives more than a few hours of direct sunlight in a day, you should forgo the storm door.
Types of Storm Doors
Pella's wide selection of custom storm doors are designed to suit your preferences and are available in up to eight frame colors. Other features include screens that roll out of sight and decorative glass designs.

Seasonal Venting Storm Door
Most storm doors allow for seasonal ventilation – look for styles that include the words interchangeable full screen. These storm doors allow you to easily change from glass to screen whenever you choose.
Steps to remember when replacing storm door glass or screen for seasonal ventilation:
Remove retainer strips from all four sides of the door
Remove the currently installed glass or screen by lifting it up and away from the exterior of the door
Insert the new glass or screen by positioning it in the bottom of the door frame and tilting it forward into the frame
Replace retainer strips
For a more detailed, step-by-step breakdown of how to install a storm door, check out our online installation guides.

Storm Door with Retractable Screen
Rolscreen retractable screens provide convenient ventilation for a clear view and come in up to seven colors, along with various door styles. These screen doors offer a refreshing breeze when you want it and a clear view when you don't. You can easily adjust the screen to any position for flexible ventilation options. A heavy duty weatherstripping on this storm door model also adds protection against drafts.
Explore What Pella Has To Offer