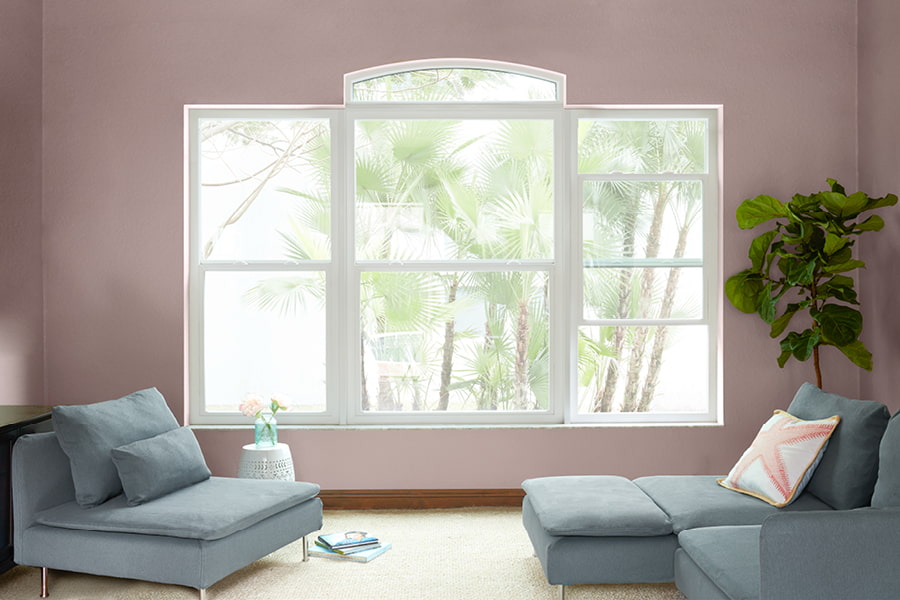 Everything You Need to Know About Hurricane Windows
Discover how hurricane windows can help protect your home during strong storms.
---
Hurricane windows are engineered to be safer and withstand more extreme weather conditions than windows with standard glass. A strong hurricane glass, also called laminated glass, is installed in place of the standard window glass. Hurricane glass is designed to withstand extreme wind speeds as well as protect against wind-borne debris.

What's the difference between impact windows and hurricane windows?
While hurricane windows and impact windows are very similar, there are a few unique differences that set them apart. Impact windows protect your home from flying debris and wind, while hurricane windows take it one step further. Hurricane windows are often constructed to meet specific building codes and local requirements. Pella Hurricane Shield Series impact-resistant windows meet or exceed the Florida Building Code's strictest requirements, including for homes in the High Velocity Hurricane Zone and the Texas Department of Insurance requirements. In addition to window protection from hurricanes, impact windows also provide noise insulation, block UV rays and provide additional home security.

How do hurricane windows work?
Similar in construction to automobile glass, the laminated pane of glass in hurricane windows is made from two pieces of glass reinforced with a strong, yet flexible, polymer layer in between. This polymer layer is meant to remain intact, even if the window glass is shattered by flying debris, protecting your home's interior from the wind and rain for the remainder of the storm. It also prevents the glass from breaking into large, sharp pieces that could be dangerous for anyone remaining in the home.

Pella Hurricane Shield Series impact-resistant windows are safety tested by firing a 2x4 flying at 50 feet per second at the glass. As part of this test, we shoot the window in three spots. At the end of the test, we subject the window design to thousands of cycles of positive and negative pressure.
A durable frame is another critical component for effective impact resistance. Proper installation is required for best performance, so select impact windows arrive with installation holes pre-drilled, helping ensure precise installation, exceptional performance and peace of mind. Your impact resistant windows from Pella don't require any additional storm preparation to comply with local regulations. Simply close and lock your windows before the storm hits.

Who needs impact windows?
If you live in a coastal state affected by hurricanes, your state and county building codes may require you to install hurricane proof windows and hurricane proof doors during new construction or by a certain year. In response to the increasing frequency of tropical storms and hurricanes, more and more homeowners are opting for the protection hurricane impact windows provide, even if your municipality is not currently mandating compliance. We offer a variety of window options for your region to meet your home's needs.

What are the benefits of hurricane impact windows?
The benefits of hurricane proof windows are numerous and may save you money over time. Here's a rundown of the benefits you can expect from installing impact resistant windows:

Hurricane Protection
Hurricane protection is the guiding force behind the design of Pella Hurricane Shield Series impact resistant windows. Much stronger than windows with standard glass, hurricane impact glass features a strong polymer layer located between the panes of glass. When a storm arrives, wind and wind-borne debris can cause damage to your home and windows. If a window breaks, the wind can pressurize the home and can cause severe damage, possibly even lifting the roof and damaging the structural integrity of your home.
Hurricane impact glass combined with reinforced hurricane window frames makes the entire window much stronger. Even if some glass does break, the laminated layer holds the glass in place. The heavy-duty strength of hurricane window frames also helps prevent them from bending or cracking during a storm.
Noise Reduction
Another major benefit of hurricane impact resistant windows is noise reduction. Hurricane proof windows significantly reduce outside noise transmission into your home's interior. Say goodbye to the sounds of barking dogs, lawn mowers and traffic noise.
Solar Protection
Another benefit of the multi-layer impact glass is solar protection, which helps keep your family and possessions safe from the harmful effects of solar rays that can fade window treatments, damage furniture and flooring and harm skin. Pella Hurricane Shield Series and Pella Defender Series windows block 99.7% of harmful UV rays.
Energy Efficiency
Impact resistant windows are made from two or three panels of glass, meaning they're incredibly energy efficient and can help you save money on heating and cooling costs. The exceptional energy performance ratings and tight seals of hurricane proof windows help keep cool air in on warm days and warm air in during cool days.

Safety and Security
Safety and security are also excellent benefits of hurricane proof windows. When an intruder breaks into a home, it is likely through a window or door. Not only is hurricane glass stronger than traditional glass, Pella Hurricane Shield Series single-hung windows and sliding window sashes are recessed into the frame for added security.
Reduce Insurance Costs
Installing hurricane impact windows in your new or existing home can help reduce your insurance costs. Most companies offer reduced rates when hurricane windows are installed throughout your home. Check with your insurance carrier.
Increase Your Home's Value
If you live in a hurricane prone area, the safety and security of hurricane impact windows, along with lower utility bills and lower insurance costs will increase your home's value to potential buyers.
Weather Performance
Hurricane impact resistant windows have excellent weather resistance. Made of durable vinyl, Pella Hurricane Shield Series and Pella Defender Series windows stand up to wind and water and can be trusted to perform.

Are impact windows worth it?
The abundance of long-term benefits for coastal homes makes hurricane window protection worth the investment. Nearly hurricane proof windows protect your family, your home and provide peace of mind during hurricane season and all year long. In addition to protecting your home during hurricanes and strong coastal storms, these windows provide excellent energy efficiency and noise control for your home. This creates a comfortable living environment all year long.
If you're interested in adding hurricane protection to your home, contact your local Pella rep to schedule a free in-home appointment.
Explore What Pella has to Offer