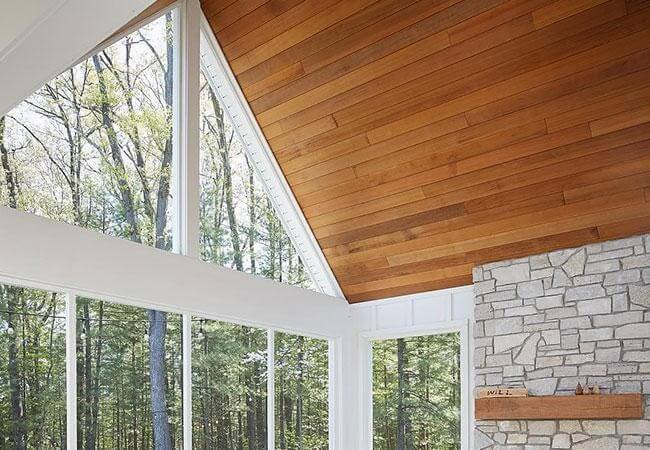 Custom Shapes: Best Triangle Windows
A design choice increasing in popularity, custom window shapes, and triangle windows specifically, provide rooms with natural light and visual interest. Read a roundup of our favorite Pella triangle windows.
---
Fads and trends constantly shift. And, sometimes, it can be intimidating to try and keep up with what's fresh or cool. But when it comes to modern home design, Pella has your back. Keep your home contemporary with this sampling of our favorite triangle windows.

Triangle Windows Come with a Custom Design
Curious about how the Pella experts stay on top of home design trends? One way is by appreciating the homes and custom-made windows of our very own customers. Common window shapes are a staple of home design for good reason. They can enhance conventional design objectives, providing agreeable, approachable and traditional style. But unique, custom windows can make rooms more cheerful, providing additional natural light while simultaneously dishing out some stellar scenes to enjoy.
The angles and structural beauty of a room's interior can be mirrored, and advanced, by the natural angles of your home's exterior view. Take, for example, this Park City, Utah, contemporary bathroom featuring custom windows that include rectangles, trapezoids and triangle shapes. When combined, these window shapes not only reflect the grandeur of the surrounding scenery, but invite the outside majesty in, resulting in a memorable bond with nature that extends from wall to wall. No matter what the weather outside might look like, the bathtub can still be the perfect place to appreciate the natural world while relaxing in comfort.
In a state like Utah where you can enjoy the differences between four distinct seasons, fiberglass windows bring enough strength and durability to brave both extreme heat and cold temperatures. Carefully crafted from Pella's custom fiberglass windows provide unmatched strength and lasting durability with sleek, timeless style.16 We will work with you to develop the custom shape or triangle window of your dreams, but with Pella® Impervia® windows, a durable powder-coat finish will resist chalking, fading and scratching — even in dark colors.
If you want more light and air to flow into your home, consider Pella InView™ screens. Outfitted for your triangle window, these screens are 8% more open for improved airflow and allow in 14% more light than a conventional fiberglass screen.14
Custom Windows Let in the Light
Our imaginations are boundless. That's why, when designing or reshaping your home, it's important to have a partner that sees imagination not as an obstacle, but as an opportunity. For this project, Pella worked with the homeowner to combine different window shapes and sizes, including triangle windows near the ceiling, creating a massive wall of light. Both breathtaking and beautiful, Pella® special shape windows offer virtually endless design possibilities for a custom look unique to your home and tastes.
In a room of this size, with large custom windows to match, energy efficiency and temperature can become a concern. With Pella® 250 Series windows, you won't need to be concerned for even a second. One of Pella's most energy-efficient product lines, a 250 Series triangle vinyl window will come standard with an exclusive energy-saving system. Our one-of-a-kind system features Pella's InsulShield® Low-E triple-pane glass to protect your home from extreme temperatures. Pella 250 Series windows also have optional triple-pane glass, meaning your bright wall of light won't let in cool air during the winter or out during the summer.
Installing windows of this size and scope can be a daunting task for even the most seasoned of contractors and DIYers. Need help determining the right installation method for your new or replacement triangle windows?

Warm Woods, Complementary Triangle Windows
There are almost countless combinations available for Pella special shape windows. By pairing a special shape with something more traditional, it's possible to achieve a broad array of distinguished looks. In this design perfected by Vision By Visbeen, the natural warmth of the forest viewable from the triangle fixed windows and rectangle casement windows are complemented by a wood ceiling, coffee table and fireplace mantel.
Coupling a high, fixed, triangle window with casement windows results in a living space that still allows for plentiful airflow. And while you're combining things, consider combining energy efficiency, sound control and value with Pella® Lifestyle Series casement windows. Superior performance should never be secondary, and with our wood window that redefines both energy efficiency and sound control, naptime will never be interrupted by noise again.
For a look that is tailor-made to your home, consider Pella Reserve™ windows. They're available in traditional and contemporary styles, created for those who refuse to settle for anything less than extraordinary.
Looking to add texture to your triangle windows? A white window frame close to a stone fireplace adds even more visual intrigue. If white isn't your color of choice, Pella wood, fiberglass and vinyl windows all offer alternate frame color options.
Learn more about how to enhance your home with triangle windows or custom windows by scheduling a free in-home consultation today.
Explore What Pella Has to Offer