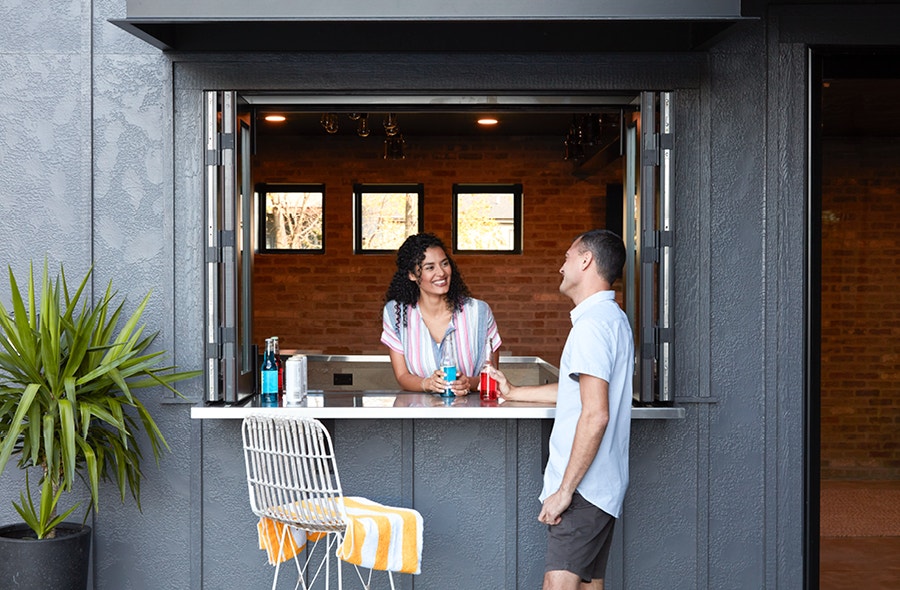 Pass Through Windows Create Entertaining Spaces for Your Home
Create the perfect indoor-outdoor entertaining space with pass through windows.
---
As warm weather approaches, having a space to entertain guests becomes a popular wish for many homeowners. One way to create an entertaining space is to utilize a pass through window. These window helps to expand your living space and is perfect for many areas in the home.

What is a Pass Through Window?
A pass through window is a type of window that slides or folds open and closed, or cranks open and closed, to allow for easy access to the indoors and outdoors. These windows can appear in new construction homes, or you can replace your existing windows to create a pass through design. In a replacement project, it is common to consider the placement of the window in your wall, along with interior and exterior access.

Where Do You Use Pass Through Windows?
A pass through window can be used in a variety of rooms throughout your home that open to an outdoor space, but there are a few places that are common. The most common place to see these windows is in a kitchen above a countertop. They can open to an entertainment space outdoors, such as a pool bar or patio, so you can easily pass food and drinks while hosting friends and family. They're also common in a basement bar area that opens to a walk-out patio. Some products have sill types that enable you to create an option that recesses into the countertop for a seamless look.
Popular Pass Through Window Styles
There are several popular types of kitchen windows that can help you achieve a pass through window design. From sliding windows to multi-slide and bifold windows, you can consider the unique pros and cons of each style to find the best option for your home.

Sliding Windows
Sliding windows are one of the most popular window styles to create a pass through design. Sliding pass through windows are an economical choice to get your desired design and aesthetic. Sliding windows for a pass through design are available in fiberglass or vinyl, simply remove the screen to allow for easy access to your indoor and outdoor space.
Multi-Slide Windows
For design intrigue, consider using a small multi-slide patio door as a pass through window. Available in aluminum-clad wood frames, a standard multi-slide patio door is made in a window size. Multi-slide pass through windows are available in expansive sizes to cover the entire length of your countertop. They come with a pocketing application, so they disappear into the wall for an unobstructed opening.

Bifold Windows
To create a unique look for your home, a small bifold patio door can be used. With aluminum-clad wood frames, these bifold pass through windows are available in a stacking application. With the ability to span your entire countertop of space, bifold pass through windows are available in expansive sizes to complement your home's design. This means the panels stack neatly on top of themselves, out of the way, making them a perfect option for entertaining.
Top Pass Through Window Considerations
If you're thinking about adding a pass through window for your home, there are several important things to consider. It is important to consider the amount of exposure to the elements your window will have. In addition, consider your budget and scope of your project. A pocketing application is where the window panels disappear into the wall. This is more common for dedicated spaces, such as an indoor-outdoor bar, but it can be more expensive and is typically only done in new construction or a large-scale renovation. Sliding windows are less of an investment while still creating an unobstructed entertainment area. Made of fiberglass or vinyl, sliding windows are the most budget-friendly option.
Connecting the Interior and Exterior
With a large opening for entertaining, these windows make it easy to connect the interior and exterior of your home. A pass through window from Pella gives you the best of both worlds. We give you the flexibility to use your space how you want, with the performance that you need when you aren't in entertainment mode. A pass through window makes it easy to create a space perfect for entertaining. You can easily blur the lines between indoors and out to allow your guests to enjoy your home. If you're interested in adding a pass through window to your new construction home or replacement or remodel project, contact your local Pella expert for more details.
Explore What Pella Has to Offer