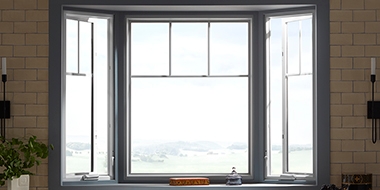 Grilles for Wood Windows
Add architectural interest to your home with grilles for your wood windows.
Grilles for Wood Windows
Complement your personal style with Pella's many grille types for wood windows. See how our grille offering can enhance the design of many different types of projects — from historic renovation to modern, new construction.

Grilles for Wood Window Features
From Historic to Modern
Pella wood windows are available with grilles that will complement your desired look, whether your home is traditional, modern or somewhere in-between. Some grille options create the look of individual windowpanes while others are a hallmark of modern design.
Stylish Patterns and Profiles
No matter what the style of your home, we have a grille pattern and profile to match. Pella offers Square, Ogee and Putty grille profiles and several grille patterns to complement your home's architectural style.

Simplify Cleaning
Choose between two types of grilles to make cleaning easier — between-the-glass and removable roomside grilles. Both leave you with a flat surface that is easier to clean.





Innovative Grille Profiles
---
Integral Light Technology® (ILT) Grilles
Integral Light Technology grilles are permanently bonded to the inside and outside of your window glass. Nonglare foam spacers in between the grilles cast a realistic shadow like individual windowpanes would. These grilles create the most authentic look of true-divided-light windows.

5/8" Putty Glaze Integral Light Technology
---
Simulated-Divided-Light Grilles
Simulated-Divided-Light grilles are a great option if you want the look of divided-light windowpanes. On dual-pane windows, grilles are permanently bonded to the inside and outside of the glass. Grilles are bonded to the outside of the glass only on triple-pane products with grilles-between-the-glass on the interior.

7/8" Simulated-Divided Light no spacer
---
Removable Roomside Wood Grilles
Removable roomside wood grilles are attached to the inside of your windows with latches. They can be removed to make cleaning the glass easier and look great in homes where the authenticity of wood and easy cleaning is required.

3/4" Roomside
---
Grilles-Between-the-Glass
Grilles-between-the-glass are permanently sealed between panes of insulating glass. These aluminum grilles create a smooth glass surface that is easy to clean. Add grilles-between-the-glass to homes where the look of divided light is desired, but a more convenient cleaning option is preferred. Color offering differs by product line. See your local Pella representative for details.

3/4" Grilles-Between-the-Glass
Beautiful Grille Patterns
---
Grille Patterns
Pella offers several different grille patterns to match your home's unique style. Explore our patterns to find a look to complement your home.

Prairie
Window Grilles by Material

Impact-Resistant Glass
Protect What You Value Most
You can trust our products to perform. We test our designs beyond requirements in extreme temperatures, for thousands of cycles, and sometimes even by hurling 2x4s – all in the name of a better product.*
*Only available on Pella Reserve - Traditional and Architect Series - Traditional products and select Pella Reserve - Contemporary windows.
Explore Impact-Resistant Glass



For the Pros
Product Specs for Wood Windows with Grilles
Find out everything you need for your next project. Download specifications you need for combinations, installation details and accessories.
See Installation Specs
Explore Window Features & Options