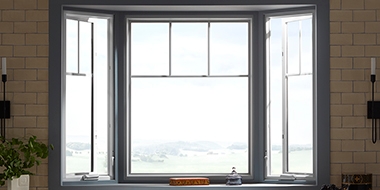 Grilles for Wood Windows
Add architectural interest to your home with grilles for your wood windows.
Grilles for Wood Windows
Complement your personal style with Pella's many grille types for wood windows. See how our grille offering can enhance the design of many different types of projects — from historic renovation to modern, new construction.

Grilles for Wood Window Features
From Historic to Modern
Pella wood windows are available with grilles that will complement your desired look, whether your home is traditional, modern or somewhere in-between. Some grille options create the look of individual windowpanes while others are a hallmark of modern design.
Stylish Patterns and Profiles
No matter what the style of your home, we have a grille pattern and profile to match. Pella offers Square, Ogee and Putty grille profiles and several grille patterns to complement your home's architectural style.

Simplify Cleaning
Choose between two types of grilles to make cleaning easier — between-the-glass and removable roomside grilles. Both leave you with a flat surface that is easier to clean.


Explore Grilles for Wood Windows