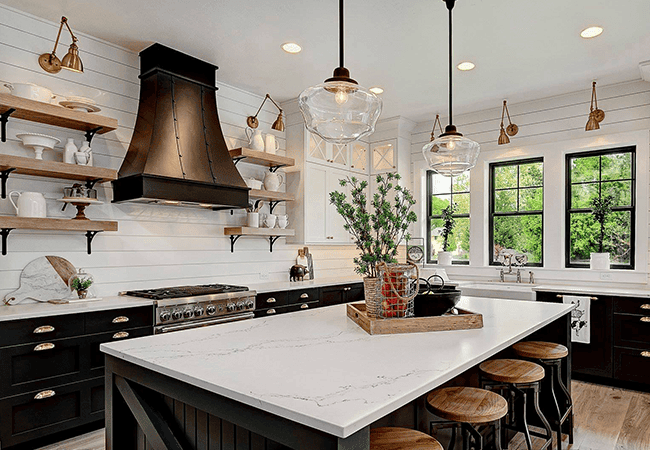 5 Reasons Black Windows are Here to Stay
More than a fleeting trend, black window frames have made a comeback, gaining popularity and becoming home design staples. Check out the top five reasons black windows are worth considering.
---
Black windows make a statement and have been doing so for decades. Inspired by history and modernized for present-day design principles, black windows can take your home's exterior or interior style to new heights.

Exterior Black Windows Bolster Curb Appeal
Owning a home is an investment. And it's no surprise then that homeowners often take great pride in the investment they've made. That's why increasing curb appeal isn't only an effort to increase the value of your home, but also one to strengthen the vision you have for your home's look.
Black window frames certainly aren't for everyone. But, if you want property to stand out, they could go a long way in distinguishing your home. This recent build from M House Development scores curb appeal points with black window frames and grilles that match its black entry door.
When considering curb appeal, performance might be just as important of a factor as color. Crafted at the crossroads of durability and stylish design, Pella® 250 Series vinyl windows boast a quality look with long-lasting beauty. Undoubtedly, you'll want the finish on your black windows to look great for the long-term. With Pella 250 Series' DuraColor™ exterior finishes, your window color will shine for years with little upkeep. Another benefit: Pella 250 Series windows features weather-repel design and are built stronger than ordinary vinyl.

Create Contrast with Black Frames
Black window frames can serve as bold accent points, underscoring the rest of your home's aesthetics. Consider this kitchen by Clark & Co. Homes. The white countertops, cabinets and walls contrast the black island, cabinets, oven hood and Pella® Impervia® windows, creating a sense of dynamism and modern intrigue.
Stylistically versatile, double-hung windows can be a solid choice for contemporary or traditional homes. Black wood windows easily fit in this modern kitchen. Pella Lifestyle Series windows offer a little more flexibility when it comes to personalization. Enhance the look of your windows even further by adding a dual-purpose cam-action lock and sash lift in the finish of your choosing. Available in matte black, Pella's hardware solutions combine extra peace of mind with exceptional style.

Black Windows Generate Artful Views
There are many advantages of interior black windows. Create contrast when you pair elegant black windows with white walls or furniture. Because black windows make such a statement, they don't always need shades, blinds or curtains, offering an opportunity for you to sidestep what can be an occasionally costly investment.
Pella is committed to providing design flexibility that fits within your home and your budget. Sometimes, it can be difficult to find the premium exterior color you're looking for when it comes to vinyl or fiberglass windows. With Pella Impervia fiberglass windows and Pella 250 Series vinyl windows, you can find a window that's impressively durable without sacrificing style. Both product lines are available with Black exterior finishes.

Custom Windows for Your Unique Home
Dedicated to ensuring your unique expectations are met, Pella offers black frame windows in special shapes and sizes. Available in a surprising number of shapes, Pella offers almost virtually endless design possibilities.
Need a Gothic Springline black window as the finishing touch on your traditional homestead? Pella can certainly provide that, as well as a host of other special window shapes that can be outfitted with grille options that match your other Pella windows and patio doors.
Pella will work with you to design and build one-of-a-kind windows. Extra-tall and extra-wide, special shapes and intricate grille designs are just a few of the ways we can tailor your unique window.

Windows Weave Stories
Black window frames, for both the interior and exterior of homes, isn't a new development. Some consider these statement windows to be a historical nod to simpler times – black windows can resemble the aesthetics of homes dating back centuries.
Today, many people use black windows to weave a story with their home's design, a way to balance the use of light wood with more industrial leaning design elements.
Contrast and counterbalance are key phrases to remember when contemplating black window frames. Designed by Clark & Co. Homes, this distinctive reading nook has black single-hung windows rounding out the light wall coloring and wood staircase. For a small space like this that's simultaneously innovative and classic, single-hung windows present ample potential. Raised from the bottom for ventilation, single-hung windows are generally a selection for classic rooms and homes. With the added gusto given off by the black frames, however, this space instantly becomes captivating.
So, you're thinking about purchasing a black window for your home, but aren't sure if you're ready to take the plunge? Remember, black windows make bold statements, but they can also boost curb appeal, create contrast and tell a unique story focused around your home. The experts at Pella are always available to discuss your options, so don't hesitate to contact us for a free in-home consultation.
Window Features & Options
Explore What Pella Has to Offer