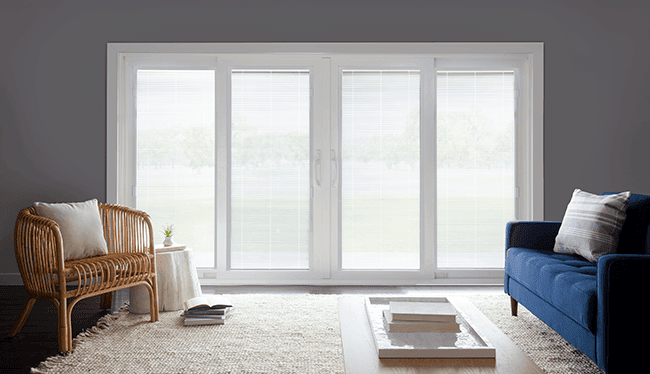 What to Know About Patio Door Installation
Working with Pella professionals to install your patio door helps make installation day worry-free. Trust our team of installers to get the job done from start to finish, leaving no trace of mess behind.
---
Installing your replacement patio door doesn't have to give you a headache. You can be certain the process will be a breeze when you work with the team of highly-trained Pella professionals. Read on to learn more about what installation day will look like at your home.
Installation Day for Your Replacement Patio Door
Installing a replacement patio door in your home is a big investment and one that we want to make sure goes correctly. Working with our Pella professional installers will help you get the most out of installation day from start to finish. We take the worry out of the process for you to make it easy. So easy in fact, you may start wondering why you didn't take on this home improvement project sooner.
Some homeowners may be nervous about letting someone into their home to complete a project. Our Pella professionals show up in uniform with the Pella logo easy to see, so you can trust the right installers are at your home.
When our installers arrive at your home, they will first work with you to review the plan for installing your patio door. They will go over the details of your patio door installation, talk through the process with you and ensure they have the right replacement patio door for your home. Our installers will keep you updated throughout the day to let you know the status of the replacement installation, but if you have questions, our professionals are always willing to answer them along the way.
Once they've reviewed the project with you and gotten everything approved, the installer will work to cover the area with drop cloths. This is done to help protect your home and the belongings near the installation space. There are a few things we recommend you do to protect your home and belongings before installation day, which we will cover in more detail below.
Our installers will carefully remove your old door from the space and work to contain the noise so there's minimal disruption to other areas of your home. Once the old patio door has been removed, installers will work to place your new patio door in the space.
When the project is nearing completion, the installers will finish your patio doors with your choice of interior and exterior trim. Depending on the type of patio door you choose, there are a variety of colors or finish options to choose from. Aluminum cladding is a great option for the exterior of your home if your patio door is made from wood. Cladding works to protect the integrity of your patio door from the outside elements.
Finally, they will install the hardware and check that your new patio door functions properly, ensuring everything is good to go and passes inspection.
After your door has been installed, the last step is a thorough clean up and discarding of your old door, which is included in your Pella installation. Once our professional installers have left your home, it'll be like they were never there.
Preparing Your Home for Installation Day
While working with a Pella professional to install your replacement door takes the worry and stress out of your home improvement project, there are a few little things you can do to help make sure that installation day goes as smoothly and quickly as possible.
We understand your home and your belongings are very important to you and our professionals will be careful not to disrupt any parts of your home. Our expert installers are used to working around home furnishings, but it doesn't hurt to give them some additional workspace. If you're able, take some time to move any furniture or decorations away from your patio door.
If you have young children or pets, it's a good idea to make arrangements to keep them in a safe place away from the installation area. This will help to make sure the installation space is free from distractions and disruptions.
Helping your installer out by doing these simple tasks will help the installation day go by quickly. For more information about using a Pella professional to install your replacement patio door, contact your local Pella showroom.
Patio Door Features & Options
Explore What Pella Has to Offer