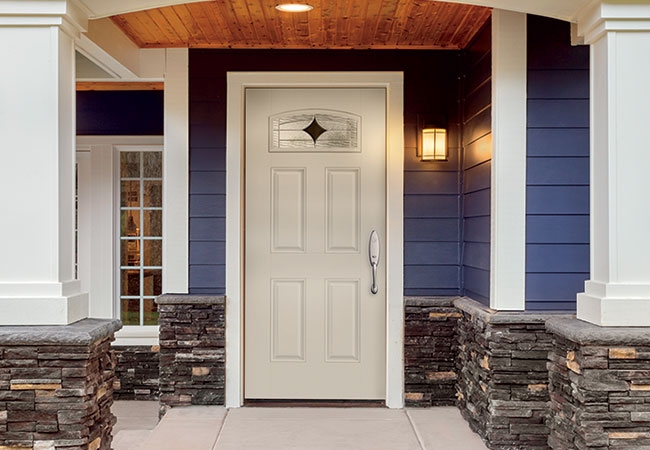 5 Benefits of Pella Entry Doors
From enhanced security to performance, Pella Entry Doors have it all.
---
1. Pella® Entry Doors with Features Buyers Crave
Pella Entry Doors have been upgraded to offer your customers the perfect complement to Pella windows and patio doors. Whether you install a fiberglass or steel front door, these products were built to ensure exceptional quality with enhanced security and privacy. And with industry-exclusive smart home innovations along with a curated collection of colors and styling options, it's even easier for end customers to see the value in their entry door.
2. A Simple, Curated Collection for an Elevated Aesthetic
The front door is one of the first things people notice about a home. Pella Entry Doors feature a curated collection of some of the industry's most popular designs and colors, along with nine brand-new decorative glass options to perfectly complement your project. These options were arranged to allow for easy selection, giving contractors the ability to focus on other details of the build while still providing a timelessly chic look for every home.
We've also collaborated with the team at Sherwin-Williams DesignHouse for Performance Coatings to bring new colors to any project. With state-of-the-art, high-performance finishes formulated exclusively for Pella Entry Doors, you can find the color that best coordinates with other exterior finishes on the home, such as siding, roofing, stone and shingles.
3. Whole-Home Project Solutions
Put our complete offering of windows, patio doors and entry doors to work for your business. Make Pella the whole-home solution by offering a complementary look to any project's windows and patio doors with beautiful entry doors to enhance the contractor's design.
With over 90 years of industry experience, you can trust the Pella reputation. We are proud to be the #1 preferred entry door brand for homeowners52 and offer one of the strongest warranties in the industry64. Should contractors have product or installation questions, support is available where and when it's needed with trusted national, regional and local partners in sales and installation.
4. Enhanced Home Security and Safety
Give customers the options of installing safety and peace of mind into their next project with enhanced security and privacy features from Pella. Our exclusive, factory-installed integrated security sensors monitor the status of the entry door while preserving its beauty and warranty. Powered by Pella Insynctive® technology, these sensors can be used with a free app and integrated into many home security systems.
But security isn't one-dimensional, so Pella Entry Doors are available with a broad range of privacy glass styles to maintain privacy and still allow light into the space.
5. Performance Built to Last
Every contractor and homeowner want reassurance about their windows' and doors' quality. And Pella Entry Doors are built to avoid rusting, denting or decaying. With low-maintenance fiberglass entry doors, you can offer dependable performance and long-lasting beauty. Steel doors are also available and provide natural strength and durability. They offer an appearance that's easy to maintain and a smooth surface — even when painted.

Our entry doors bring together a complete panel and frame system with polyurethane-foam-filled panels. It is made of an innovative, rigid, closed-cell polyfiber material to keep it from absorbing moisture or rotting — for years of energy efficiency and performance. Plus, contractors can achieve added home security and durability by opting for impact glass.
Give your customers the latest styles with lasting durability with Pella Entry Doors. Don't hesitate to contact your Pella rep if you have any questions.

Product Details & Downloads