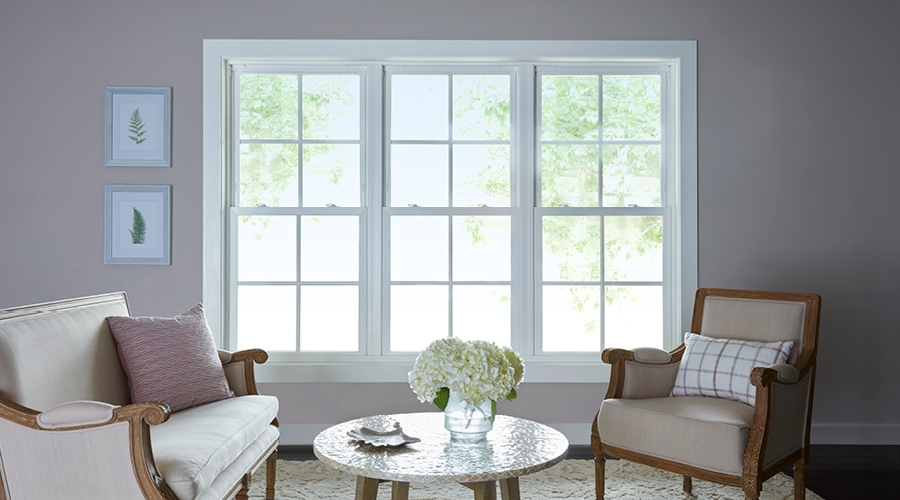 Create a Signature Look with Vinyl Window Colors
If you're looking to boost the curb appeal of your home, create a signature look or make a statement, explore stylish exterior colors for your vinyl windows.
---
The beauty of colors is that there is something for everyone. When it comes to the vinyl windows on your house, Pella offers a variety of colors to choose from, affording you the opportunity to achieve the color combination that suits the unique style of your home.
Make a Bold Statement with New Vinyl Window Colors

There are only so many ways you can transform the exterior of your home. Window frames present an opportunity to add a touch of personality to the exterior of your home.
Pella understands this and takes great care to ensure that our selection of eye-catching exterior colors can help you design a signature look for your home. In addition, our enhanced paint process provides consistent quality, thanks in part to a unique formula that is tested and proven to resist the effects of extreme temperatures and humidity.
Specific exterior vinyl window colors are available as part of dual-color frames, with the stipulation that the interior color is white. But there are also solid-color frames to choose from, which can have the same color on both the interior and exterior of the window frame.
Read on to explore the variety of window frame color options available for our low-maintenance Pella 250 Series and Encompass by Pella vinyl windows.
Be Bold with Black Vinyl Windows
One of Pella's most popular exterior color options for vinyl windows is black. Once considered a classic choice for window frames, black is a popular choice. Black vinyl windows are often coveted for the contrast they create when used on a home with a light-colored exterior. They can also help conceal the appearance of dirt on your exterior window trim.
Available as a dual-color frame from Pella, the black is limited to the exterior of your windows, so you won't have to commit to decorating your interior with black.
White Vinyl Windows Keep a Clean Look
Black vinyl window frames may be the popular choice for homes with a light-colored exterior, but homes with dark siding will frequently be paired with white window frames for a beautiful contrast. White is a neutral but popular choice for exterior window frames because it can blend into any style home, from traditional to contemporary. It is a bright color that generates positive vibes and helps create an atmosphere that is fresh and light.
Pella offers White, Almond and Fossil solid-color frames, allowing you to create a clean and inviting look for your home both inside and out. White interiors blend beautifully with any style of décor.
Embrace the Versatility of Gray Vinyl Windows
Gray is a versatile color choice for your window frames, in large part because there are typically a number of shades from which to choose. Some homeowners will opt for a warm gray to provide depth and visual interest. Others may choose more of a charcoal gray to pair with a white exterior for a modern color combination. Gray is a color that is often best utilized within an organic color scheme because it can help create a soothing feel for your home.
Pella offers Fossil and Morning Sky Gray dual-color vinyl window frames.
Brown Vinyl Windows Offer Natural Warmth
Brown is another classic choice for vinyl window frames. Its popularity has ebbed and flowed over the years, but it has always held a certain appeal because it can be paired with a variety of complementary colors. Dark tones, such as brown, make a big impression, especially when contrasted with lighter colors. There is also a natural warmth and texture to the color brown.
Pella offers Brown and Portobello dual-color vinyl window frames. Hurricane Shield Series and Defender Series windows are available in Bronze.
Add a Pop of Color with Red Vinyl Windows
It does not get much bolder than red. You can make a powerful statement on the exterior of your home with red window frames. Red is a punch of color that conveys energy and warmth. Because it is such an eye-catching choice, red accents can highlight the trim and architectural features of your home. There is certainly some risk in choosing such a powerful color, but if you are looking to make a statement with your exterior, red vinyl window frames can help.
Pella offers Brick Red dual-color vinyl window frames.
Go Green with Your Vinyl Windows
Pella vinyl windows are already energy-efficient, but you can also literally go green when it comes to the color of their window frames. Green is an unexpected but beautiful color choice that reached the height of its popularity in the 90s, but has since staged a comeback with a variety of different hues. It is a color that can be both warm and cool at the same time and can be used to create a balanced look when paired with more muted colors.
Pella offers Hartford Green dual-color vinyl window frames.
From black and white to red and green, Pella's vinyl window frames are spread out across the color spectrum. No matter what look you are hoping to achieve for your home, you are certain to find a color combination that suits your unique style.
Vinyl Window Features & Options
Explore What Pella Has to Offer