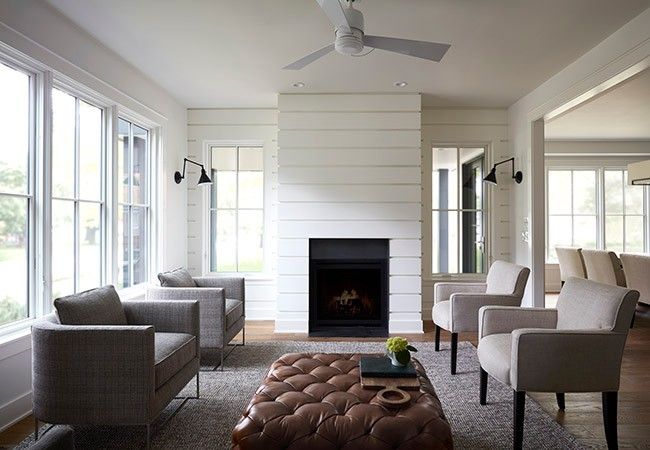 Create Your Own Fixer Upper
The "Fixer Upper" look popularized on television is more popular than ever. You can achieve this modern, rustic and lived-in look for your home, starting with your windows and doors.
---
You may think you know what a "fixer upper" home is, but Chip and Joanna Gaines have created a "Fixer Upper" look all their own that is making an impression on homeowners across the country. Fortunately, there are simple ways to make this coveted style your own.
Create the "Fixer Upper" Look for Your Home
If you follow home design trends, you are aware of the "Fixer Upper" look that has been getting a lot of press lately, thanks in large part to the dynamic duo behind Waco, Texas' Magnolia Homes, Chip and Joanna Gaines. Whether you're a fan of their show on HGTV, or just a fan of their classic and trendy style, you can create your own Fixer Upper house without moving to the Lone Star State.
All you need to get started are new Pella® windows and doors – and someone with a knack for installation. Here are a few simple ways you can incorporate Chip and Jo's signature modern, rustic and lived-in look into your home.
Make a Statement with Your Entry Door

The right entry door can say a lot about the overall look and feel of your home. It is one of the first things that people will see when they look at your home, and the look and feel are critical to making a lasting first impression. Entry doors are also an opportunity to show your style and personality or boost your home's curb appeal by creating a stunning focal point.
You can create a rustic entry door look for your home with the addition of a fiberglass door in a dark mahogany finish, paired with matching sidelights. Another option to consider is a Dutch-style door with a custom grille pattern. Both doors are energy-efficient and will give you an authentic wood look – without the maintenance that real wood requires.
Create a Cozy Living Room

When you're decorating your living room, consider choosing furniture that offers a bit of a weathered look, furniture that tells a story. The charm of distressed furniture never goes out of style, and even if you can't find the rustic piece you are looking for, there are simple ways to add that patina to more pristine furniture yourself.
Leather or linen sofas are a great place to start in your search for furniture that captures the rustic charm you're going for. From there, accentuate your space with elegant French patio doors, which can be completely customized to enhance your home's design.
White Interior Colors Work Wonders

According to Joanna Gaines, when in doubt, paint something white. White is a timeless color because of its unique ability to transcend styles, time periods and locations. It will never be outdated, and all-white interiors generally look relevant and modern no matter the year. There are also a vast number of different shades of white from which to choose.
The aesthetics created by these window options make them the perfect complement to any Fixer Upper home. White windows, in general, offer a crisp and clean look, capable of complementing any exterior style or interior décor. Their lasting quality is an added bonus to their aesthetic contributions, as Pella's white windows are durable and energy-efficient.
Choose a Compelling Contrast for your Window Colors

One of the hallmarks of the Fixer Upper look is contrasting soft, rustic hues of white, cream and gray with stark black accents. If you want to create a striking contrast, you'd be hard pressed to find a more suitable color combination than black and white. Those two hues, when paired together as part of an interior color scheme, are timeless, elegant, on trend and in style.
Low-maintenance, ENERGY STAR®-rated black windows, like those shown above, help create contrast between the light décor that's in your home – so you can have a timeless look that will last for years. The energy savings from replacement windows, which can be tailored to specific climates, are an added bonus.
Clearly, the "Fixer Upper" look is far from unattainable. Just because you saw it on television does not mean that you can't achieve it yourself in real life. From your windows and doors to your color and décor choices, there are plenty of avenues you can explore to help make this look your own. Contact your local Pella sales representative to learn more about getting windows and doors for your "Fixer Upper" home.
Window Features & Options
Explore What Pella Has to Offer