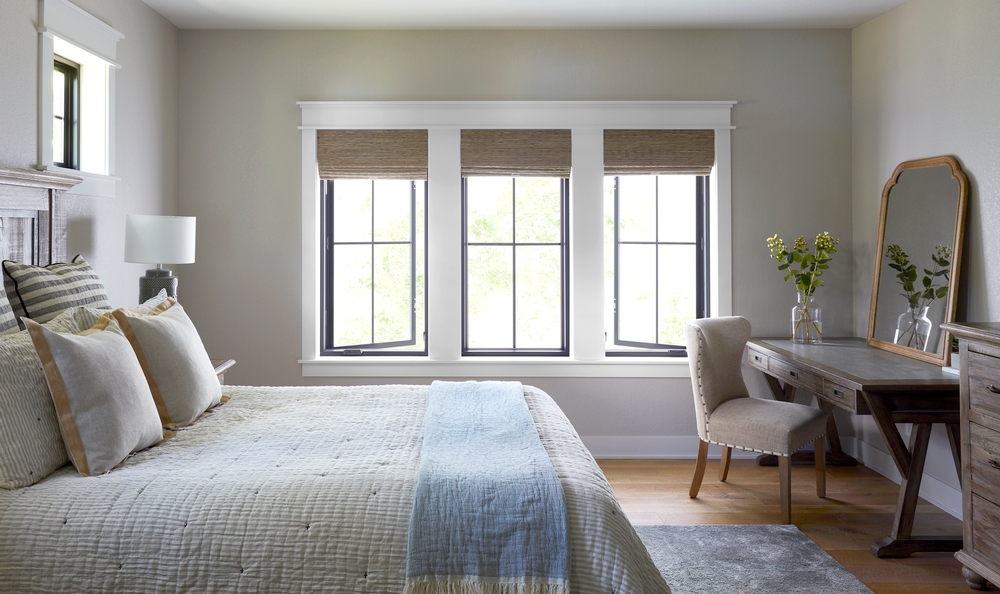 From Wood to White: Window Trim Ideas
Put a definitive stamp on your home's style and decorative appeal by checking out our quick guide to the finest interior window trim ideas.
---
Used to cover gaps and help nurture a unique visual identity for your home, interior window casings are sometimes considered the final touch during the window installation process. They have the potential to boost the design appeal in your home.
Most designers, builders and decorators decide to match their window trim style to the architecture of the home itself, fostering a cohesive aesthetic environment that never clashes. However, if you've decided to replace your windows with the help of the experts at Pella, now could be the perfect time to update your window trim and spruce things up a bit.
This short guide to window trim ideas will help you understand the functionality and opportunities available to you when deciding on interior window trim styles and materials.
Interior Window Trim, Coordination & Crown Molding

Often, the differences between window trim or casing and crown molding can be hard to remember. Window casing is used around the borders of windows, helping to add a dash of decorative flair and cover gaps between spaces. Crown molding, on the other hand, is easily distinguishable because of its elaborate detail and its physical position — where the walls and ceiling meet. Crown molding typically adds significant visual interest or serves as an optical transition of sorts.
Usually, interior window trim styles look best when they are coordinated with your home's other types of trim: baseboard trim, crown molding and chair rails. Baseboard trim is molding that connects your home's flooring to the walls. Chair rails are less essential and act as architectural flourishes for added appeal to a wall or room by providing an extra sense of refinement.
Interior trim options are available in all of Pella's window series, including those made of wood, vinyl or fiberglass. For example, the Encompass by Pella vinyl windows provides excellent energy efficiency and quality craftsmanship for long-lasting performance. With Pella's wide array of interior trim options, you can pair low-maintenance vinyl frames with the stylistic advantages of decorative trims. And you won't just be pleased with the way your windows look — Encompass by Pella® products offer energy-efficient options that meet or exceed ENERGY STAR® guidelines in all 50 states.1
Window Trim Styles
Luckily, Pella makes it simple to match all the different trim styles in your home. With our four interior window trim styles, you'll be able to coordinate with baseboards, crown molding and chair rails easily. From Colonial and Provincial to Craftsman and Ranch, each interior window trim can be further customized with a range of design options. And all styles come available in pine with select styles available in oak for a varied texture.
Between the four styles, there are 34 individual options in total to choose from. When evaluating the qualities of each style, keep in mind that Provincial and Colonial wood trim pair well with traditional homes. Conversely, Craftsman boasts a geometric, clean-edged look, and Ranch decorative wood trim is elegant and smooth. Surprisingly, small pattern variations have a large impact on the look of individual window trims. So, when selecting the perfect window trim for your home, be careful to consider how it will mesh with your home's surroundings.
Wood Trim Colors, Stains & Shapes

Wood window trims from Pella come in a variety of prefinished paint colors. There are nine different options for prefinished stain colors, so you'll be able to match with any other interior trim you might have in your home. Or, if you prefer a painted look, wood window trim is also available in four different prefinished paint options, including White and Primed.
If your windows feature graceful curves or contemporary angles like one of Pella's Special Shape windows, chances are you might require a curved window trim to match. Pella's wood trims are customizable and can be ordered for both specialty, standard and curved windows. Regardless of what shape or size you choose, wood window trims are assembled with unrelenting attention to detail resulting in a smooth, consistent grain appearance.

Finishing touches might come last, but they have the potential to positively impact the stylistic attributes of an entire room or even your whole home. For the right window trims and wood trims to complement your other moldings and the entirety of your living space, keep Pella top of mind.
Window Features & Options
OTHER PRODUCTS YOU MIGHT LIKE