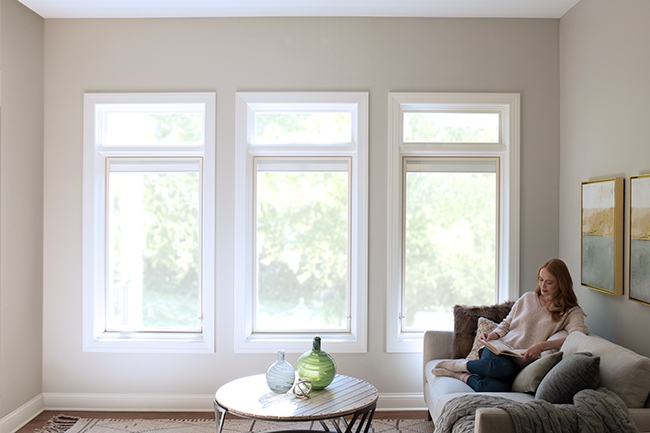 How to Choose Energy-Efficient Windows
Read through our tips to find the best energy-efficient windows for your home and start seeing the benefits an energy-efficient window can provide.
---
Improving a home's energy efficiency is one of the top reasons homeowners choose to replace or update their old windows. Energy-efficient windows not only make your home more comfortable year-round, but they can also help homeowners cut down on utility costs. By reducing energy usage, energy-efficient windows help homeowners reduce their carbon footprint, which ultimately helps protect our environment.
Five Factors that Influence Energy Efficiency
Improved energy efficiency is a benefit everyone expects when they install a new window. But there are a lot of factors, including proper installation that will eventually determine how much improved performance and comfort you'll see in your home. When you're shopping for energy-efficient new or replacement windows, keep these five factors in mind:
1. Energy-Efficient Glass
Dual-pane glass insulates almost twice as well as single-pane, while triple-pane glass maximizes your energy efficiency. Inert argon gas can be used between panes of glass to improve insulating properties and help reduce thermal transfer. Laminated, tempered, tinted and obscure insulating glass options are available from Pella, as well as products with impact-resistant glass.
2. Window Installation
Proper window installation will help prevent air infiltration and even costly water damage to your home. If installed incorrectly, your windows may not operate properly. Check the level, plumb, bowing, square and the reveal to determine if your windows were installed properly.
3. Window Placement
You can increase your window's energy efficiency by selecting specific Low-E (Low-emissivity) glass coatings for different areas of your home. These are layers of thermal protection inside insulating glass that help:
Reflect summer heat and retain interior cooling
Reflect winter cold and retain interior heat
Block harmful UV rays to help prevent fade damage
4. Region
Your home's geographic location and climate help determine what kind of windows you choose and what glass options can enhance your energy efficiency. Pella's InsulShield® glass collection offers the most innovative energy-saving choices, designed for specific climate types. Read more about what kind of window glass is best suited for your region.
5. Window Frame Construction
Your choice of window frame material influences your window's overall energy efficiency.
Wood windows provide excellent insulation. Wood has low conductivity which means wood window frames transfer less heat or cold into your home.
Our proprietary fiberglass material offers insulating properties similar to wood. Durable fiberglass windows are made from a thermoset material, meaning it won't melt or breakdown when exposed to environmental temperature swings. Pella's five-layer fiberglass is the strongest material available for windows and patio doors, engineered for lasting durability.16
Multichambered vinyl frames reduce heat loss for added energy efficiency – and they're exceptionally easy to care for. Multiple air-filled chambers have insulating properties
All Pella windows are available in energy-efficient wood, fiberglass and vinyl options, so you can choose the material that is best suited for your home. Some products are available with optional foam insulation to further improve energy performance.

Look for these Energy-Efficient Window Labels
For the greatest energy-saving potential, look for windows with labeling that indicates their energy-efficient benefits. Windows with an ENERGY STAR® and NFRC labels have been thoroughly tested to meet specific performance standards. Read more about demystifying window labels.

ENERGY STAR® is a voluntary program through the U.S. Environmental Protection Agency's (EPA) that helps businesses and individuals save money and protect our climate through superior energy efficiency. A window that has the ENERGY STAR® designation means the government has certified that the product meets or exceeds energy performance standards in your state.1
Replacing single-pane windows with ENERGY STAR® certified windows can help homeowners across the United States reduce their annual heating and cooling costs by 12% on average.*
NFRC Performance Label

The National Fenestration Ratings Council (NFRC) is a nonprofit organization for the window industry that developed an energy rating system based on whole-unit product performance – not just the glass performance. It's the only reliable way to determine the entire window's energy performance and compare products side-by-side.
The NFRC label includes two important ratings:
The U-Factor represents the heat rate that flows out of the window each hour. The lower the number, the better the unit insulates.
The Solar Heat Gain Coefficient (SHGC) rating measures the amount of solar radiation that enters as heat. The lower the number, the less heat the glass allows in.
Whether you're shopping for replacement windows or looking for ways to make your existing windows more energy efficient, the guidelines above can help make sure you're looking at the most important factors. If you're thinking about installing energy-efficient windows in your home, contact your local Pella Experience Center to speak to a helpful window expert and determine next steps.
* Source: www.energystar.gov/products/building_products/residential_windows_doors_and_skylights/benefits
Window Features & Options
Explore What Pella Has to Offer