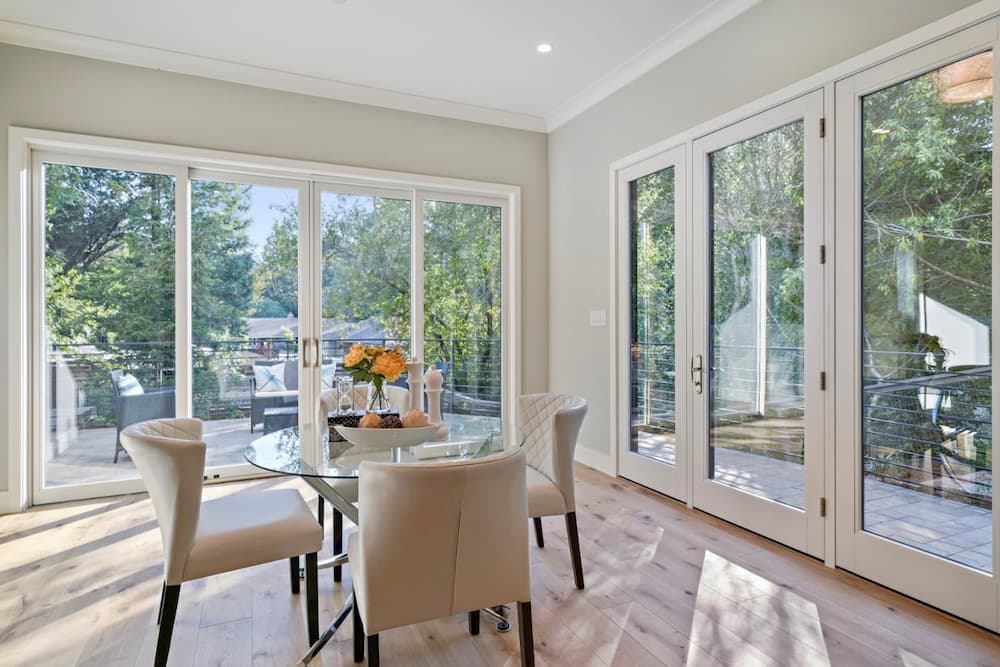 Wood Patio Doors Bring Home a Contemporary Vibe in California
Design innovation helps create more scenic beauty for these homeowners
---
Project Details
Type:
Location:
Products Used:

Owners of this stunning new residence in Hillsborough, California dreamed of windows and doors with a modern black exterior finish, neutral white interior finish and sleek design. They sought expansive glass and desired energy efficiency that was exceptional. We were more than happy to check off everything on their wish list with clean-lined wood windows and patio doors, too! Each streamlined design enhanced their contemporary aesthetic and became a nod to the natural beauty surrounding the home.

Why did our wood patio doors work so well for this project?
Custom-crafted wood patio doors from Pella are built to stand the test of time. Wood is a natural insulator from heat and cold. It helps keep you feeling more comfortable season after season. As for design flexibility, wood is highly adaptable to any style. It allows us to offer more design options, including interior and exterior colors, shapes, sizes and between-the-glass blinds and more.

Extra options help keep wood windows beautiful on the outside.
Our savvy customers in California chose Pella's exterior aluminum cladding in black to the outside of their show-stopping windows and patio doors. This highly durable layer of protection resists fade damage from the sun, extreme temperatures and moisture for years. It's all about high-performance and low maintenance.

If you're considering wood for your own home project, check out our myriad of product lines. We have the styles, shapes, colors and performance options to complement your home, your lifestyle and fit your budget. Best of all, you can feel confident knowing that Pella now offers the best limited lifetime warranty for wood windows and patio doors.47 See more project details from the local Northern California showroom.
EXPLORE WHAT PELLA HAS TO OFFER PANEL