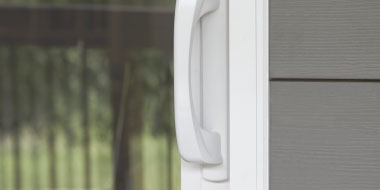 Vinyl Patio Door Hardware Options
Complement your vinyl patio door with hardware in beautiful styles.
Vinyl Patio Door Hardware
Hardware for vinyl patio doors is as beautiful as it is functional. Patio door handles, secure locking systems and an innovative, integrated footbolt offer hardware choices perfect for any home.

Hardware Features
Innovative Venting Capabilities
Pella created an innovative, flush footbolt, available exclusively on the Pella 250 Series sliding patio door.
Secure Locking Systems
Our vinyl patio door hardware features a multipoint locking system, which secures the door in two places for added security.
Style Flexibility
Vinyl patio doors handles feature style flexibility to match your home's design. Featuring color-matched handles, this eases the transition from hardware to door frame. Upgraded hardware finishes are also available.
Explore Hardware Collections



Beautiful Patio Door Handles
Sliding Patio Door Handles
Complement your patio door finish with color-matched hardware. Or coordinate your handle with other finishes in your home with upgraded handle finishes.

White
Innovative Security & Venting
Integrated Footbolt
Our patent-pending, innovative footbolt is available exclusively on Pella 250 Series sliding patio doors and is flush with the frame. The footbolt provides secondary venting and locking abilities without compromising beauty. Pella 250 Series sliding patio doors with optional integrated footbolt are our most secure patio door.49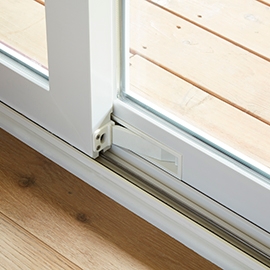 Secure Locking Systems
Multipoint Locking Systems
Vinyl patio door hardware secures the door in two positions for added security.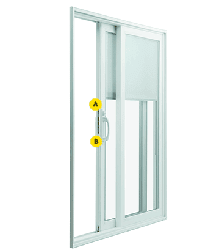 ---
Exterior Keylock
With an exterior keylock, a vinyl patio door can be locked and unlocked from the exterior with a key. Keyless options are also available.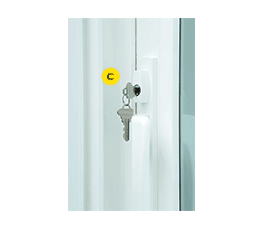 Patio Door Hardware by Material



For the Pros
Vinyl Patio Door Hardware Installation & Product Specs
Find everything you need to know for your next project. Download the specifications you need for installation.
See Installation Specs
Explore Patio Door Features & Options