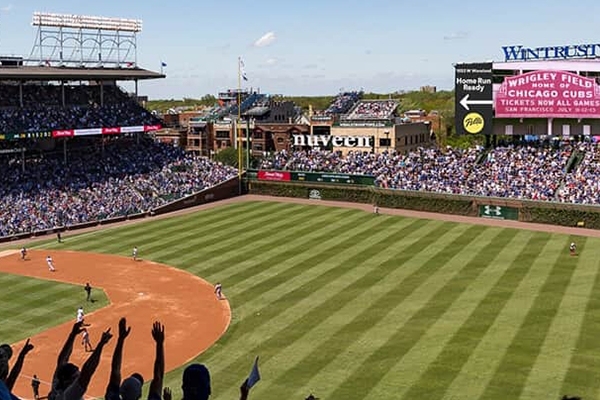 Find out how Pella created 11 home run-resistant windows at Wrigley Field.
SAVE THE WINDOWS

WHY 1032 W. WAVELAND?
Built in 1909, this historic gem is right behind Wrigley's left field bleachers, 450 feet away from home plate. Its prime location means it has been peppered by home run hits since the ballpark opened in 1914. And now, thanks to Pella and the Cubs, 1032 W. Waveland is ready for the 2018 season – with new home run-resistant windows.

WHY PELLA® RESERVE™?
The Pella Reserve line features intricate, historic detailing – with each window precisely crafted and custom built. The windows created for 1032 W. Waveland match the building's historic design flawlessly. And they provide modern, high performance features, such as improved noise reduction and stronger glass.
The Science Behind the Window

What a Cannon Taught Us
To test our home run-resistant window, we retrofitted our hurricane cannon to launch baseballs at an angle and speed similar to a home run hit. Tempered glass was proven to withstand hits best because it is stronger and safer than annealed glass (commonly used in windows).

How Fast the Baseball Needs to Fly
What does it take to launch a baseball out of Wrigley Field? A speed of over 100 mph to send it far away from home plate, and a height of more than 100 feet to put it over the bleachers.

The Baseball's Impact Speed
Pella applied physics calculations to determine that the ball would be traveling at about 60 mph when it hit the window. Then we went beyond and tested for 75-100 mph.
The Baseball's Trajectory
Wind resistance and gravity naturally affect the trajectory of a baseball. But weather, changes in wind direction, time of day, and even air moisture content can influence a baseball's path.


Hit Angle "Sweet Spot"
To be a home run, the ball needs to launch off the bat at an angle between 18.3 and 36.4 degrees. It also needs to explode off the end of the barrel to give the ball its high speed.

Window Impact Angle
The descending blow from a home run baseball was calculated to hit the window at approximately a 45-degree angle. For the test, the window was placed on its side at the correct angle to the cannon.

A Whole Lotta Hits
This map shows all the hits made at Wrigley Field during a typical season (2016 shown). Those blue dots represent home runs, including the ones on the far left that are in range of Pella's 11 new home run-ready windows.

Explore Impact-Resistant Products