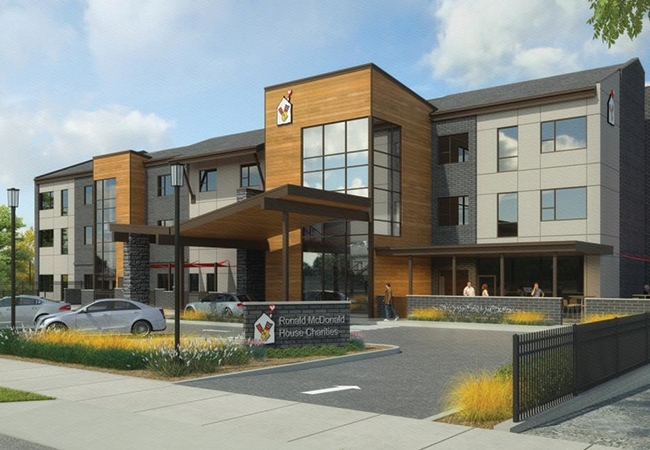 A Home Away from Home with Ronald McDonald House Charities
See what happens when Pella teams up with Ronald McDonald House Charities to fill homes with hope.
---
Ronald McDonald House Charities in Spokane, Washington, provides a home for families with seriously sick or injured children, but its location next to an exit ramp on noisy I-90 could prevent it from being a restful space. To help keep residents comfortable during difficult times, Pella Inland Northwest and Pella Corporation supplied discounted Pella® Lifestyle Series wood windows with sound barriers and energy efficiency.
Unbeatable Sound Performance from Pella
"We opted for wood because it had the triple-glazed system, which we thought would offer the best value for the money, and it turned out really well for Ronald McDonald House Charities," said Charles Zandbergen, Principal at Wolfe Architectural Group. "There are a lot of nice things about that window. It gives you choices in terms of the type of glazing that can go in there, not only in terms of the acoustical treatment but also in terms of the Low-E system that we can get."
To reduce the sound barrier between the campus and the freeway, the acoustical engineer on the project recommended a high Outdoor-Indoor Transmission Class (OITC) to get the greatest sound reduction possible. Energy-efficient windows with triple-pane glass from Pella reduce 52% more sound than single-pane windows48 and have been tested for OITC.
Exceptional Energy-Efficient Windows
"Washington State Energy Code is very restrictive, and we found that U-Factor performance suffers the higher the acoustical requirement," said Zandbergen. "Pella Lifestyle Series windows were a really good balance where we got to meet the Washington State Energy Code in terms of the window value but also have a high enough acoustical value to make this a good-looking window."
Pella Lifestyle Series wood windows offer an unbeatable combination of sound performance, energy efficiency and value.44 On average, Pella Lifestyle Series windows with triple-pane glass are 79% more energy-efficient than single-pane windows65 — and meet or exceed ENERGY STAR® certification in all 50 states.1 By opting for the patented triple-glazed system, Zandbergen was able to meet the Washington State Energy Code with a Low-E system and achieve enhanced sound dampening.
Style Flexibility
Pella Lifestyle Series offers a selection of beautiful paints, stains and hardware finishes to suit any project — in addition to the most desired features and options.
"The hardware is really nice," said Zandbergen. "The integrated folding crank with limiting device only opened the window four inches for safety."
Additionally, Pella Lifestyle Series features a range of colors that can come prestained to reduce onsite work. Zandbergen chose black for the interior and exterior of the facility, one of Pella's standard color options.
"It takes a lot of time for a painter to take over glazing, staining and putting a window back together," said Zandbergen. "The fact that the windows had a range of colors and came prestained was really nice."
Contact your Pella rep today to explore Pella Lifestyle Series windows and patio doors for your next project.

Product Details & Downloads